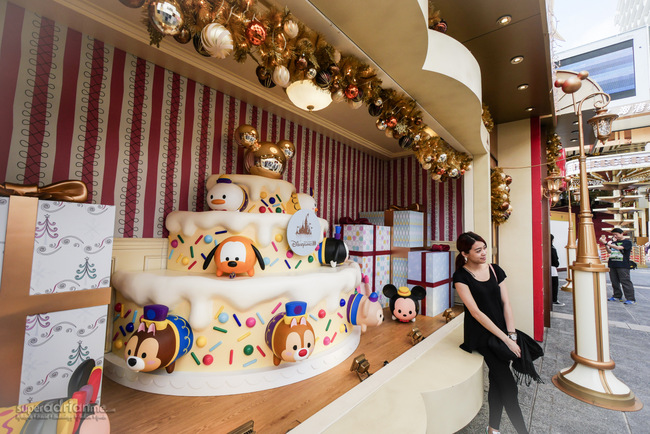 Head over to Hong Kong for the year end holiday season and enjoy cool weather below 15°C. 2015 Hong Kong WinterFest begins 4 December with activities lined up for everyone. We also took the liberty to include some other activities you may want to check out.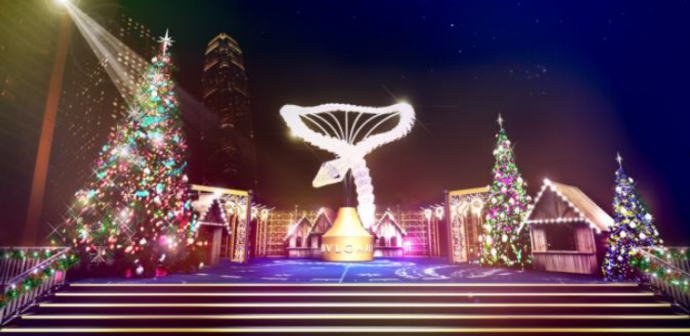 Sparkling BVLGARI Roman Holiday
The Sparking BVLGARI Roman Holiday at Statue Square will light up Central with a large, jewellery-inspired Serpenti light-art installation. This 50,000 LED light installation is inspired by ancient Rome and Greece symbolising wisdom and strength. Resembling a scaled serpent's body, this installation took six months to complete.
The Observation Wheel, located five minutes away by foot, offers you a 15-minute ride in a luxury gondola to a height of 60 metres with an obstructed view of the iconic Victoria Harbour and skyscrapers decorated with festive lighting lined on both Kowloon and Hong Kong Island.
A Star Ferry ride gives you spectacular views of Victoria Harbour, Victoria Peak and the Hong Kong skyline. At 8pm, the Symphony of Lights musical show will illuminate 44 buildings around the harbour in a 13 minute synchronised display.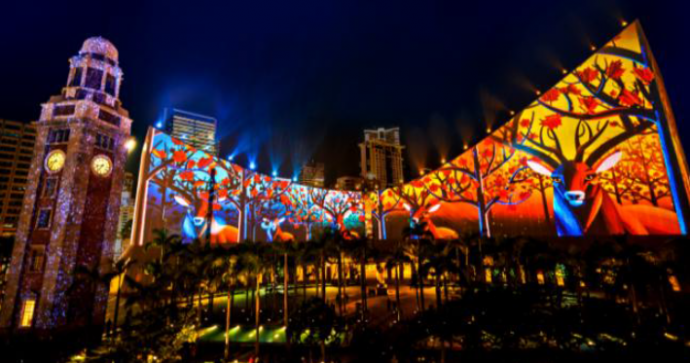 In Tsim Sha Tsui there is a Hong Kong Pulse 3D Light Show at the Open Piazza of the Hong Kong Cultural Centre. Here you can witness Santa's elf helpers organise Christmas wishes and letters.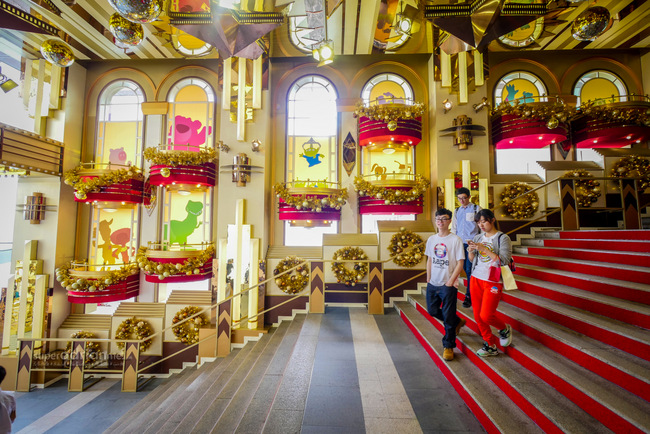 Harbour City has partnered Hong Kong Disneyland in conjunction with Disney's 10th anniversary celebrations to transform the Ocean Terminal Forecourt into a "Happily Ever After" Christmas Avenue.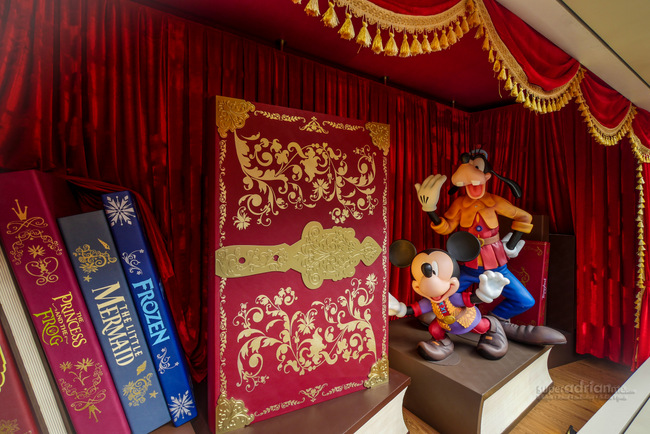 Other highlights include displays of Disney characters, the giant golden starry tree and Frozen's magic in the window displays. There's happiness for all ages here.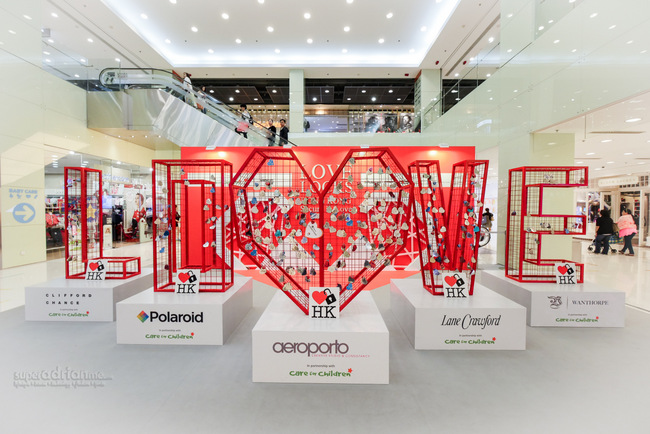 Don't forget to drop by the Love Lock Hong Kong 2015 Charity Event in the Atrium on ground floor Ocean Terminal in Harbour City before 29 November 2015. Participate in decorating the installation with 'Love Locks' which you can purchase on-site for a minimum donation of HK$50.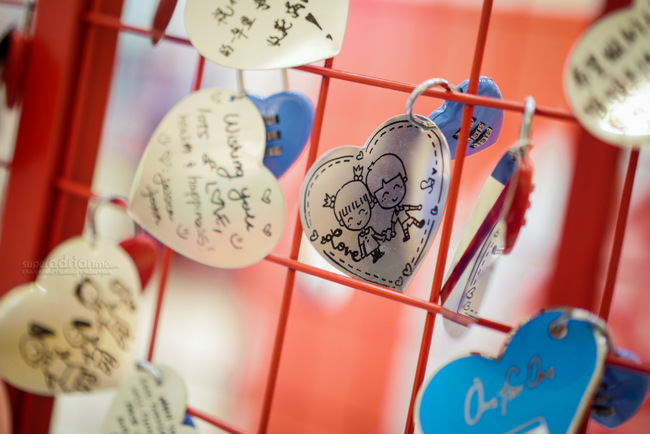 You can personalise it with your message and lock it on the installation. You will also receive a complimentary printed Polaroid photo with a chance to win prizes from the raffle draws. 100% of the proceeds from the event go towards Care for Children's work to put an additional 2,000 disadvantaged orphaned children in China, Thailand and Vietnam into families through family placement programmes.
Take a five minute walk to 1881 Heritage from Harbour City. This used to be the headquarters of the Hong Kong Marine Police. The Grand Piazza here transforms into a 13 metre high gothic cathedral-like ice palace where you can indulge in the magical and majestic ice-skating rink.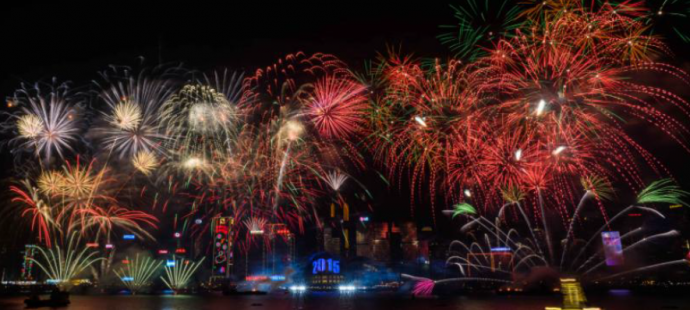 And if you are going to be in Hong Kong for the New Year Countdown Celebrations on 31 December 2015, watch they pyromusical and fireworks at the stroke of midnight at vantage points such as the water front along Tsim Sha Tsui, the Hong Kong Cultural Centre open Piaza and Tsim Sha Tsui Promenade, West Kowloon Waterfront Promenade, New Central Harbourfront, Golden Bauhinia Square promenade in Wan Chai and areas around Central Piers No 9 and 10.
HKTB Executive Director Mr Anthony Lau said: "The HKTB will spend over HK$21 million on overseas promotions for the winter period, more than double last year's amount. Our aim is to attract more visitors and encourage them to spend a longer time in Hong Kong to create business opportunities for the tourism and related sectors. We will focus on the Mainland and short-haul markets, and launch various visitor privilege programmes."
In the northern, eastern and western parts of the Mainland, the HKTB will promote quality travel, highlighting the "Quality and Honest Hong Kong Tours" and the city's hospitality; in Taiwan, it will target the young segment with romantic packages and discounts, such as an NTD$7,000 (approximately HK$1,655) three-day, two-night package; and in Southeast Asia, it has partnered with airlines to develop special packages for four catering for families.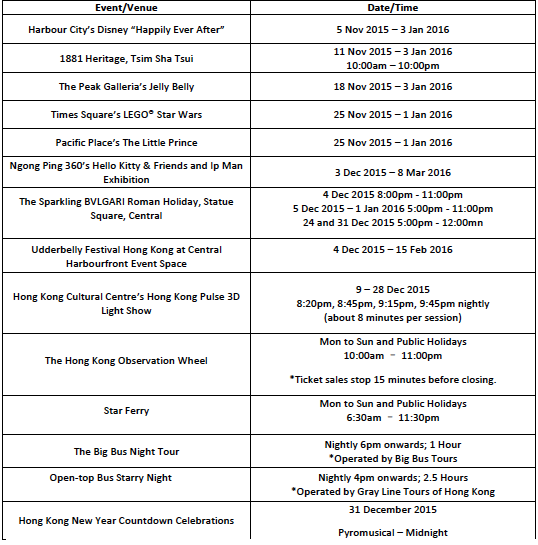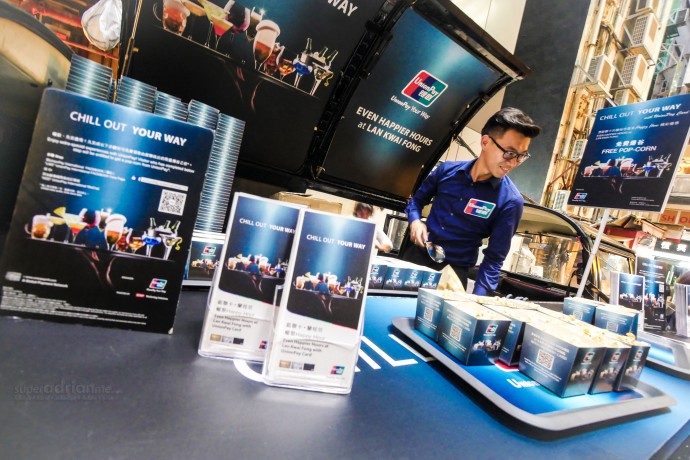 And if you have a UnionPay cardcheck out the cardmember benefits in Hong Kong.
A "Happily Ever After" Hong Kong Disneyland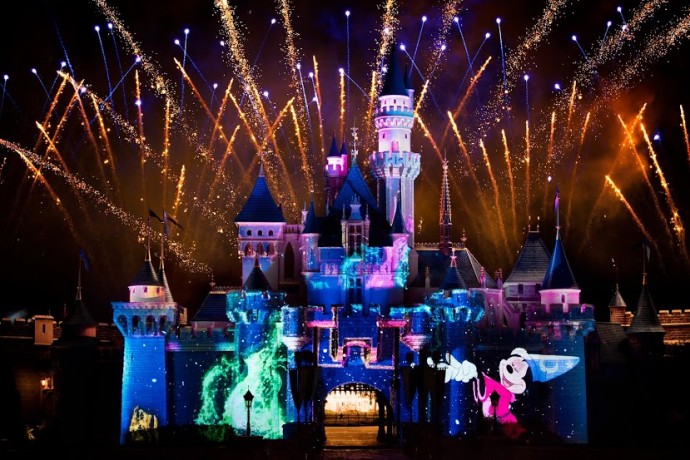 Hong Kong Disneyland Resort celebrates its 10th Anniversary this year with enchanting "Happily Ever After" moments. You can expect a grand musical show featuring musical performances by Disney stars, magical staging and extraordinary dance routines. By the way free Wi-Fi is offered from 17 November.
Here are some of the things to look out for:
Journey Through A Live Magical Book
"Mickey and the Wondrous Book" is a 28 minute live modern classic musical show and the largest-ever production at Disney's Storybook Theatre. There are seven Disney stories with Mickey and Goofy leading you through the magical journey with the turn of every page. This is performed by 70 performers and a production team of 10 different nationalities.
Brilliant Castle Projection and Fireworks Show
The newly enhanced "Disney int he Stars" Fireworks is made more dazzling by cutting-edge technology, stunning lighting effects, and state-of-the-art video projection shown at the Sleeping Beauty Castle. 16 characters have been such as Joy and Sadness from "Inside Out", Nemo and Dory from "Finding Nemo' and the new upcoming release "Finding Dory", Hiro and Baymax from "Big Hero Six" and Lightning McQueen from "Cars".
Fairy Tale Forest – Presented by PANDORA
On 17 December, take a walk through the enchanting "Fairy Tale Forest" at Fantasyland. Step into the fairy-sized world of Pixie Hollow and journey through oversized topiary mushrooms and clovers while re-living the iconic scenes from five of Disney's classic Princess stories – Snow White and the seven Dwarfs, Cinderella, The Little Mermaid, Beauty and the Beast and Tangled.
"Frozen" Christmas Tree Lighting Ceremony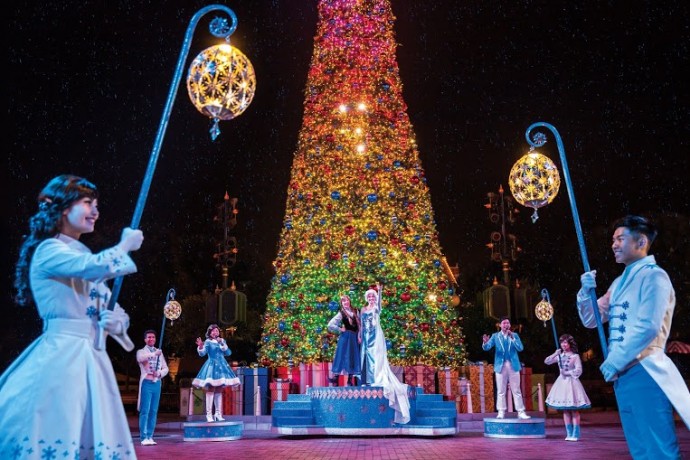 Queen Elsa and Princess Anna ups the glow and glimmer at Hong Kong Disneyland. Queen Elsa uses her magical power to light up the Christmas tree and star on top while both sides around it will show spectacular projections.
Snap Snap Snap with Mickey and Friends
A full cast ready to capture cherished moments with you, will parade past the shimmering 10th Anniversary Medallion decorating Main Street, U.S.A. and the "Happily Every After" Storybook staged in front of Cinderella Carousel. New Disney characters will be making their debut and greeting guests, starting with Lotso who will arrive at Toy Story Land from 17 November, Stormtroopers from "Star Wars" from 17 December and with Baymax joining in February 2016. Next spring, Princess Sofia from "Sofia the First" will make her debut here.
Merchandising and Souvenirs
No vacation is complete without bringing home souvenirs and Hong Kong Disneyland lets you reminisce its past 10 years with over 220 new special edition merchandises. These range from "Count Down to 10th" and "Grand Celebration" assortments and "Castle Skyline" collections, limited edition pins to unique accessories cobranded with brands such as Coca Cola, Crabtree & Evelyn and PANDORA.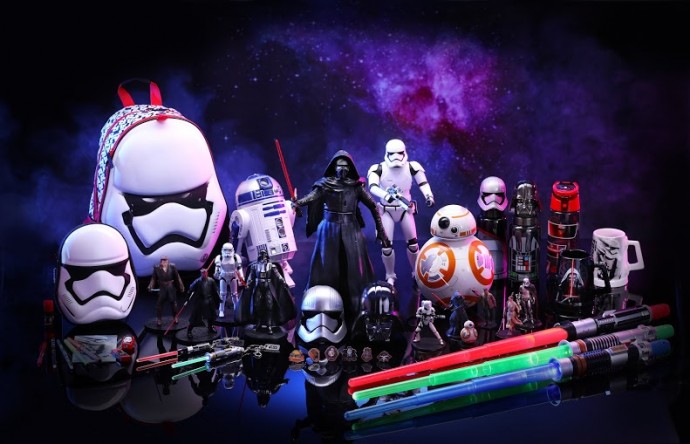 More than 90 Star Wars memorabilia, including merchandise, food & beverage will be available in theme park stores just in time for the premiere of "Star Wars: The Force Awakens"
New Dishes and Beverages
60 new dishes and beverages have been created. There is the Disney Character Dim Sum at Crystal Lotus to look out for. There is also a buffet spread at Enchanted Garden.
Limited-Time Room Offer
Enjoy limited-time room offer and sae up to 30% when you book a hotel room at Hong Kong Disneyland Hotel or Disney's Hollywood Hotel from now till 31 March 2016. Enjoy Complimentary Hotel Dinner offer when you book at the two Disney themed hotels.  A "Play & Dine" offer is now available till 31 January 2016 where you enjoy a combo meal with a 1-day ticket package at HK$499 or a 2-day package at HK$680.
EVENT HORIZON Public Art Installation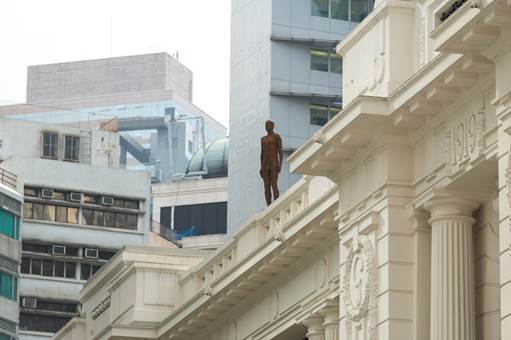 Check out Event Horizon by British artist Antony Gormley. This extensive public art installation of 31 sculptures installed at both street level and building tops across a kilometer wide zone of Central and Western district will be part of the Hong Kong cityscape for six months till 18 May 2015.
Event Horizon captures the particular time of a particular body: a subjective place. The principle dynamic of the work is the relationship between imagination and the horizon, involving the citizen in a game of seeking and perhaps finding. Event Horizon engages you in the desire to look up and look again at familiar places in a new way, inviting reflection on human nature and our place in the wider scheme of things.
Hong Kong is the first Asian city to stage the installation following presentations in London, Rotterdam, New York, São Paulo and Rio de Janeiro. It is presented in Hong Kong by the British Council there with support from lead partner the K11 Art Foundation.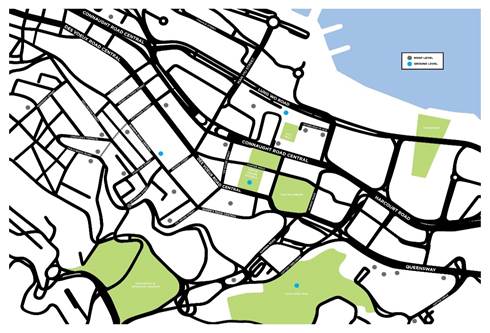 Visit www.eventhorizon.hk for more information.