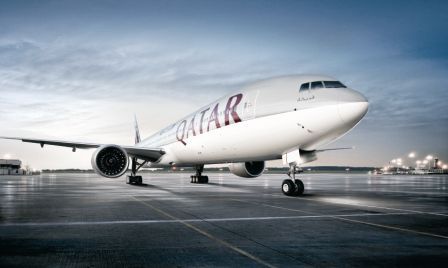 Qatar Airways is now officially a member of ONEWORLD global airline alliance, making it the first Gulf carrier to join such an alliance. Qatar Airways took one year after receiving its invitation to join to be inducted into the alliance which is faster than the usual 18 – 24 months other airlines take to comply with the membership requirements of oneworld.
Qatar Airways serves more than 130 destinations in 70 countries across the Middle East, Europe, Africa, North and South America, Asia and Australasia. 20 of its destinations and five countries – Ethopia, Iran, Rwanda, Serbia and Tanzania will be new to the oneworld map.
With Qatar Airways onboard, oneworld will serve close to a thousand airports in more than 150 countries with 14,000 daily departures. It will carry 475 million passengers annually on a combined fleet of some 3,300 aircraft and generate US$140 billion annual revenues.

More pictures from the #Qatar Airways Oneworld joining ceremony today pic.twitter.com/vN7ZQoRNd2

— Graham Dunn (@ABDunn) October 29, 2013
Celebrating this milestone, Qatar Airways unveiled its first aircraft in the fleet to be decorated in special oneworld livery with the Boeing 777-300ER becoming the first aircraft to "land" at Hamad International Airport. The US$15.5 billion Hamad International Airport will become Qatar Airways' new home base with an eventual capacity for 50 million passengers annually. Qatar Airways will decorate three other aircraft in its fleet in this special livery – another 777 and two Airbus A320s.
Starting tonight, oneworld logos will be applied by the side passenger doors on Qatar Airways' entire fleet of 130 aircraft as part of a massive rebranding programme that will also see the alliance logo added virtually wherever the Qatar Airways name is displayed – at airport check-in desks and signage, its website, tickets, boarding passes and all its stationery.
Qatar Airways' three million Qatar Airways' Privilege Club Loyalty programme members will enjoy the full range of oneworld frequent flyer benefits with any of its member airlines worldwide which include airberlin, American Airlines, British Airways, Cathay Pacific Airways, Finnair, Iberia, Japan Airlines, LAN Airlines, Malaysia Airlines, Qantas, Royal Jordanian, S7 Airlines and their 30 affiliated airlines.
Qatar Airways Privilege Club members will be able to earn and redeem Qmiles on any oneworld flight. They will also receive double Qmiles award miles when flying on Qatar Airways' oneworld partners between 15 November 2013 and 31 January 2014 excluding dates between 20 December 2013 and 5 January 2014.
Privilege Club Platinum cardholders will have Emerald status on the oneworld programme while Privilege Gold will be equivalent to oneworld Sapphire and Privilege Club Silver will be oneworld Ruby. The alliance's 550 airport lounges worldwide will be accessible by Privilege Club Platinum and Gold members. The 140 million members of the established oneworld airlines' frequent flyer programmes will be able to earn and redeem awards and tier status points and receive all other oneworld benefits when flying on Qatar Airways.
oneworld member airlines' loyalty programme members will receive double the normal mileage awards when flying on Qatar Airways between 15 November 2013 and 31 January 2014 except between 20 December 2013 and 5 January 2014.
In other news related to Qatar Airways, the airline commenced non-stop daily Clark Manila International Airport flights yesterday. Flight QR930 touched down at 9.20 local time to a traditional water salute welcome on 28 October 2013.  Qatar Airways operates the Airbus A330 in a two-class configuration of up to 248 seats in Economy and up to 36 in Business Class. This destination is Qatar Airways' 12th gateway in Southeast Asia after Kuala Lumpur, Bangkok, Bali, Ho Chi Minh City, Phnom Penh, Jakarta, Hanoi, Singapore, Manila, Yangon and Phuket and the carrier's 133rd destination worldwide.
As part of the inaugural offer, passengers are entitled to a baggage allowance of up to 40kgs valid for travel until 31 January 2014.  Members of Qatar Airways' Privilege Club can earn up to 7,000 bonus Qmiles in Economy class and 14,000 bonus Qmiles in Business Class for travel on a return trip between 27 October and 31 December 2013.