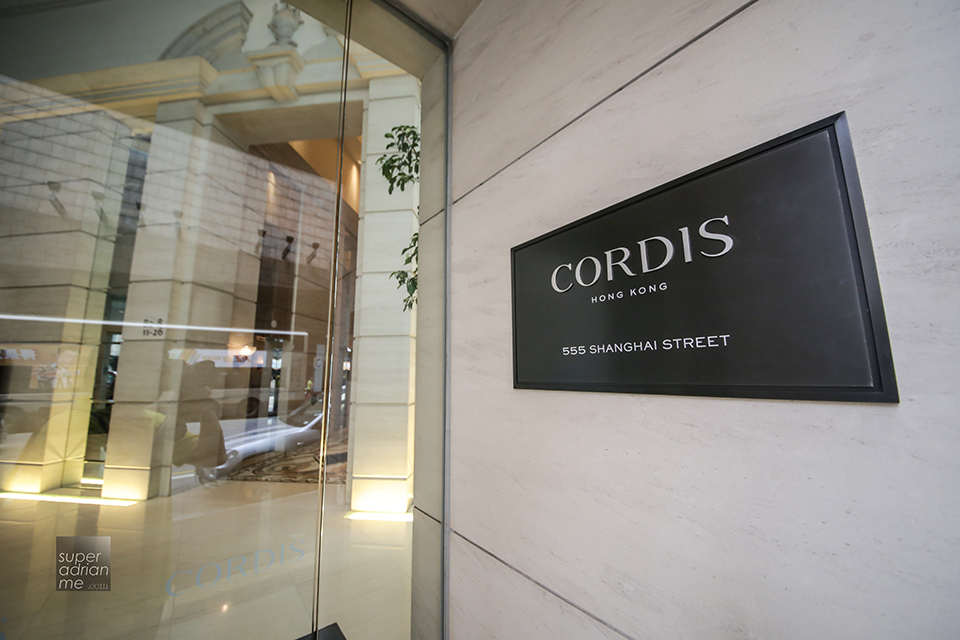 When I first stayed here, it was the Langham Place Mongkok. When I stayed again in October of 2016, it had been recently rebranded to Cordis, Hong Kong which is still under the Langham Group's luxury hotels around the world. Whilst it has retained its spacious lobby and many artworks from the hotel owner, the club lounge has undergone a full renovation.
The 42-storey building houses 664 rooms, a plunge pool and fitness centre, business centre, Chuan Spa and four F&B outlets.
There are eight standard room categories starting from Superior up to Studio rooms. Another nine other room categories on the club floor such as the Club Deluxe and Studios, Residence Suites to Chuan Suites are also available.
The familiar facade of the hotel remains the same as before and is conveniently located next to Langham Place shopping mall. At this mall, you can catch a movie, wine and dine at its many food and beverage tenants or shop till you drop. Connected by a covered walkway bridge between the hotel and the mall, you can always head back to your room to drop off your shopping and continue on for more.
Other facilities in the hotel include a 20-metre outdoor heated swimming pool featuring optic fibre and underwater music on level 42. Poolside deck chairs and cabanas for drinks or massages are also available. And if you prefer to head to the gym, then the 24 hour fitness centre is the right place for you.
The Studio at Cordis Hong Kong
The Studio rooms at Cordis Hong Kong at Langham Place start from HK$2,800. The room is shaped in a quarter of a circle with floor to ceiling glass on one side of the room offering panoramic views.
The Studio is very spacious taking into consideration Hong Kong's space-limiting environment. Lush sofas and soft carpeted flooring complement the room. This hotel room offers the luxury and comfort I expect of a Langham hotel. A separate glass desk area lets you get any work on your laptop done.
A Handy smartphone is on loan to hotel guests. The Handy smartphone has almost become a standard amenity provided to hotel guests in many hotels in Hong Kong. The phone works as a smart phone that allows you to make local and overseas phone calls for free. You can also use the data network to surf the internet or tether to your own smartphone device while on the go.
The spacious marble bathrooms feature a separate bathtub and rain shower facilities. At least the bathroom space complements that of the room. Weren't there times where you wished the bathrooms were smaller so that the rooms were bigger instead? Well, this is not the case at the Cordis Hong Kong.
Another thoughtful touch in the bathroom is the anti-fog mirror. So there is no need to wipe the mirror after a hot shower.
The toiletries supplied here are from Chuan Spa, the Langham Hotel standard. The group supplies a vegetarian soap which has a fragrance that is not overpowering. Bath gel, shampoo, conditioner and body lotion are also provided. No need to bring your own toiletries.
Chuan Spa at Cordis Hong Kong at Langham Place
When staying at the Cordis, a visit to Chuan Spa on level 41 is a must. Arrive early and enjoy the Tri-bathing ritual before your treatment. Relax and stimulate your body with an aromatic steam, followed by a sauna. Take a cooling Japanese onsen shower and soak in the Oriental hot tub then head over to your treatment.
The treatments here are based on the principle and techniques of Traditional Chinese Medicine including pillars of Wu Xing (Five Elements), Yin & Yang as well as Jing Luo (Meridian System).
Before starting any treatment, you have to find your element so that you can pick your treatment based on which of the five Wu Xing elements you need to rebalance. This is done by filling up a questionnaire before your treatment which asks questions such as your favourite season when you find hardest to motivate yourself, your favourite colour and your mood over the past week.
Massage oils are then selected based on Wu Xing elements of wood, earth, metal, fire and water.
There are nine treatment rooms here offering views of Kowloon. You can indulge in one of the over 60 beauty and health treatments. There are also two soothing relaxation rooms.
I had the best 90 minutes of my time in Hong Kong when I indulged myself with the Chuan Harmony Massage. I may have snored a bit from the jetlag of travelling from Los Angeles.
You Only Need Alibi
Alibi is one of my favourite haunts in Hong Kong. I am always blown away by the happy hour deals they have here. Gather a few friends and locals and have a good time as you enjoy some of Alibi's best cocktails and bar food or mains. Happy hours here are always a delight. Check out their happy hour deals.
That bone marrow is really something. What more can one ask for? A hotel with comfortable accommodations, a good location, close proximity to the mall and MTR station, a great spa with a view and F&B within the hotel.
See the hotel through my eyes in the photo album below.