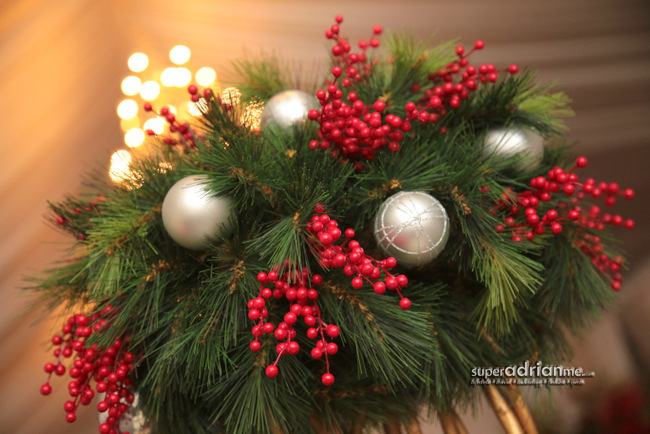 It is once again the season of giving and showing appreciation to fellow colleagues, friends and loved ones. Before the mall gets too crowded again, we picked a few Christmas gift ideas for guys and ladies. We particularly like wellness products and fragrances because they make you smell good and refreshing.
England's Bodhi & Birch Bath & Shower Collection
Give the gift of bath and shower range from Bodhi & Birch this Christmas. Free from petrochemicals, parabens, silicon, carbomer, acrylic-polymers and no synthetic colours, synthetic fragrances, animal ingredients or palm oil, Bodhi & Birch's ingredients are sourced from sustainable origins. Their products are free from animal testing.
The bath and shower range contains more than twice the average of essential oils found in other brands' products. It also contains Lactic Acid, an Alpha-Hydroxy Acid with anti-ageing and skin rejuvenating properties, exfoliating and renewing the skin by loosening up dead cells, stimulate elastic fibres and promotes growth of new collagen in the dermis layer of the skin. It also contains Gluconolactone, a Poly-Hydroxy Acid which hydrates skin and scavenges free radicals.
The Bath & Shower Therapies range include – Jasmine Falls, Siam Ginger, Mint Thé, Pep Noir, Ylang-Ylang, Camomile Sky and Rosemary Chi.
We recommend the Bodhi & Birch Assemblage Gift Set which is retailing at S$94. There are seven different scented body wash products here which are packed in travel sizes.
The set includes 50ml bottles of:
• Jasmine Falls Bath & Shower Therapy
• Ylang-Ylang Incensa Bath & Shower Therapy
• Siam Ginger Bath & Shower Therapy
• Camomile Sky Bath & Shower Therapy
• Mint Thé Bath & Shower Therapy
• Rosemary Chi Bath & Shower Therapy
• Pep Noir Bath & Shower Therapy
Bodhi & Birch products are available at Bud Cosmetics in Mandarin Gallery, Novena and Paya Lebar. 
Aēsop Blue Chamomile Facial Hydrating Masque
Aēsop recently launched the Blue Chamomile Facial Hydrating Masque in October this year. This emollient gel contains soothing botanicals and is fabulous for intense hydration ideal for normal to dry skin types especially if you are exposed to dry or humid environments.
The key ingredient Blue Chamomile balances and purifies the skin. Bisabolol and Ginger Root ingredients help to calm and sooth. The masque also contains a light aromatic scent derived from the Rosemary Leaf and Lavender essential oils. Sodium Carrageenan boosts hydration, promoting water retention and is complemented by emollients including Panthenol (Pro-Vitamin B5).
The Blue Chamomile Facial Hydrating Masque is easy and fuss free to apply. Leave it on for 30 minutes or leave it overnight. Then just wipe it off with a damp cloth. It is recommended to use twice a week with three to four squirts. And if you leave it in the refrigerator, the masque is cool when applied.
Priced at S$69 for a 60ml bottle, this makes a great gift for the discerning individual.
And if you really want to pamper, add the Fabulous Face Oil as part of your gift to decongest skin. If you prefer a Vitamin C boost for a brighter and more supple skin, then throw in the B Triple C Facial Balancing Gel.
If not there's always the a selection of six different kits from the Maps of Light gift kit range from S$90 to S$235 or AESOP's fourth fragrance launched in September – Tacit Eau de Parfum priced at S$135 for 50ml.
Visit an AESOP store at Suntec City, Capitol Piazza, Ngee Ann City, Club Street and Westgate or TANGS or online at www.aesop.com/sg.
Fragonard Parfumeur – Christmas Gifts for Her
Rue Madame's exclusive French Fragrance Fragonard scents repreent the genuine French spirit that brings out the romantic in you. A variety of gift sets are available at the boutique at #03-13C Takashimaya Shopping Centre, Ngee Ann City.
Fragonard uses the best elements to produce its unique essence in Grasse France. This season features a wide range of perfume, soaps, candles and home fragrances.
Individual items are priced between S$20 & S$90.
L'occitane Collaboration with Pierre Hermé
L'occitane collaborates with the renowned pastry chef Pierre Hermé to launch two new fragrances – Jasmine Immortelle Neroli and Pamplemousse Rhubarbe and Miel Mandarine.
Jasmine Immortelle Neroli is a unique blend with a floral and feminine scent of sheer lightness with sensual richness.
Pamplemousse Rhubarbe is inspired by the island of Corsica. Pierre Hermé brings together the flavours of Rhubarb, Clove and Nutmeg to produce a soft and subtle scent. Grapefruit is at the heart of the creation leaving the skin scented with a vibrant fragrance.
Jasmine Immortelle Neroli and Pamplemousse Rhubarbe are available in the 75ml EDT (S$96), 250ml shower gel (S$33), 250 ml Silky Body Lotion (S$48), 50g perfumed soap (S$8), 30ml hand cream (S$15) and 12ml lip balm (S$16).
Miel Mandarine offers fruity and floral scents of mandarin orange, honey and immortelle evoking a festive scent. Available as a 30ml hand cream (S$15) and 12ml lip balm (S$16)
Seasonal Scents from The Body Shop
The Body Shop introduces seasonal scents for the festive season with delicious dessert-like seasonal fragrances of glazed apple, frosted cranberry and their latest, Frosted Plum.
The gift sets are pre packed making it easy for you to quickly step into the store, pick a few sets and leave in a jiffy. Our writer Jessica checked it out and gives you more details here.
Neal's Yard Remedies Christmas Gift Sets
Neal's Yard Remedies has packaged gift sets that easy to grab and go when picking a gift for Christmas. There is a Men's set priced at S$98 that comes with calming after shave balm, invigorating body wash and a close shave cream.
Get the Relax gift set for the very stressed individual. Priced at S$54 the Relax Christmas set comes with English Lavender bath and shower gel as well as a bottle of body lotion.
Another relaxing gift that helps you to sleep better is the Beauty Sleep calming organic collection. Beauty Sleep concentrate is enriched with narcissus extract that supports the skin's natural night time regeneration and replenishes and recharges as you sleep. The blend of organic ylang ylang, patchouli and cypress essential oils helps to calm you down and drift off naturally to sleep. This set is priced at S$128.
The gift sets are priced between S$54 and S$188 and are available at Neal's Yard Remedies stores at #01-75 Millenia Walk Mall & Isetan Katong at Parkway Parade.