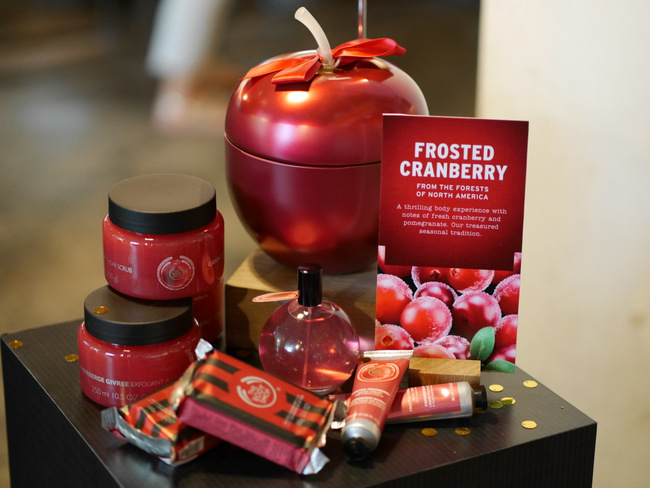 You know Christmas is around the corner when you walk pass The Body Shop and wonder what's cooking. This year, they continue to enchant our senses with delicious, dessert-like seasonal fragrances of Glazed Apple, Frosted Cranberry and, their newest, Frosted Plum.
Frosted Plum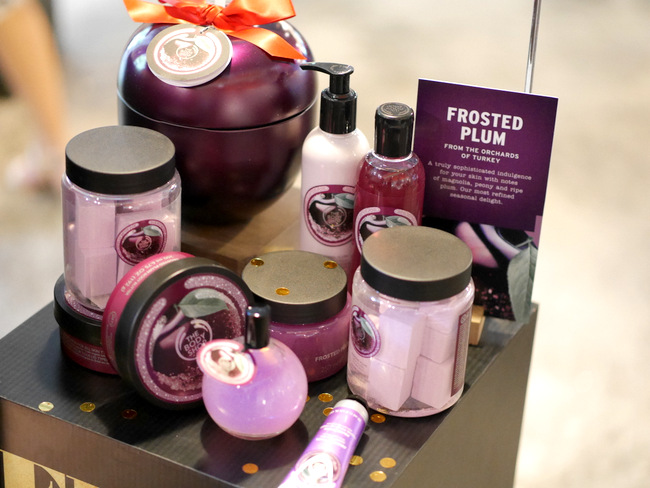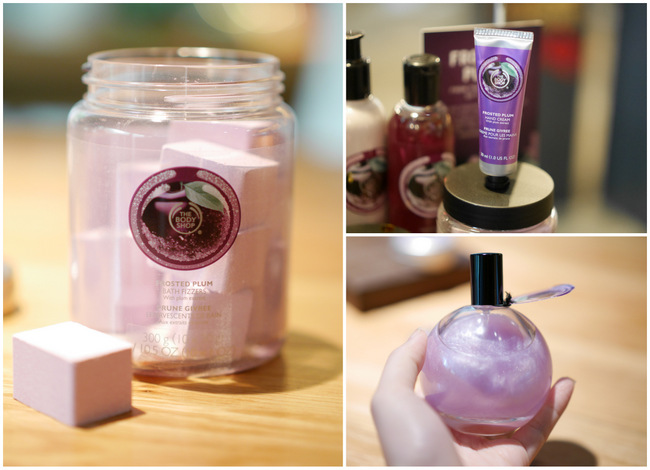 The most sophisticated of the three is the Frosted Plum. Boasting notes of magnolia, peony and ripe plum, it is available in everything from their hand cream, bath fizzers to candles and home fragrance oil. Those wanting to really glam up before a party can pick up the Shimmer Mist. Not only would you bring on a refined fruity scent for the festive season, but also gives your skin a stunning iridescence throughout the night.
Glazed Apple and Frosted Cranberry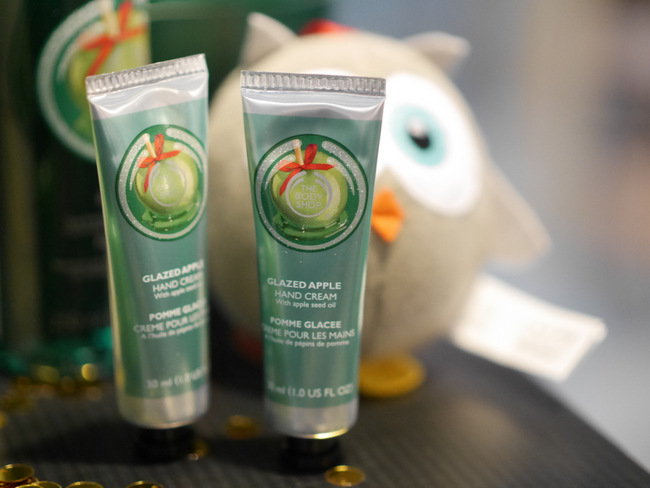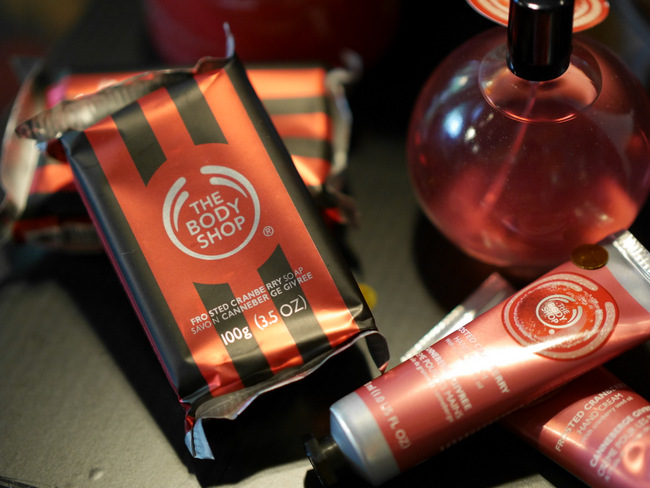 We cannot live out past favourites of Glazed Apple and Frosted Cranberries. The former is a crisp scent of candy apple and vanilla while the latter is a powerful burst of fresh cranberries and pomegranate. Both delicious scents are available in a full range of products like the Frosted Plum. The Body Butter, likewise, will also give the wearer a lovely shine with the millions and millions of stardust.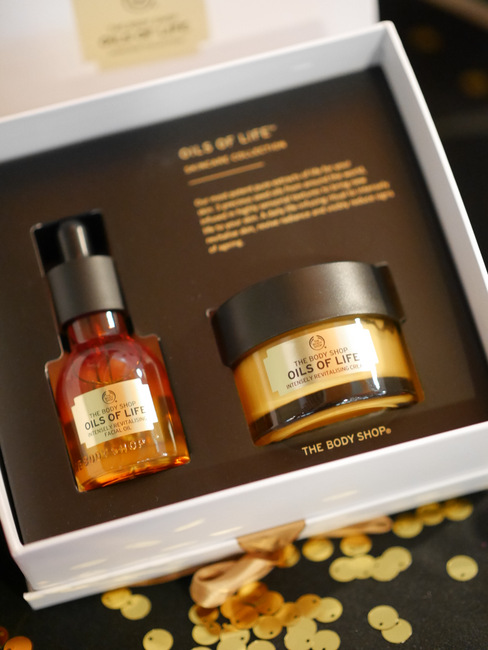 All these are available for your own indulgence or, as gift packs for your loved ones! The Body Shop has readied an entire selection of their festive offerings that is sure to find a place in anyone's home.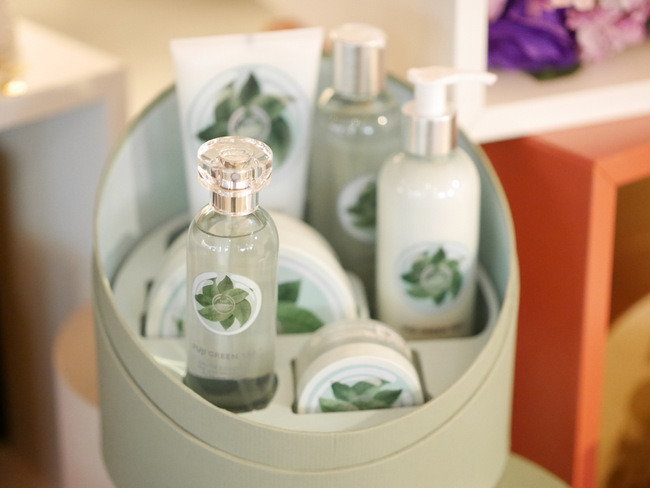 Those looking for gifts for your mum, sister or girlfriends are in luck. Gift them a luxurious spa experience right at home with the Spa Of The World (S$209.90) set which includes their more extravagant products; Egyptian Milk and Honey Bath Milk to Japanese Camellia Body Cream. There are also beauty bags in various scents such as Honeymania (S$29.90), Olive and Strawberry (S$29.90) and the refreshing Fuji Green Tea (S$32.90).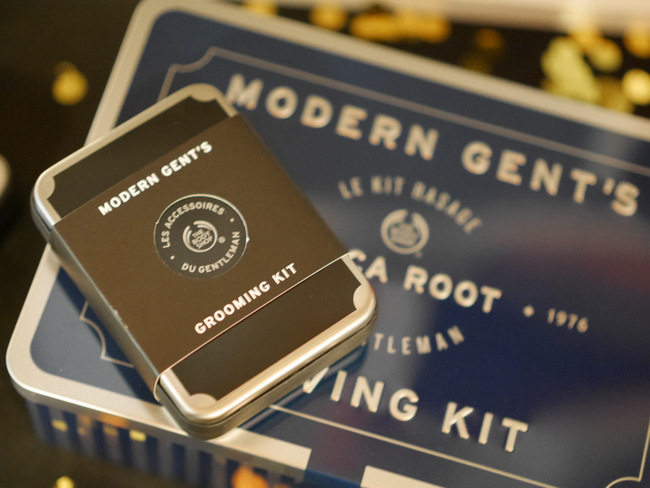 Well, the men are not left out either. There's the Modern Gent's Grooming Kit (S$26.90), that is sure to pair well with some of the festive picks for the seasonal Treat Boxes (S$12.90). Dads will also enjoy the Drops of Youth Skincare collection (S$109.90) containing an Eye Concentrate to keep those smiles lines in check.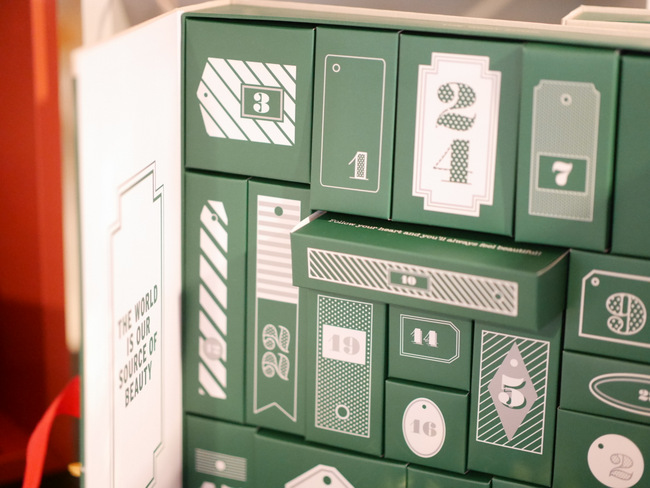 If you are having a hard time deciding, why not leave it as a surprise? The exciting 24 Happy Days Advent Calendar (S$129.90) is also available to bring a little joy every day till Christmas! (More suited for the ladies).
Giving Back with The Body Shop
What's more? Giving has never felt so good. The Body Shop has partnered with WaterAid to provide families in Ethiopia with safe water. How do we factor in? Every specially selected gift will equate to one day of safe water for one family. 
So, get gifting!
Check out their full range of products and gift sets online or in-stores.