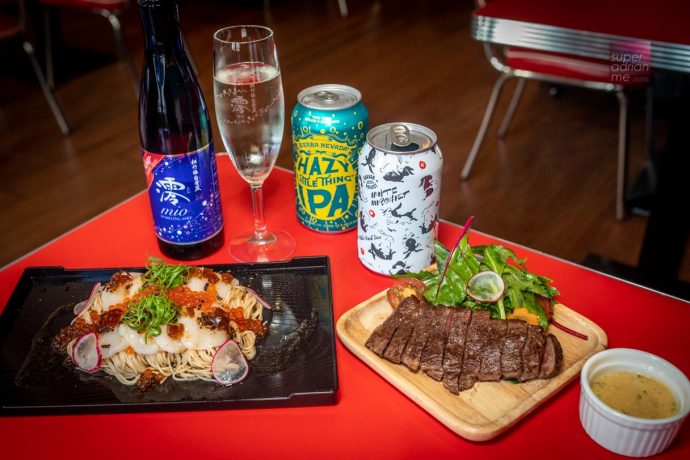 Ebb & Flow Group, the folks behind the Dragon Chamber collaboration with Tung Lok, has opened the retro 40-seater multi-concept restaurant 8ASH on 30 October. The name is actually the address of the outlet at 8 Ann Siang Hill. That's pretty easy to remember, ain't it. It is located next to Junior Pocket Bar and where Nutmeg & Clove used to be.
Three distinct brands are housed under one roof in this retro-cool space. The two new brands include Mirai Burgers (American-Japanese burger concept) & Hoshi Hill (casual-luxe Japanese set meals) feature American and Japanese Cuisines. Love Handle Burgers was launched previously at Ebb & Flow's Dark Kitchen Lab offering mouth-watering burgers made with Impossible patty.
The Hoshi Hill Chilled Hokkaido Scallop Somen (S$25) is served with a generous portion of Hokkaido scallops and ikura. Shio kombu dressing and sakura ebi powder give this dishes the added umami.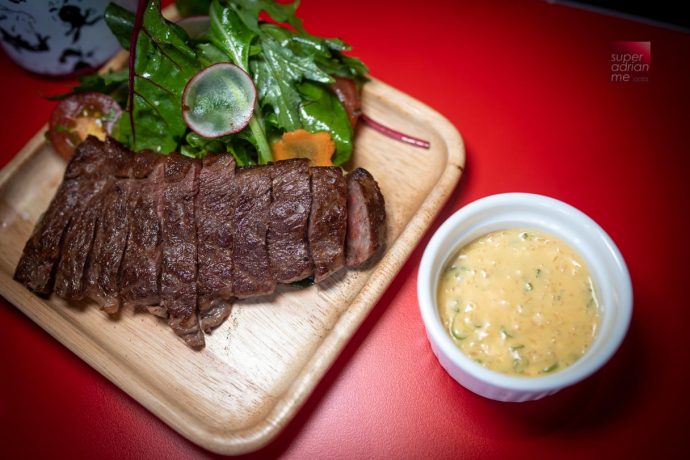 Have a craft beer with your buddy and share a plate of the Hoshi Wagyu Steak (S$18). The Australian Wagyu Picanha with a marbling score of 8 to 9 is served with a choice of sauce and seasonal salad. Or you can also have this with some Takara Mio Sparkling Sake (S$20 for 300ml). It is dangerously refreshing and easy to down.
We got to try two burgers at the media preview. The Katsu Okonomiyaki Burger (S$16) with Pork Katsu, Bonito flakes, Bulldog sauce, Kewpie and lettuce. A mouthful of enjoyment. The Impossible Meat version for the more sustainable individual comes in the form of a Mushroom Cheese Burger (S$17). An Impossible patty is topped with a stack of mushroom in shroom sauce finished with a creamy garlic aioli.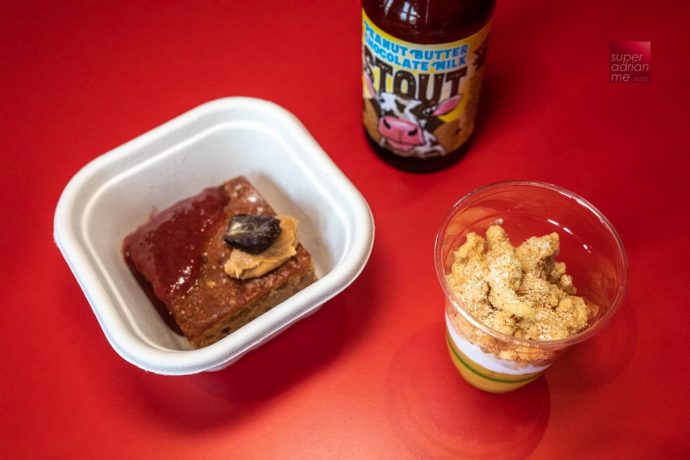 Desserts are available as well. The Lemon Crumble (S$4.50) is made with tart lemon curd and crumbly crunchy crumble, topped with whipped coconut cream and desiccated coconut.
Be the first 150 in the queue on the 4th, 5th, or 11th November from 5 pm to 9.30 pm and purchase burgers and signature dishes at S$1. More information at 8ASH Instagram
8ASH operates from 11 am from Mondays to Saturdays and closes at 10 pm Monday to Wednesday and 10.30 pm from Thursday to Saturday. Happy Hour is from 11am to 6pm from Monday to Saturday. Delivery is also available island wide from Monday to Saturday from 11 am to 8 pm with a minimum order of S$30 and a S$10 delivery fee. Enjoy free delivery for orders above S$100.