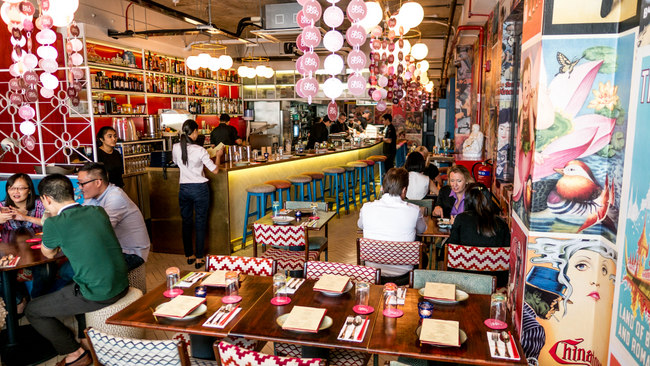 With a name like Ding Dong and an over-the-top decor (which I love, by the way), you'd hardly ever think it'd be a beacon of gastronomic pilgrimage. Luckily for us, it is an exception. Neither pandering to locals or regulars, Ding Dong has matured into their cosy, new space at Amoy Street, playfully dishing out familiar flavours we've come to love South East Asia for. Assistant Head Chef Miller Mai commands a bustling kitchen, under the guidance of Chef Ryan Clift (Tippling Club), to present an impressive line up of crispy pig trotters, yam rings and their ingenious recreation of the ever-popular chendol.
Cold Plates
As if signalling that we have ordered too much for a table of three, the starters quickly filled up any noticeable square space on the table. It sure felt like a Sunday dinner with the family, along the road side at a tze char store where we clamored to fit as many plates onto a single surface as possible. The notable difference is how stunning each dish looked. Fancy china aside, there was a adoring unity to entire mix. Chef Mai is not playing around when it came to presentation; not one dish let up.
That's not to say it was just a pretty picture.
A light, refreshing dish is always my go-to to get things going. Thus, the miso cured salmon (S$22) and Scallop Ceviche (S$18). The former presents a definite sweetness thanks to the white miso paste and sake, with the ikura roe lending a burst of savory in each bite. What ties it all together is a zesty scoop of yuzu sorbet. Follow this up with a fresh crunch of home-made kuih kapit, holding a generous serving of the Asian-styled ceviche. Think lime, mangoes and pickled shallots with sprinkles of prawn roe.
Sharing Plates
There is an undeniable homage towards Chef Mai's childhood, where he had his first taste of chef-hood at his parents' tze char stall. Most evidently, the Yam Ring (S$20).
Served with asparagus for the contrasting crunch in texture, that is where the similarities to the hawker staple ends. Dense, and deep fried, it is topped with an organic poached egg. Fans of the original may find it hard to swallow, but a couple more bites in, you'd understand what a gem this "same same but different" dish is.
Chef Mai takes it easy on the thick and brine-y oyster sauce to give the whole dish that underlying savoury note the other ingredients lack, all while introducing a whole bunch of textures with the crisp outer, velvety yam and creamy yolk.
One must admit that the great challenge in re-creating such dishes is the onslaught of criticism; starting with "do not fix what is not broken". My companions were still on the fence, at least, till the arrival of the behemoth Crispy Pork Trotter (S$29).
I won't forget the moment the server split opened the trotters, revealing the tender flesh within. A waffling aroma of spices – notably, cinnamon, bay leaf, white pepper, garlic and ginger – got everyone at the table readying their forks and knives. This is all thanks to the 12 hours the trotters spent in a spice brine.
Subsequently, sous vide and left to dry in a chiller for another 12 hours, every fibre of this pork tasted exactly as the aroma suggests. The drying process was essential to concentrate those flavours, and the deep fried outer was that little bow on the present, sealing it all in.
Oh, and the best part. The gelatinous chunks laying between the perfectly crisp skin and flesh. Have it all with a fiery burst of chili padi, soaking in shallots and vinegar. It lightens up the dish, giving me the surprising talent to help myself to servings after servings.
Bigger Plates
Despite the obvious consequence of clogged arteries, the Pork Collar Char Siu (S$26) should be available on prescription for stress relief. Marinated in char siu sauce for six hours and sous vide for another twelve, the layers of lard in between the strands of pork is the definition of decadence. A sprinkle of leek ash atop the sweet pineapple mousse, adds a smokiness reminiscent of an old school roast meat store.
Aromatic, with a spicy edge, popular Thai dishes som tam (papaya salad) and tom yum made an appearance in the Tuna Loin (S$28) and Lobster Tail and Sriracha Crab Cake in Tom Yum Broth (S$30). My companions favoured the latter, with its piquant flavours, enhanced by the little spheres of chilli oil caviar. Every spoonful was a delicate balance of hot and sour, with a subtle essence of lobster bisque. While the lobster tail was cooked perfectly, I found myself polishing the plate with the crab cakes. There were bits of shallots and herbs adding another dimension of tangy yet sweet heat to the soup.
Desserts
Chef Mai's philosophy in cooking the best while playing tribute to his roots continues to shine in the desserts. To fully savour his culinary prowess, go for the Ginger Lime Parfait (S$11), served with a sichuan pepper crumble and lychee sorbet. The punch from the young ginger is softened by the zesty lime flavours and airy parfait, making it an ideal digestivo after a heavy meal (definitely needed here).
Which opens us up for the main event – the chendol. Or, as they call it; Coconut snow (S$11) with pandan jelly noodle and a scoop of gula melaka ice cream. Tastes exactly like said local dessert – coconut, chin chow, red beans and the quintessential syrup. The only difference is how light the entire dessert is. Unlike the usual bowl, I could easily finish off one serving, all by myself. I am sure the calories are just as horrifying, but, it is just so light and soft. It instantly melts into the flavours I grew up with the moment it hits my tongue. 10/10 will have again. No sharing this time.
Chef Miller Mai has done a spectacular job with the new menu, doing what many have tried and failed. There's a lot to like. Sure, it is an awful lot of money to sit around a cramped dinner table, but, his smart play on various Asian cuisine styles is commendable and worth the treat.