Durian season returns with a plethora of Durian desserts, dishes, beverages and the actual fruit on GrabFood's GrabDurian or GrabMart platform. Since we are going to be home till mid-August, why not treat ourselves to the king of fruits. This year there are more unique and interesting items on offer including durian smelly tofu, durian popcorn, durian curry fish and others.
Check out the GrabDurian section in GrabFood or GrabMart in the Grab app.
The dish that piqued my interest was the Durian Curry Fish from Wow Bistro at Hotel Bencoolen. Generous chunks of batang fish is cooked in durian puree and Nonya curry. Durian in curry isn't something common. To some, it is even unftahomable.
Open up the packaging, and you immediately get a whiff of durian. Because it is a Nonya Curry, the curry has a lot of lemak which makes this thick curry absolutely appetising. You can taste the sweetness from the durian puree as well as savoury notes from the curry with hints of spiciness. The thick chunks of batang fish gives this curry texture.
It comes with baguette so you can soak up the curry. I enjoyed this uncommon dish. Kinda reminded me of Shen Tan's Durian Tempoyak Mussels which I had last October.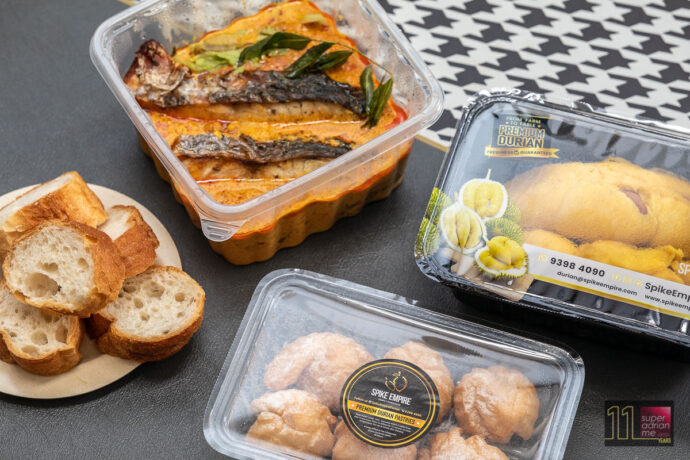 Grab also sent over some fresh deshelled packed Mao Shan Wang durian and Mao Shan Wang Durian mini puffs from Spike Empire. Sink your teeth into the soft fluffy mini puffs and savour the light sweet durian cream within. They are small enough to be eaten in one mouthful.
And if you spend at least S$80 at GrabDurian by Spike Empire and get a free #GrabDurian tote bag while stocks last.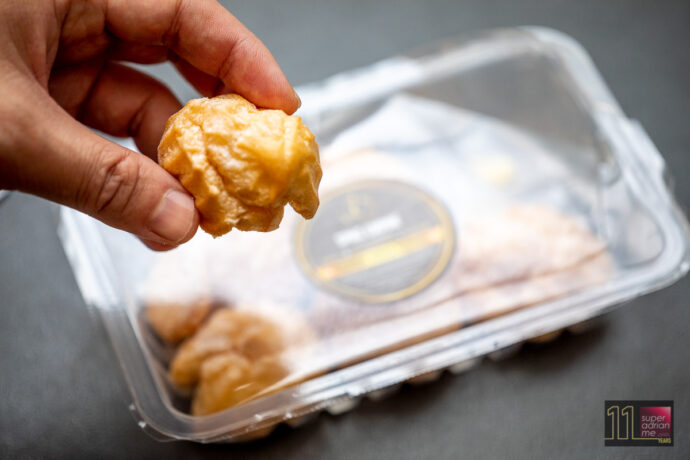 There are other durian treats that you should try. Be as adventurous as you wanna be.
| Durian Treats | Supplier | Description |
| --- | --- | --- |
| Durian Kaya | Four Seasons Durian | Classic kaya made better with the taste of durian goodness. Enjoy with toast or straight out of the jar, you choose! |
| Real Durian Popcorn | Eureka Popcorn | Here's a new snack companion while you binge-watch your favourite movies. Just make sure you're watching them with fellow durian fans! |
| Fresh Fried Durian Stinky Tofu | Man Kou Xiang Vegetarian Fried Stinky Tofu | Intense smell warning! Could stinky tofu get any stinkier? Apparently so, when paired with a dollop of fresh Mao Shan Wang |
| X.O Durian Milk Tea | Beans Party Dessert | The King of Beverages meets the King of Fruits, a match made in heaven. If you are a fan of both, this is something you'll not want to miss! |
| Sugarcane Mao Shan Wang Durian Smoothie | Yumi – Hong Lim Complex | Who knew the refreshing sugarcane could be enhanced with Mao Shan Wang? Intrigue your taste buds with this decadent smoothie! |
| Ultimate Durian Boost – Lactation Overnight Oats | Yummies4Mummies | Breastfeeding mummies can enjoy this ultimate minerals-packed boost of oats, fresh milk, flaxseed, chia seeds, dates and topped with fresh durian! |
| Hokkaido Durian Cheesecake | Golden Moments & Shell Select | Hokkaido cheesecake infused with Mao Shan Wang goodness! Just make sure there's enough to share with the family too |
| Nifola Durian Milk | Euphorika | Durian-flavoured milk sounds like a great way to start the day (or at any time of the day, really)! Drink it as it or maybe even turn it into a perk-me-up smoothie. |
| | | |