The tradition of tossing julienned vegetables and fish has been a custom for Chinese New Year here in Singapore. Over the past few weeks, we've tasted so many different types of yu sheng here in Singapore, and there were many great ones. But what stood out were those with fruits. Natural sweetness and a refreshing change from the norm.
Toss Yu Sheng like a boss with this guide created by Singapore Chinese Cultural Centre.
You can easily make your own at home with recipes we found online at Unilever Food Solutions and HealthXChange.sg. But if you don't have the patience, you can just get yours from some of these recommendations below.
Peach Blossoms' Flowers Blossoms to Fortune and Prosperity Harvest Yu Sheng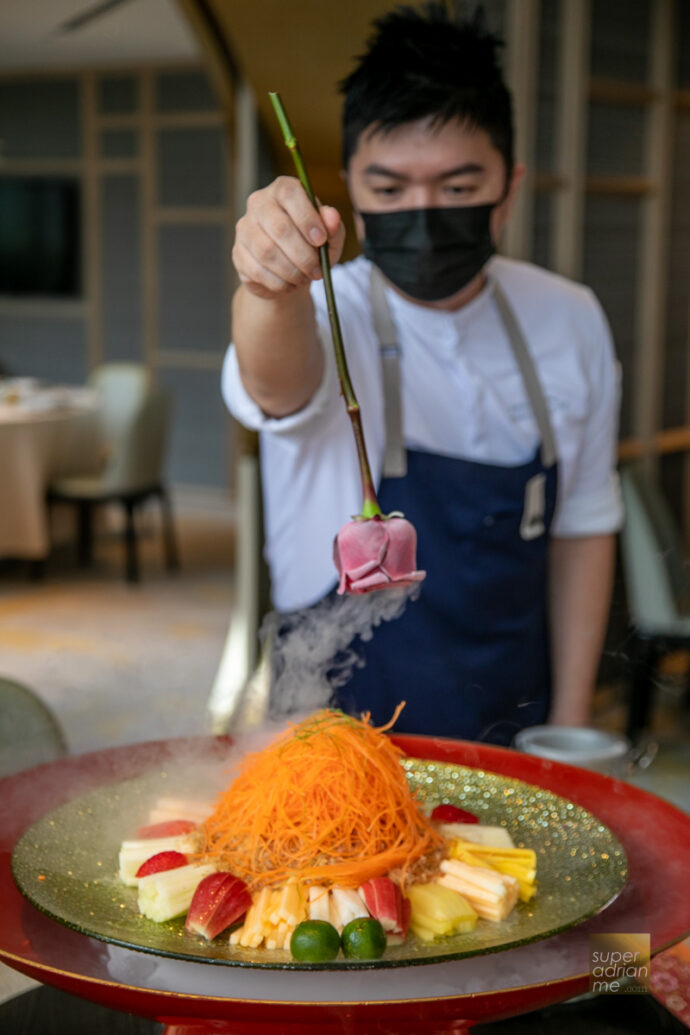 Chef Edward Chong brings back the Nitrogen-infused Rose this year to accompany the "Flower Blossoms to Fortune and Prosperity" Harvest Yu Sheng. Chef Edward has curated a refreshing take on the Yu Sheng with organic mixed fruits accompanied by kanpachi, abalone and crispy whitebait.
This is available for dine-in only at S$138++ or S$188++ for five or ten people respectively. If you need one to take away, The Prosperity Salmon Yu Sheng with Crispy Whitebait and Nashi Pear is available at S$108++ or S$138++ for five people and ten respectively.
Check out Peach Blossoms' selection of Yu Sheng and Chinese New Year menu.
Healthy Well-Being Yu Sheng at Racines at Sofitel Singapore City Centre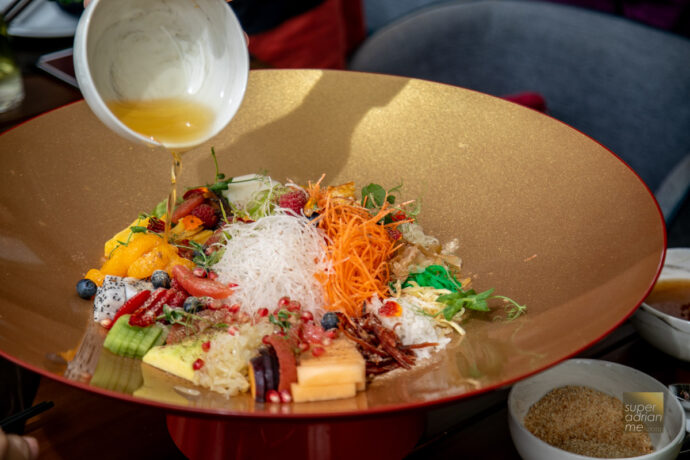 Toss to a healthier year of the rabbit. At Racines, you can order the Healthy Yu Sheng at S$128+ for takeaway. You have a choice of traditional or yuzu dressing. The yu sheng features a combination of mixed fruits with kiwi, tangerines, cantaloupe, apples, honeydew and shredded vegetables. A perfect alternative for your vegan friends.
Order yours at https://bit.ly/sofitelcny23 by 2 February 2023 and enjoy 15% early bird savings using promo code "EBCNY15" before 16 January 2023.
Neo Garden Catering offers a refreshing Fruit Yu Sheng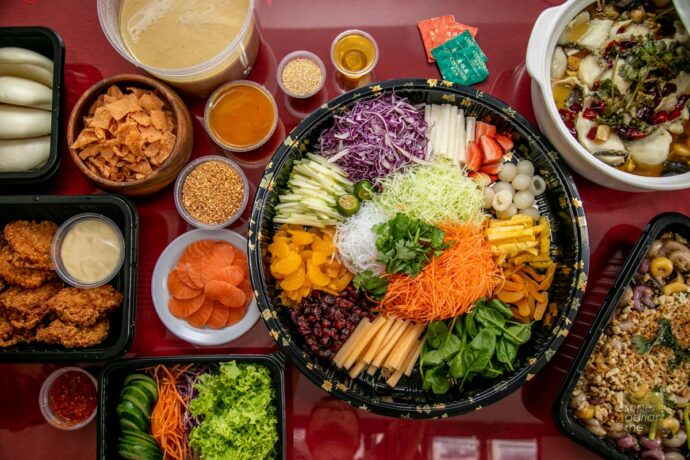 Neo Garden Catering offers a variety of different yu shengs. The one we had was the Rainbow Fruit Yu Sheng which was a hit at home. Strawberries, longan, canteloupe, tangerines, cranberries and dried apricot are tossed together with other vegetables. Top with slices of salmon and other condiments for a very refreshing and enjoyable yu sheng. Priced at S$139.97 with GST, this yu sheng serves 8 to 10 people. Order yours online.
Full Blossoms of Fruits Yu Sheng with Blackgold Abalone at Madame Fan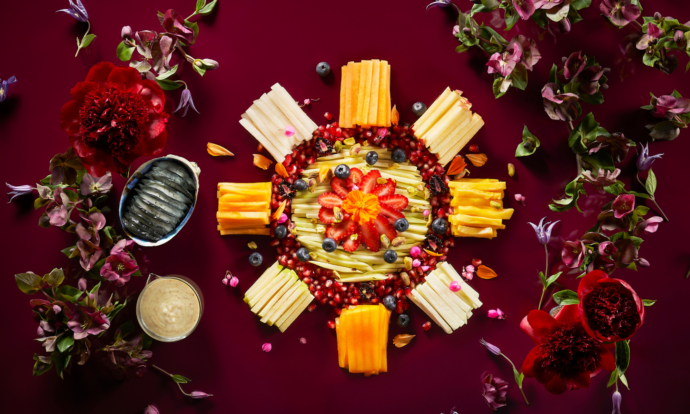 Madame Fan presents the Full Blossom of Fruits Yu Sheng with New Zealand Blackgold Abalone ($238++). Inspired by the dynamism of blossomy, Executive Chef Pak Chee Yit presents a refreshing appreciation of Yu Sheng, topped with a nourishing Blackgold Abalone harvested from pristine New Zealand oceans. Madame Fan's newly curated Yu Sheng for the season is showered with Orange Cosmos lending a sweet and zesty undercurrent in complement of premium fruits such as Harumanis Mango from Japan, South African Blueberries, Fuji Apple, Spain Persimmon, Cantaloupe Rock Melon and Korean Pear, dressed with refreshing homemade Lemon Honey Grain Mustard Yogurt.
Fruits Yu Sheng at Kuriya Japanese Market for Home Dining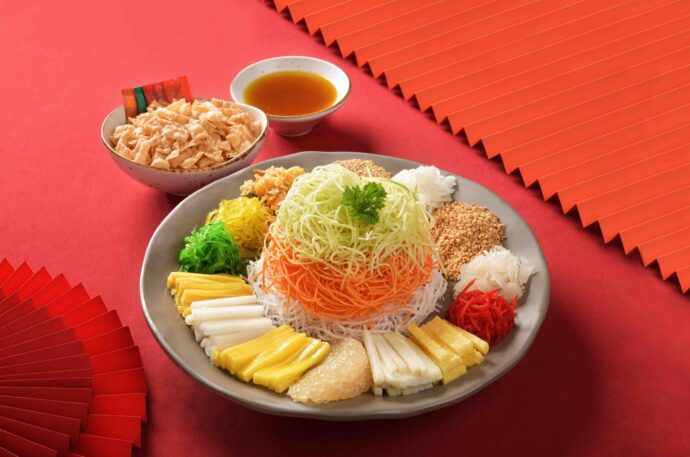 Kuriya Japanese Market offers a 6 Treasures Fruits Yu Sheng and Invigorating Fruits Yu Sheng. Enjoy a refreshing medley of pomelo, pear, guava, mango, pineapple and jackfruit with yuzu sauce made with ingredients from Japan. Available online at S$58.80. Add on seafood or other ingredients at additional costs. 8 pieces of Salmon or Maguro for S$6.80 or 8 pieces of Tai, Kanpachi for S$8.80. 10 pieces of Amaebi will incur an additional S$11.90. Every yu sheng order comes with a free limited edition red packet. Order online for pickup or delivery.