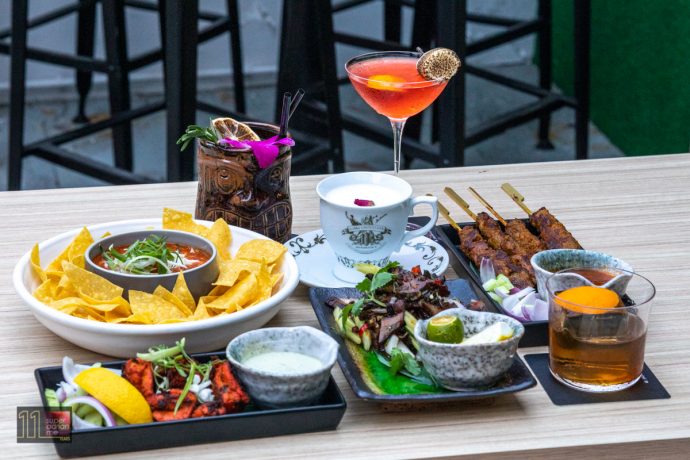 Jekyll & Hyde is located in a two-storey shophouse at 74 Neil Road, serving cocktails and elevated local comfort food. And I would come back for the food, having already identified a few favourites of my own. I can't remember when was the last time I visited Jekyll & Hyde. It first opened in August 2013 as a nail parlour by day and speakeasy by night in another location.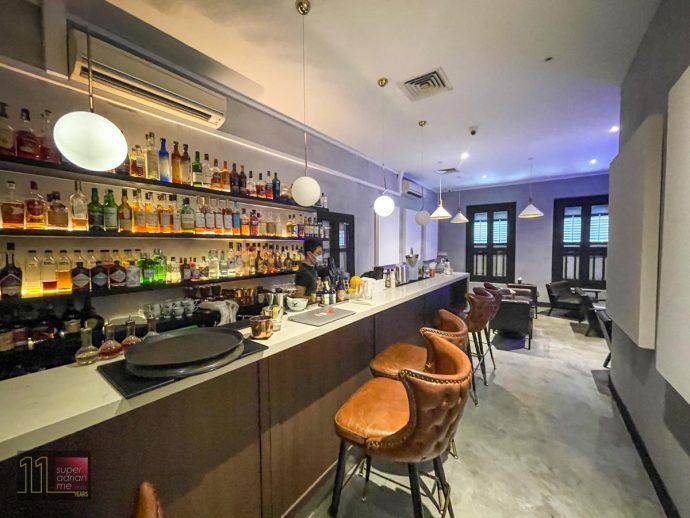 On a cooler and non humid evenings, the alfresco courtyard is quite a nice place to chill with friends. This area seats 45 with social distancing measures. Furthermore, this space is pet friendly. Jekyll & Hyde has a Food Shop (Pets Allowed) license from the National Environment Agency.
And if you absolutely need to be in an air-conditioned environment, there are 6 seats at the bar area and 22 seats in the dining area on the second level. Restrooms are also on the second level.
The Bites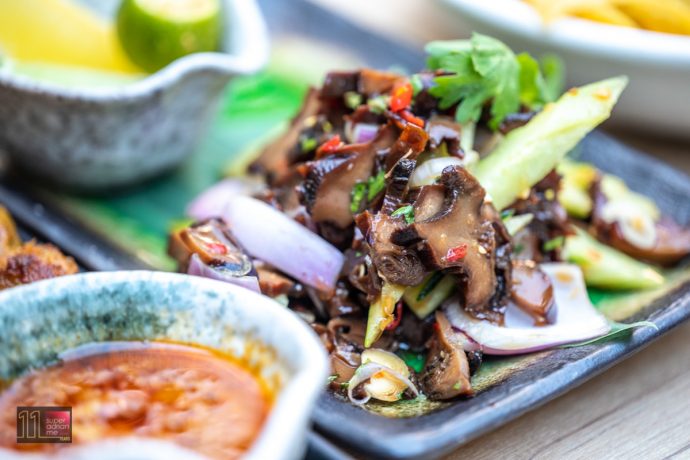 Chef Alvin Tan was formerly the head chef at Shanghai Dolly and Straits Clan. His Mod-Sin cuisine is elevated comfort Singaporean cuisine
The Jekyll's Hua Tiao Bee Hoon is inspired by the braised pork leg bee hoon that Chef Alvin grew up eating. Golden brown crisped thin vermicelli is topped with house-made pork gravy made using pork bones that are boiled for at least 1 full day at high temperature. This flavourful ultimate late night supper dish is served with assorted seafood and a generous portion of spring onions. A serving will cost you S$23++.
Another favourite is the S$22++ Kurobuta Fried Carrot Cake. Served like a pizza, the carrot cake is sautéed with garlic and bacon. It is cooked in low fire and Hua Tiao wine is drizzled and served with homemade sambal floss on the side.
I have always been a fan of top shell. So I couldn't stop snacking on the Gula Melaka Top Shell (S$15++). The top shell brin is reduced and made into a syrup which is folded with lemon lime and calamansi, shallots, chilli padi and gula melaka. A very savoury, tangy and spicy dish that pairs with an alcoholic beverage or cocktail.
If you want some light bites, go for the Chilli Crab Nachos (S$18++). The dip is made with deep sea wild crabmeat, Japanese ikura, homemade blended chilli made from red chilli, dried chilli, onions, fermented soya bean, candlenut, tomato sauce and chilli sauce.
The Cocktails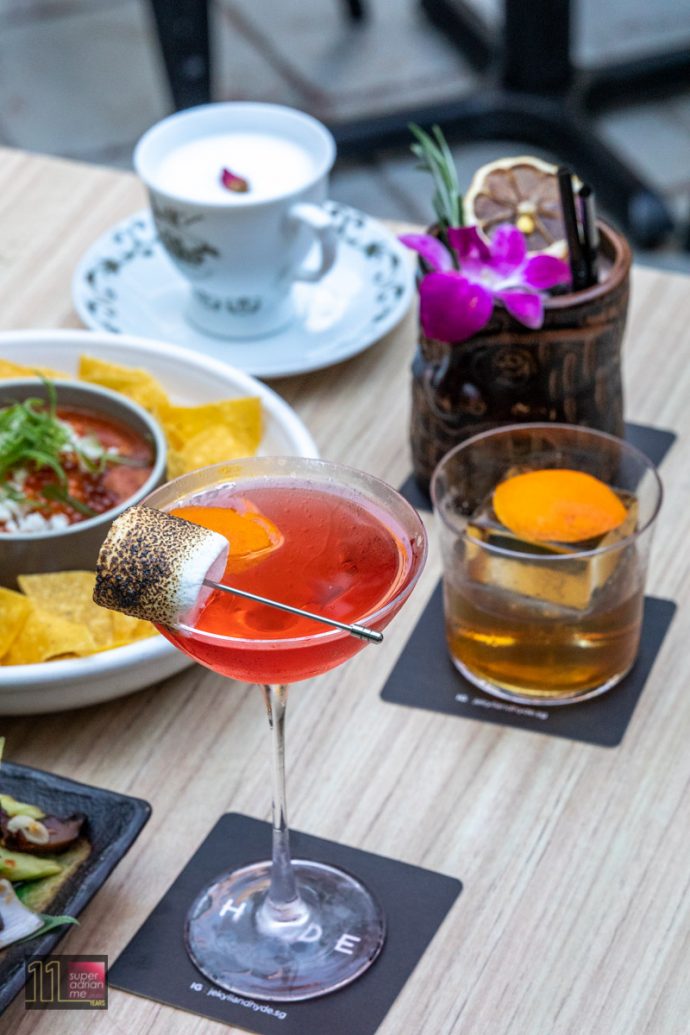 The drinks menu focuses on twists of classics where funky food ingredients found in everyday life are incorporated into the tipples. Tantalise your tastebuds with flavours such as bacon, peanut butter, bananas and exotic spices.
The bar is helmed by Head Bartender Michael Foong. Foong was the winner of Diageo World Class's Rising Star Award in 2019.
The PB&J is like breakfast in a glass and is a fun twist to the Negroni with ingredients such as peanut butter washed Bulliet Bourbon, Rinomato and orange peel infused Cinzano bianco A toasted marshmallow offers added texture and sweetness.
Peach Please! comes in a teacup. A take of the gin sour, this cocktail contains dried mango Hendrick's Gin, vine peach liqueur, lime juice and egg white. The dried mango is sous vide and infused in the gin for over four hours.
OG B&B is an interpretation of a classic Old Fashioned. Contains caramelised bacon infused Naked Grouse, Tempus Fugit banana liqueur, maple syrup and spiced chocolate bitters.
Cocktails are priced at S$22++.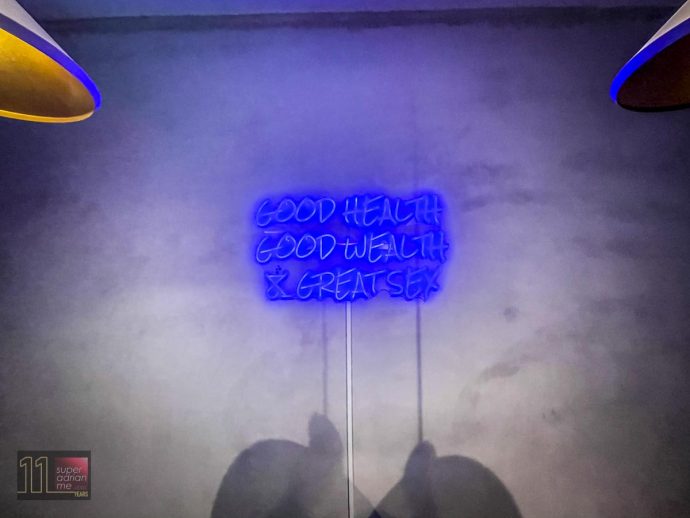 Jekyll & Hyde is open from 4 pm to 10.30 pm from Tuesdays to Fridays. On Saturdays and Sundays, Jekyll & Hyde operates from 11 am but closes at 10.30 pm and 6 pm respectively. Daily happy hours start from 4 pm and ends at 7 pm where classic cocktails, house beer, house red and white wine are available at S$12. Enjoy a special brunch-only menu on weekends from 11 am to 3 pm.