Hendrick's Absinthe is the latest spirit launched in Singapore that marries absinthe and gin at a lower ABV of 48% instead of up to 74%. No colour has been added and the ingredients are natural. Hendrick's Absinthe is used as a component in cocktail concoctions. I am not a fan of sipping it on its own.
Hendrick's Master Distiller Lesley Gracie realised the uncanny similarities between the two botanical spirits. After the previous creations of Hendrick's Orbium, Gracie describes her inspiration "Absinthe has this incredibly rich history steeped in mystery and was for many years feared, but it really shouldn't be as it is such an amazing liquid. It is really a cousin to gin, in that it is a botanically flavoured spirit – just with a different palette of botanicals to play with."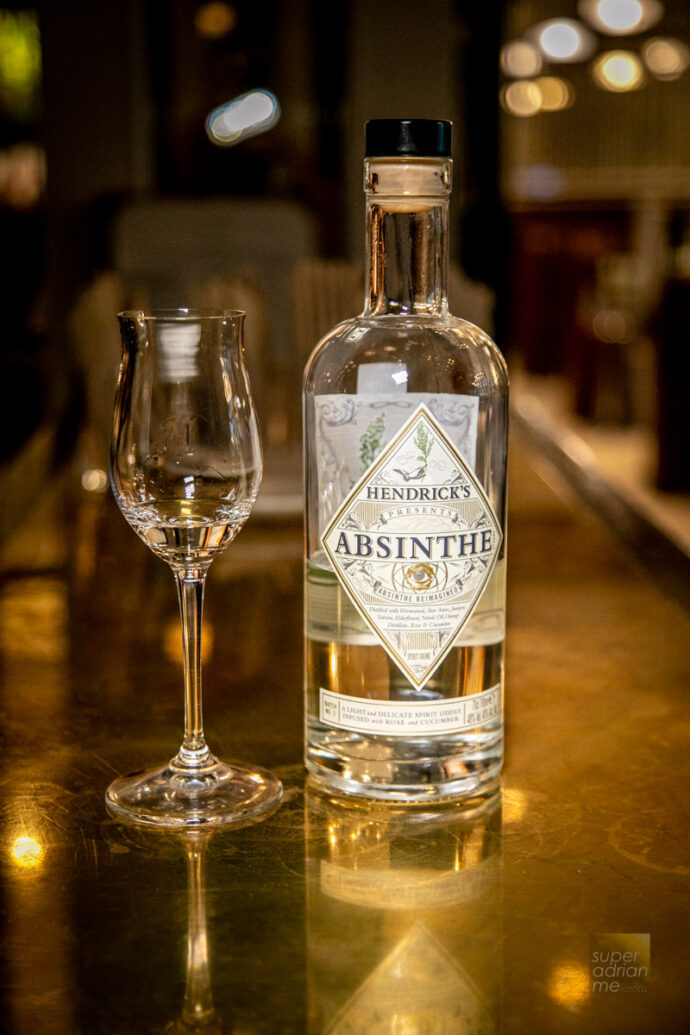 Gracie takes the two traditional botanicals in absinthe, 'Artemisia absinthium' (best known as wormwood) as well as star anise, and venture beyond the conventional by curiously combining them with seven additional botanicals, including Hendrick's Gin's signature infusions of rose and cucumber.
20 renowned bars across Singapore have each created a Hendrick's Absinthe cocktail inspired by the Belle Époque era of creative freedom and untamed artistic imagination. To celebrate the launch, these cocktails are available until 23 October 2022.
Get them from ATLAS Bar, Barbary Coast Ballroom, Barbary Coast Deadfall, Employees Only, Fat Prince, Jekyll & Hyde, Jigger & Pony, Low Tide, Manhattan, Night Hawk, Nutmeg & Clove, Papa Doble, Revival, Sago House, Stay Gold Flamingo, Sugarhall, TESS Bar, Writers Bar, The Bar @ 15 Stamford and Nemesis.
The Bar @ 15 Stamford Bar's Edriane Lim has created The Muse I Seek tiki-style cocktail using Hendrick's Absinthe with ingredients such as tarragon, mint, pineapple juice, lime juice, rock melon cordial, honey, soda and bitters. Edriane was inspired by the song "Mus.I.C" in the dance piece choreographed and performed by the hip-hop dance crew Jabbawockeez.
The Muse I Seek emulates the idea of unity and diversity of the Jabbawockeez. Many ingredients with their own bold flavours come together in perfect balance. It also pays tribute to the power of music in setting the stage for not just dancers but also bartenders and their guests for a great night at the bar.