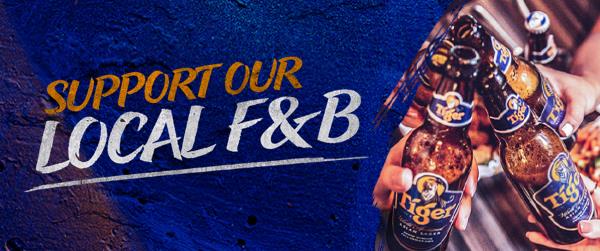 Tiger Beer pledges S$1 million to support local F&B and rallies you to #SupportOurStreets. The 'Support Our Local F&B' initiative aims to raise a collective S$1.3 million to help local F&B community such as coffee shops, food courts, bars, pubs and restaurants tide through COVID-19. Singapore and Malaysia are the first countries in Asia Pacific region to launch this regional campaign with markets including Cambodia, Myanmar, Philippines, Thailand and Vietnam set to roll out the activations over the next two weeks.
 "Tiger was born on the streets of Singapore. Without the streets and our famous F&B outlets, there would not be Tiger. As the beer of Singapore, we have strong roots in the community and have weathered many storms together with generations of Singaporeans. We want to do our part to help our local F&B partners revive faster until they can thrive again. #SupportOurStreets is our pledge and the initiatives will provide a tangible means for us to come together with consumers in a bid to raise over S$1.3 million to support our local F&B community." 

Andy Hewson, Managing Director, Asia Pacific Breweries Singapore
The 'Support Our Local F&B' initiative runs till 31 May 2020. Visit Tiger's website to make a contribution of S$10. You can contribute as many times as you wish. Each week, these are collated and all proceeds will go directly to the F&B community.
Tiger has kick started the fund with a S$100,000 contribution. Tiger has also pledged to contribute up to S$600,000 worth of beer product sponsorship to support the recovery of the F&B community. Each S$10 contribution will entitle consumers to a digital drink voucher redeemable for two Tiger beers when the outlets resume operations to encourage footfall and support the outlets' restart and revival. 
Tiger aims to raise an additional $300,000 in contributions from Singaporeans, which will go directly towards more than 430 participating F&B outlets with more joining in the weeks to come. In preparation to support the industry's recovery, Tiger is also planning a care package to be rolled out when F&B partners restart their businesses again. 
How Support Our Local F&B Works
Make a S$10 contribution. All proceeds will go directly to participating F&B outlets 
Receive a digital drink voucher redeemable for two Tiger beers 
Enjoy your beers at a participating outlet when it reopens v
Also, check out our round up of F&B in Singapore that offers Delivery and Takeaway.