Mid Autumn Festival falls on 10 September this year. It's a traditional annual affair where friends and family enjoy these sweet baked or snowskin mooncakes with hot Chinese tea or perhaps some with cocktails or champagne. The festival celebrates the end of the autumn harvest. But in Singapore, companies and consumers alike find a reason to gift people who matter beautifully packaged mooncakes in appreciation of the friendship.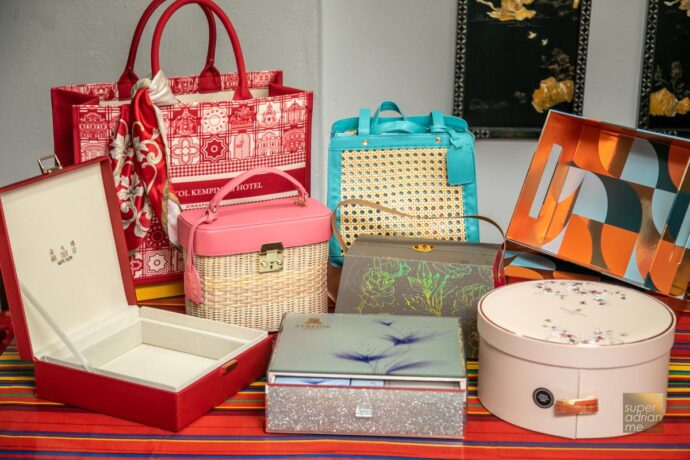 This year, we spotted some interesting packaging as brands are looking to extend the life of these packaging beyond just housing mooncakes.
Featured
A Si Chuan Dou Hua Mid Autumn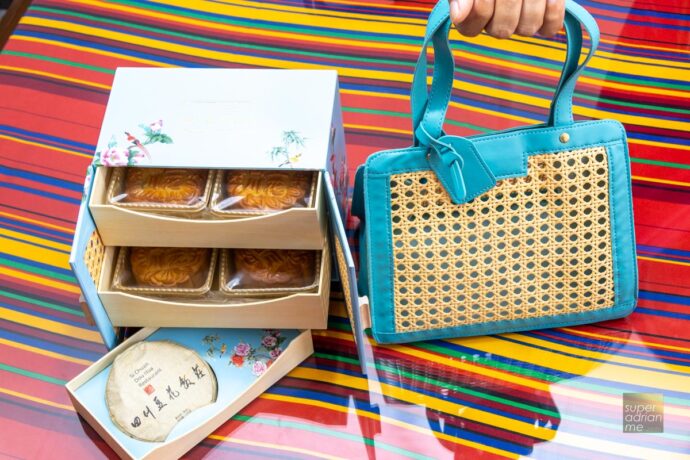 Si Chuan Dou Hua Restaurant continues to offer a selection of low-sugar mooncakes so you can enjoy them without guilt. This year's design takes a leaf from nature with an eco-chic packaging to encourage usage all-year round. The carrier this year is a beautiful wicker woven tote bag that can be repurposed as a carrier. The mooncakes will be packaged by beneficiaries from Extra*Ordinary People, as part of Si Chuan Dou Hua's inclusive hiring efforts for persons with disabilities.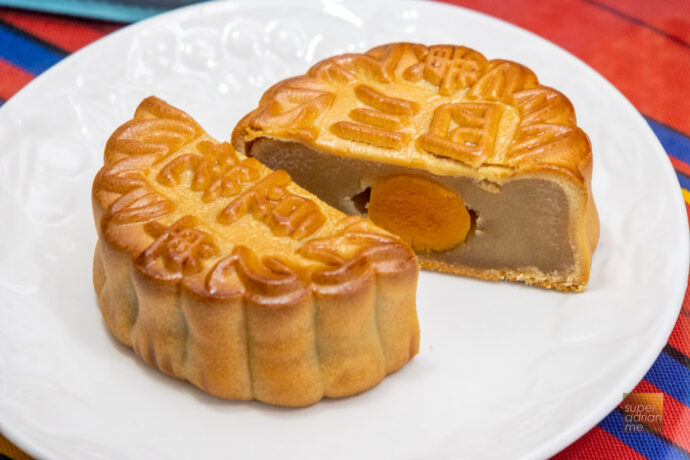 These low-sugar mooncakes are already on sale up to 10 September 2022. Prices start from S$35+, and you have the option to purchase in sets of two or four pieces with four flavours to select from. If you purchase the four-piece set, they will be packaged in a drawer box that you can use to store jewellery or other smaller items in the future. In one of the drawer boxes is a premium Pu-erh tea cake that is perfect to end off the sweet treats. The smaller two-piece box can act as an elegant tissue box holder.
By the way, the Lychee Paste with Rose baked mooncake makes a comeback this year since its debut last year. This is my favourite baked mooncake this year, with light floral tones and sweet lychees. A new flavour is the Nyonya Brown Sugar with Shredded Coconut mooncake.
Order online. UOB, AMEX and DBS Cardholders enjoy a 15% discount.
---
Gorgeous Bags and their Mooncakes
The Capitol Kempinski Singapore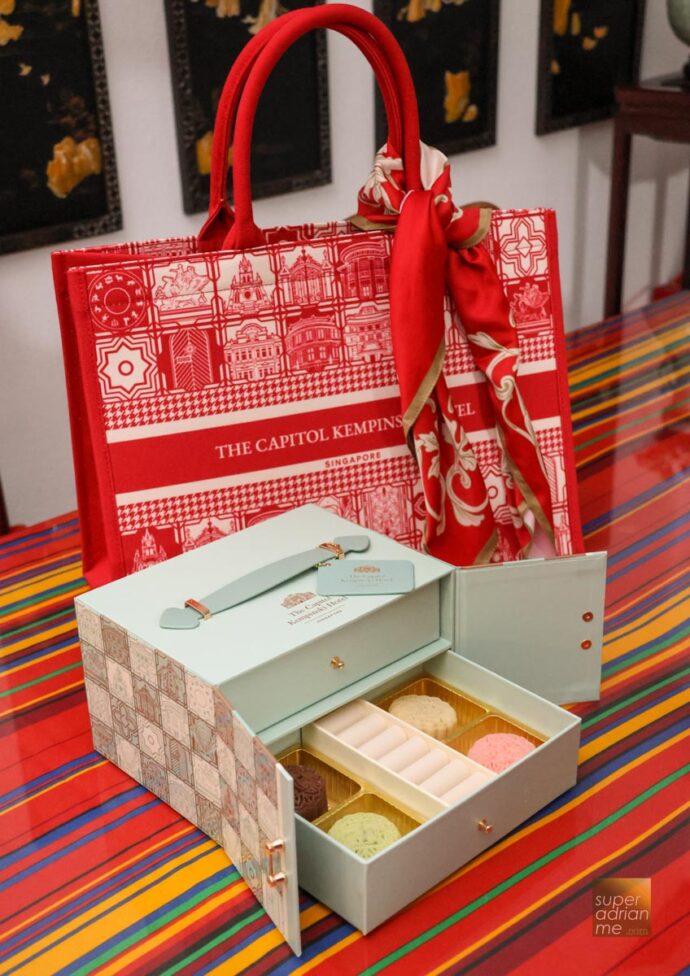 The Capitol Kempinski Hotel Singapore honours heritage and tradition with classic mooncakes in new limited-edition mooncake packaging and chic tote bags. Two new elegant tin boxes and two new matching multi-purpose bags borrow inspiration from two landmarks of Singapore's Civic District: Capitol Singapore and CHIJMES.
The reusable tote bags are made from premium canvas and adorned with classic heritage images and iconographies as well.
The Mini Matcha Mochi mooncake is a new snowskin flavour this year. The Hotel's Mini Champagne Truffle Snowskin as well as its signature Mini Snowskin Valrhona & Plantation 1840 Truffle and premium Mini Snowskin Mao Shan Wang Durian are back. The Lychee Rose Snowskin Mooncake features sweet to floral flavours from the whipping cream, sugar, rose petals, lychee, rose essence, lychee essence and white lotus paste.
For those who prefer the traditional baked mooncakes, there are Mini Baked White Lotus Paste with Egg Yolk, Mini Baked White Lotus with Macadamia Nuts, Mini Baked Pandan Paste with Melon Seeds and Mini Baked Pineapple Paste.
Prices of mooncakes start from S$74 up to S$98. For the "Kempinski Heritage Pack" which features a Jade Box and Tote Bag, prices start from S$116 up to S$128.
Order online.
The Marmalade Pantry
The Marmalade Pantry reimagines traditions with an ensemble of baked mooncakes crafted with a low sugar and no lard recipe. New Flavours this year include the Traditional White Lotus Paste with Macadamia Nuts, Hojicha Matcha with Raisin while signature flavours include the Baked Charcoal with Black Sesame and Melon Seeds or the Double Yolk with White Lotus paste.
An all-new special edition hand-woven Blush Pink Rattan Vanity Case as well as a sleek Scarlet Red Large Tote Bag make the gifting tradition stylish. The bags are made with natural rattan wicker or over rattan webbing with accents of PVC leather.
The Blush Pink Rattan Vanity Case (S$58++ and pictured above) is a petite vintage-style bag. The Marmalade Mix (S$88+), The Classic Collection (S$90+) or The Deluxe Marmalade Mix (S$148+) comes with the Blush Pink Rattan Vanity Case
Order online
Social Place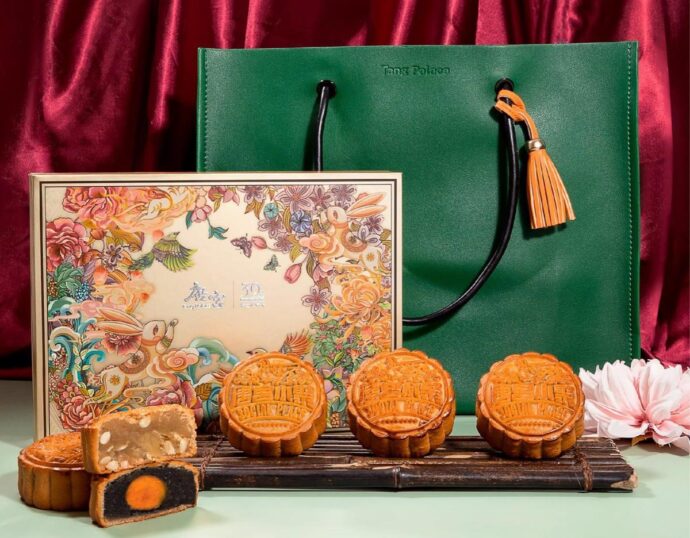 Social Place, the Hong Kong dim sum and contemporary Chinese cuisine restaurant, has specially handcrafted mooncakes locally in a beautiful box with ornate illustrations and housed in a gorgeous chic faux leather green bag imported from Hong Kong. This year we see more tote bags paired with mooncakes and it's a growing trend.
The Four Heavenly Kings comes in an assorted medley of traditional baked mooncakes at S$88. Flavours include White Lotus Double Yolk, Black Sesame with Single Yolk, Tianjin Red Bean Paste and Melon Seed White Lotus.
Purchase mooncakes in-store and enjoy a 10% discount until 31 August 2022. Or order online.
Bynd Artisan and Sunday Folks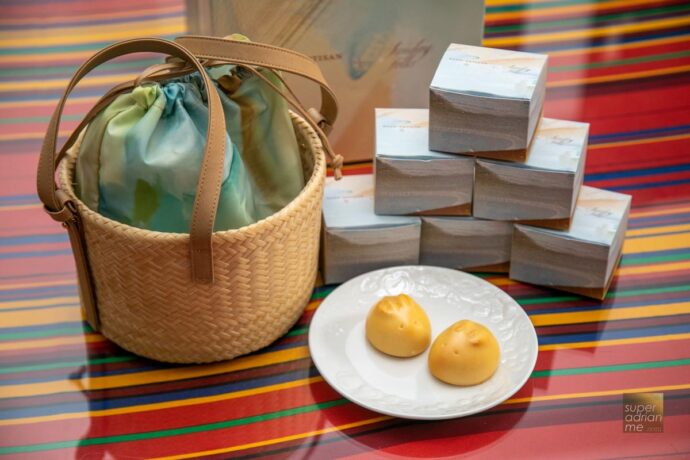 Bynd Artisan collaborates with Sunday Folks to present the "Tù(兔)gether Again Mooncake Basket" filled with six individually-boxed baked mooncakes in the shape of a rabbit. Each is filled with shiro-an (white bean) filling with yuzu zest.
The bamboo and vegan-leather basket by Bynd Artisan also contains a nylon dust bag which can be separated to be re-purposed in any way you like. The basket can be used as a fruit basket or a shopping tote.
The "Tùgether Again Mooncake Basket" retails at S$88 excluding delivery. S$15 delivery fee per location with an additional S$5 for Sentosa addresses.
Order online from Bynd Artisan or Sunday Folks
---
Vanity Cases that are Too Pretty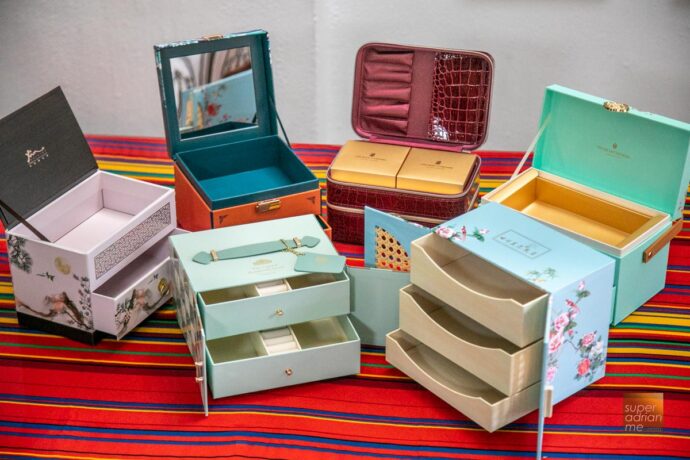 We see a couple of vanity boxes this year. Not only do we get to enjoy the mooncakes, but we also get to recycle the packaging to keep your jewellery or in some cases, cosmetics.
Intercontinental Singapore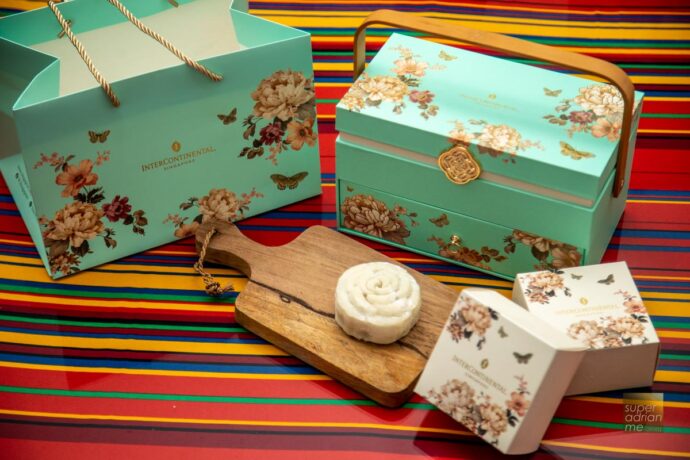 Man Fu Yuan's rose snow skin mooncakes this year feature flavours of Passionfruit Earl Grey, Lychee Oolong, Thai Cheese Milk Tea, and Sea Salt Caramel Rose. The Snow Skin Mooncake Signature Tea Treasures set is priced at S$98 for four pieces.
Baked mooncakes this year include the White Lotus Seed Paste with Double Yolk and Low Sugar White Lotus Seed Paste with Macadamia Nuts, Red Lotus Seed Paste with Single or Double Yolk and White Lotus Seed Paste with Assorted Nuts.
Gift a premium set that comes with four assorted baked mooncakes including Black Sesame, Sakura Shrimp, Pineapple Matcha and Oolong Cashew and an ivory tea set for S$106. Another limited edition is the exclusive InterContinental Negroni Truffle Snow Skin Mooncake which combines white lotus seed paste and Negroni truffle centre. A very balanced flavour with depth. One of my favourite snowskin mooncakes this year.
Walk-in purchases are available until 10 September 2022 at Man Fu Yuan Shoppe at level 1 side entrance of InterContinental Singapore from Bugis Junction Mall or visit online.
Xin Cuisine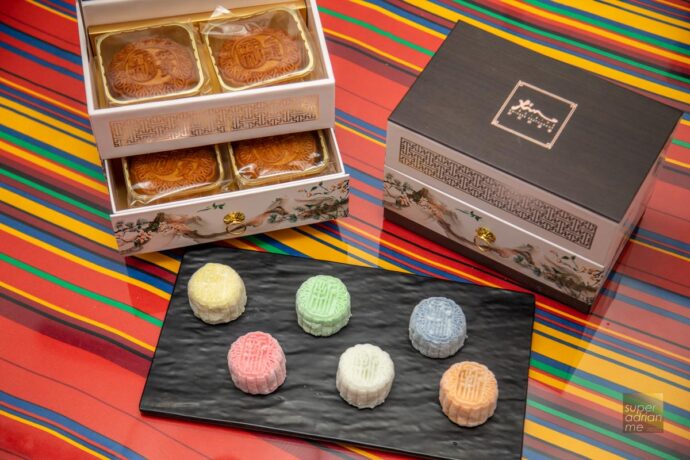 Xin Cuisine brings back the Teochew Yam Paste with Single Yolk Mooncake and the Mini Baked Egg Custard with Half Yolk Mooncakes while introducing three new snowskin flavours of Rum & Raisin Praline, Lychee Martini Praline and Soursop Paste with Dragon Fruit.
Perennial favourites such as the Low Sugar White Lotus Seed Paste with Double Yolk Baked Mooncake and the Peranakan Durian Mini Snowskin Mooncake encased in an iconic blue hue are also back this year.
Order yours online till 6 September 2022.
The St. Regis Singapore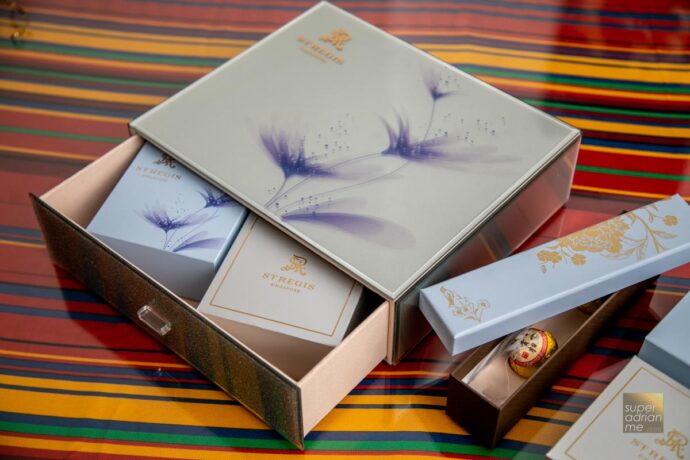 Yan Ting at the St Regis Singapore showcases a collection of handcrafted traditional baked mooncakes (from S$80+) or mini snowskin mooncakes (from S$85+) presented in an iconic Gilded Gold or vibrant Resplendent Silver-Violet (pictured above).
New flavours include the Pandan Paste with Melon Seeds Traditional Baked Mooncake and the Royal Milk Tea Paste with Irish Coffee Truffle snowskin mooncake. Impress someone with a Lavish Gift Set featuring an Orient Jade Tea set complete with mooncakes for S$211.85.
Order online.
The Ritz-Carlton Millenia Singapore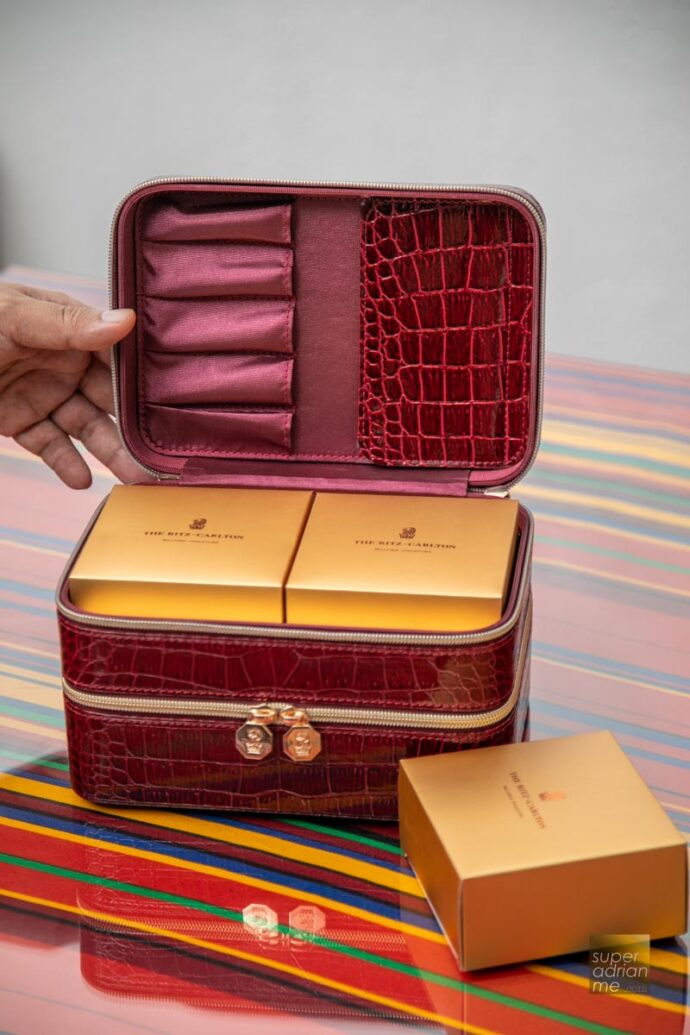 This year The Ritz-Carlton, Millenia Singapore introduces two different mooncakes vanity cases which can be repurposed as travel-sized vanity cases after the mid-autumn festivities. They come in burgundy with crocodile print (pictured above) or white embossed leather with floral motifs. The case features five pockets for makeup brushes, and dual compartments with zips to house your cosmetics. there is a personalised luggage tag and shoulder sling to the box.
Apart from the hotel's signature Mini Snowskin Lycheetini mooncakes which comprise a mix of real lychee bits with the same fruit liqueur, and Snowskin 'Mao Shan Wang' Durian mooncakes that are well-loved for its creamy texture and bittersweet taste, a new flavour to look forward to this year is the Black Sesame with White Lotus Seed Paste and Roasted Walnuts.
Order online.
Old Seng Choon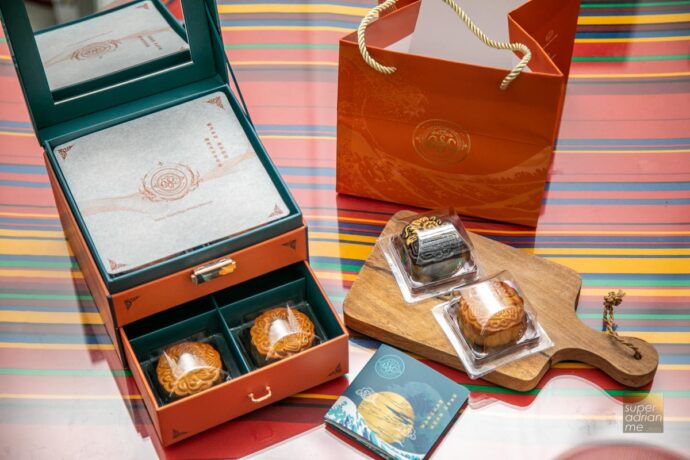 Old Seng Choon introduces new flavours this year. They include Liu Ren (Mixed Nuts with Olive Kernel), Taro with Pumpkin, as well as White Lotus Paste with Olive Kernel. The Black Truffle Red Lotus Paste with Bakwa and White Lotus Paste with Yolk Blend make a return this year.
This year's packaging is an intricately-designed box dressed in vibrant peach and blue hues and adorned with befitting illustrations. It also features a meaningful mandarin phrase strikingly embossed in gold – 海上升明月,天涯共此时 – symbolising reunion and a time when family and loved ones rekindle conversations under the same moonlight, together or apart.
Get the Four Heavenly King at S$73.80 a box with 8 mooncakes, two of each flavour. Enjoy the White Lotus Paste with Olive Kernel, White Lotus Paste with Yolk Blend, Black Truffle Red Lotus Paste with Bakwa and Taro with Pumpkin. Prices of the other sets start from S$68.80
Order online.
---
Vegan and Plant-Based Mooncakes
Delcies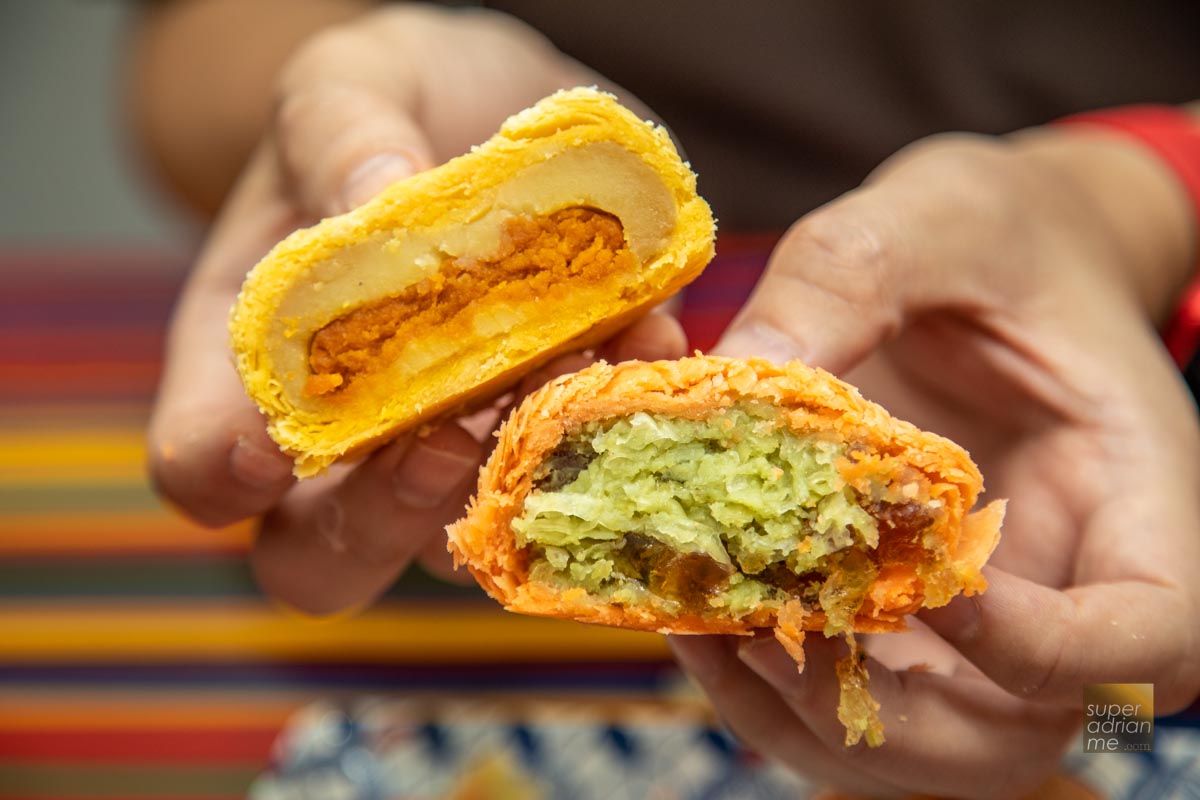 Delcie's introduces the local cuisine to the mochi mooncake celebrating national pride . Enjoy this unique plant-based experience the Laksa QQ Mochi Mini Mooncake and Satay QQ Mochi Mini Mooncake. Delcie's mooncakes are suitable for vegans and vegetarians. Only halal-friendly ingredients without pork, lard or alcohol are used.
A box of two Laksa Coco QQ Mochi mini mooncakes or Nutty Satay QQ Mochi Mini Mooncake is priced at S$30. Or get the set of four pieces at S$57. Traditional baked ooncakes are priced from S$51. The Spiral Teochew White Lotus with Vegan Yolk and Teochew Pandan Lotus White Peach Gum Snow Fungus are both cane sugar-free. Mini Mao Shan Wang Durian Snowskin Box Set is available at S$68 for a box of three or S$83.30 for six pieces.
Order online.
Seriously Keto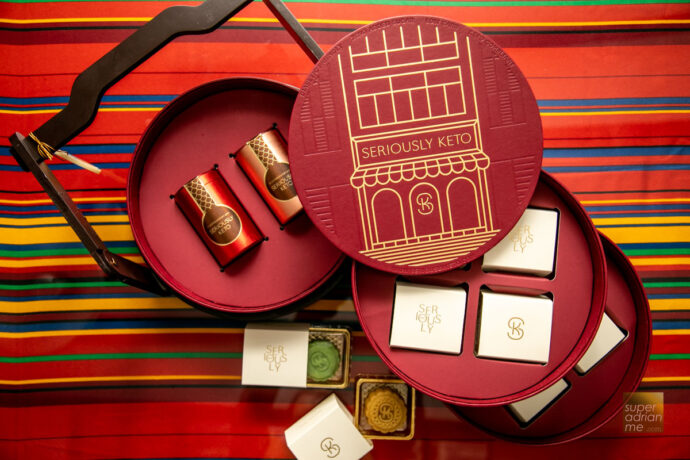 Seriously Keto has launched their signature mooncakes collection. These Luna Cakes are keto-compliant, low-carb and have no added sugar making them suitable for diabetics and anyone looking for a guilt-free alternative. There are four flavours this year. Red Velvet, Hazelnut, Pandan Coconut and Crunchy Peanut. All these are packaged in a beautiful three-tier 'tiffin' style – a very beautiful packaging that would impress!
The Limited Edition Luna Carrier, Luna Cakes (8 pieces) with a Tea Pack is priced at S$128 and you can get it at the TANGS Mid-Autumn Fair at VivoCity Central Court Level 1. When you spend a minimum of S$80, you will also receive an exclusive gift bag worth S$68 while stocks last.
Seriously Keto had the official opening of its Seah Street flagship on 15 July this year offering a one-stop shop for healthy yet delectable alternatives, having expanded their guilt-free offerings to include savoury dishes and plated desserts.
---
Simple yet Elegant
Goodwood Park Hotel Singapore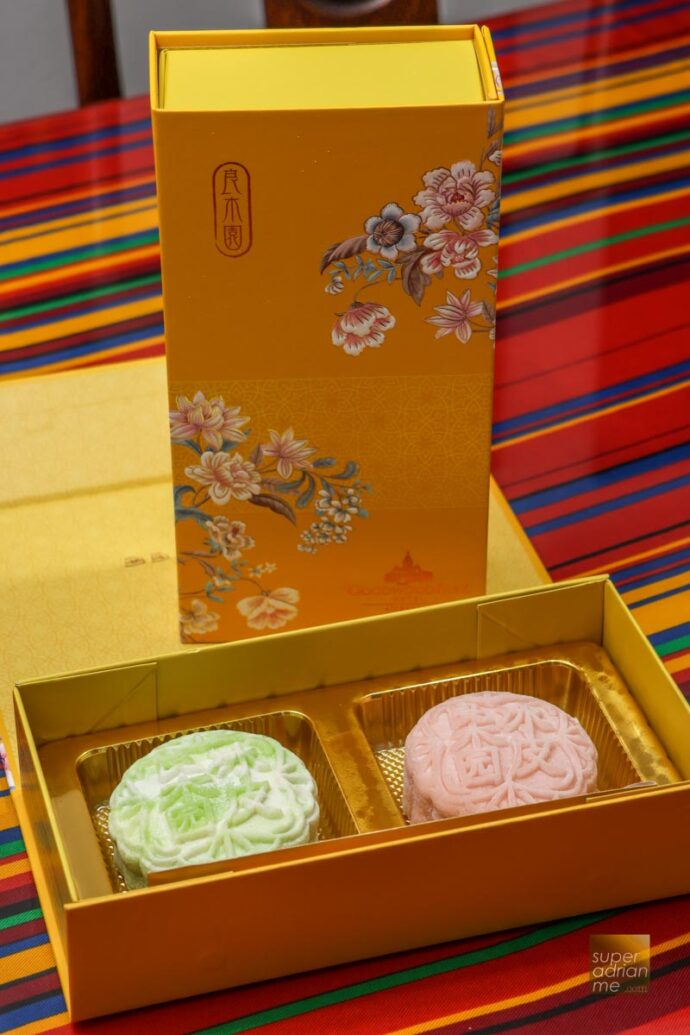 Gracing the repertoire at Goodwood Park Hotel is an all-NEW assortment of festive baked pastries including Traditional Wife Cake, Traditional Husband Cake, Teochew-style Cake and the Tiger Tubbies exclusive to this Year of the Tiger. The quintessential snowskin mooncakes are also making a comeback with enticing new flavours like Ondeh Ondeh and Strawberry, along with perennial favourites – D24 and 'Mao Shan Wang'. Making a special return is the Durian Combo, this time featuring four different durian varieties – D24, 'Mao Shan Wang', the premium Black Thorn and all-new D88 durian, each encased within velvety smooth snowskin!
The Ondeh Ondeh snowskins were quite delicious. They are finished with pandan green swirls and filled with gula melaka and freshly grated bits of coconut at its base. Priced at S$52 nett for two pieces or S$82 nett for four pieces. The Strawberry snowskins are filled with chunks and hints of soursop in a fusion of strawberry and soursop purée. Priced at S$48 nett for two pieces or S$75 nett for four pieces.
Visit the Festive Online Shop for self pick up or deliveries up to 10 September 2022.
Raffles Hotel Singapore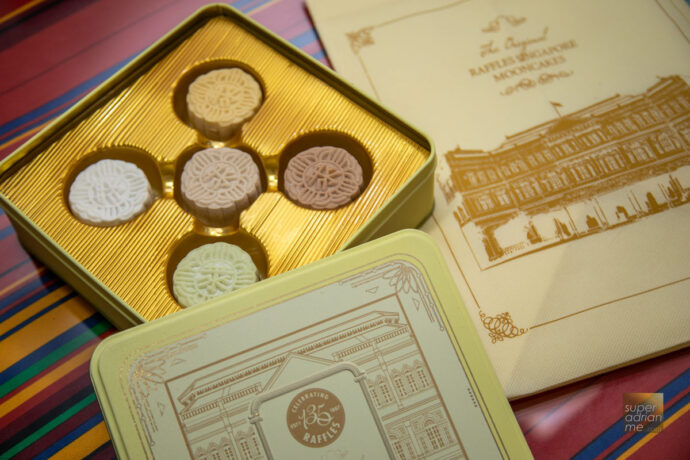 Raffles Hotel Singapore celebrates its 135th anniversary with an elegant ivory box, artfully embellished with intricate details of the hotel's façade on its metal tin cover. Two new snow-skin flavours make their debut – Brass Lion Butterfly Pea Gin with Pandan and Lemongrass Snowskin Mooncake and Baileys Chocolate Truffle Snowskin Mooncake.
The perennial well-loved favourite, the Champagne Truffle Snowskin Mooncake can be elevated with a glass of Billecart-Salmon Champagne Brut Réserve. The Earl Grey Tea and Pearl Snowskin mooncake, Yuzu and Osmanthus Truffle Snowskin mooncake, Da Li Rose and Strawberry Snowskin mooncake make a comeback this year. Or get your hands on classic baked mooncakes.
Order online.
Fairmont Singapore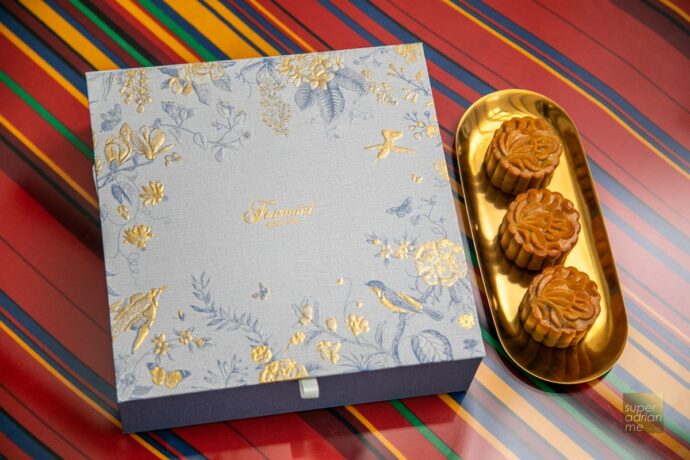 Fairmont Singapore introduces a new traditional baked mooncake flavour – Melon Paste with Mixed Nuts and Pumpkin Seeds. New mini baked mooncakes include the Mini Lotus Biscoff and Hokkaido Milk, Mini Assam Tea with Longan and Mini Orange Lotus with Cranberries & Pumpkin Seeds. The new snowskin mooncake this year is Elderflower Lychee
Mooncakes are priced from S$44 for a box of one low sugar white lotus paste with pine nuts and pumpkin seeds and one low sugar white lotus paste with single yolk. The Premium Box Four-Piece Assorted Mooncakes is priced at S$108.
Order online. Enter the promo code Superadrian20 and enjoy 20% off until 19 August 2022.
Crystal Jade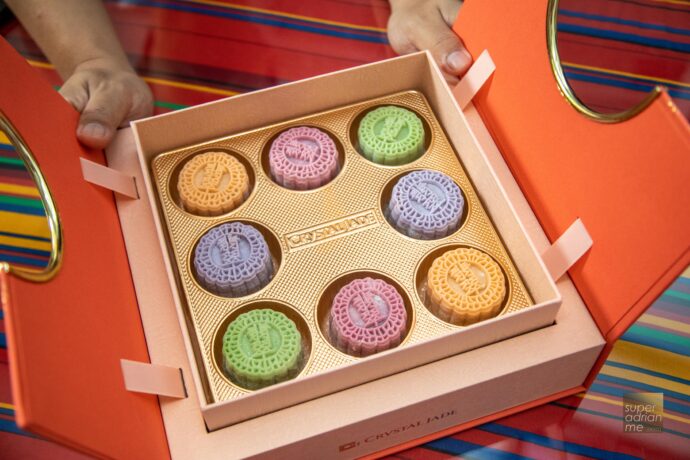 Crystal Jade offers a selection of traditional Baked classic mooncakes as well as an assorted fruity blossom for its petite snowskin mooncakes this year. A new traditional baked mooncake flavour this year is the Yuzu with Macadamia Nut. Snowskin flavours include Fragrant Taro with Gingko, Roselle with Blueberry, Pandan Coconut, and Honey Chrysanthemum with Orange Peel.
The four-piece packaging is innovative. As the box opens up the tray of mooncakes is raised up. You can also purchase a premium tea gift set at SS$58 instead of S$108 with any order of mooncake. Prices of mooncakes start from S$40 for a box of Festive Baked Duo combinations.
Order online.
The Peninsula Hong Kong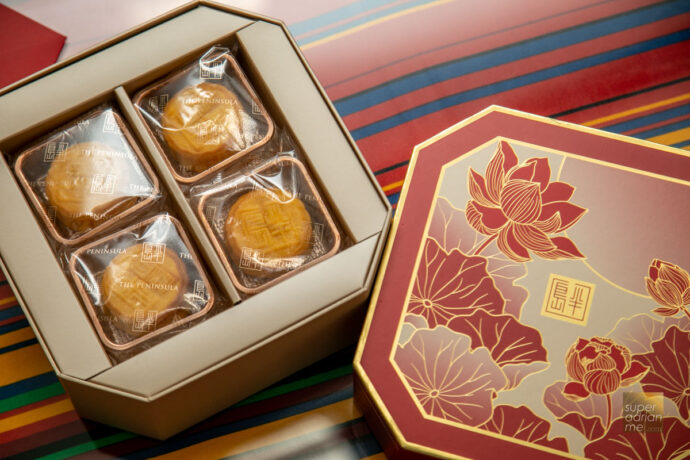 The Peninsula has been creating its own Mid-Autumn traditions since 1986, when it first launched its now-iconic egg custard mooncakes using premium-grade duck eggs, butter, and coconut milk. Light, buttery casing with a dense and rich filling. These bestselling Mini Egg Custard Mooncakes are now available in two packaging of four (S$48) and eight (S$86) pieces.
Three new mooncake flavours this year include the Egg Custard with Peninsula Blend Tea Mooncake, Sesame and Mung Bean Paste Mooncake and Salty Lemon with White Lotus Seed Paste Mooncake.
There are a few different options for gifting. Besides the Mini Egg Custard Mooncakes, there are also the Assorted Mini Mooncake Gift Box, the Constellation Mooncake Gift Box, the Star Chef Moon Gift Box, the Dazzling Moon Gift Set or the Premium Mooncake Gift Box.
Order online.
ONE°15 Marina Sentosa Cove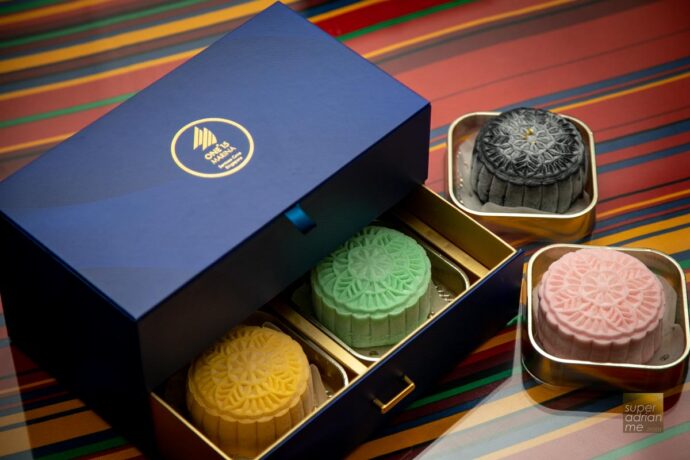 ONE°15 Marina Sentosa Cove presents a blend of nostalgic and exotic flavours with a selection of White Lotus Paste with Single & Double Yolks, Mung Bean Pecan Pistachio and Assam Tea with Longan at S$68 or S$58 fo remembers. The Snow Skin mooncakes feature flavours of Strawberry Mascarpone, Japanese Yuzu, Gula Melaka Lava and Premium Mao Shang Wang at S$78 for a box of four or S$68 for members.
Cannot decide which to get? Then the Dual Snow Skin and Traditional Mooncakes let you enjoy the best of both worlds at S$68 or S$58 for members.
Order online.
PAUL Moon Tarts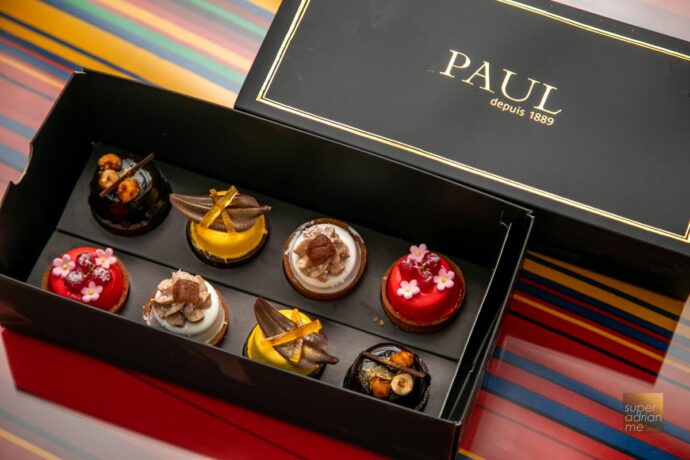 PAUL Singapore is bringing MOON TARTS back with new flavours this mid-autumn festival. If you've eaten too many mooncakes this Mid-Autumn like I have, then this is a perfect refreshing change. Full moon-shaped french entremet are enrobed in : Fit To The Tea, Berry Delight, "Nuts" Over Coconuts and an old favourite, Caramel Chocolate Fantasy.
A box of eight moon tarts, with two of each flavour is priced at S$50 nett. The sliding tray box and bag are very presentable if you are giving this as a gift. Order three days in advance for pre-orders. Deliveries will begin from 20 August 2022. Free delivery with a minimum spend of S$120 excluding Tuas and Sentosa.
Order online.
TungLok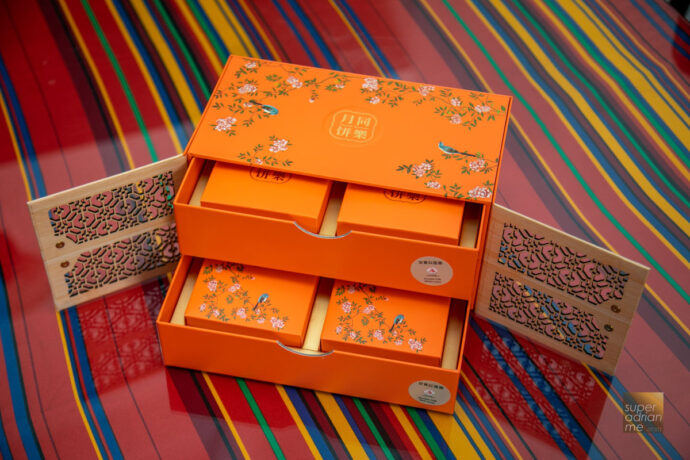 TungLok introduces two new flavours to the line-up of mooncakes. The Sea Salt Black Sesame with Pistachios and Chestnuts boasts a chestnut paste core encapsulated by a pistachio-studded sea salt black sesame paste. The Lower-in-Sugar Red Lotus with Coconut and Yam features a a yam paste centre within lower-in-sugar red lotus paste speckled with fragrant coconut shreds.
This year's mooncake packaging are available in four different designs. The purple flossy packaging is a limited edition TungLok Premium Box that contains four Double Yolk White Lotus at S$168+. The Orange packaging pictured above is the TungLok Perfect Duo which contains 2 pieces of the Double Yolk White Lotus and Double Yolk Red Lotus at S$88+.
TungLok Four Seasons is a pastel blue cabinet that houses Egg Yolk White Lotus, Egg Yolk Red Lotus, Egg Yolk Pandan Lotus with Pistachios and Mixed Nuts at S$86+. Autumn Blossoms can be packaged in various combinations from S$70+. By the way, TungLok's Lower-in-Sugar mooncakes are in line with Health Promotion Board's Healthier Dining Programme guidelines. Allulose, a naturally occurring novel sugar makes TungLok's mooncake lotus paste 25% lower in sugar compared to regular mooncakes.
Order online.
Flash Coffee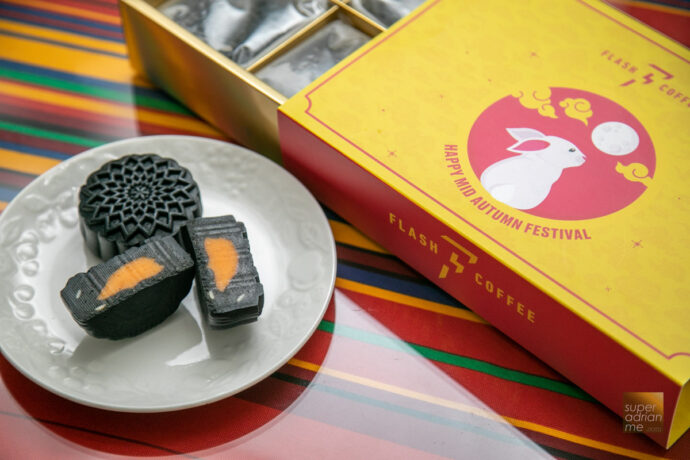 Flash Coffee has launched its Fly Me To the Moon(cake) featuring specially curated Black Sesame Mooncakes with Salted Egg. Soft and chewy charcoal exteriors are filled with sweet mung bean, melon seeds and salted egg. They can be paired with classic beverages from Flash Coffee, including the Jasmine Green Tea for traditional observers, Yuan Yang Latte for the adventurous and Golden Turmeric Milk for the non-caffeinated.
Available in sets of six, the Fly Me To The Moon(cake) is priced at S$45 (usually S$54). Available at select Flash Coffee stores and on the Flash Coffee app.
---
Unique Designs
JW Marriott Singapore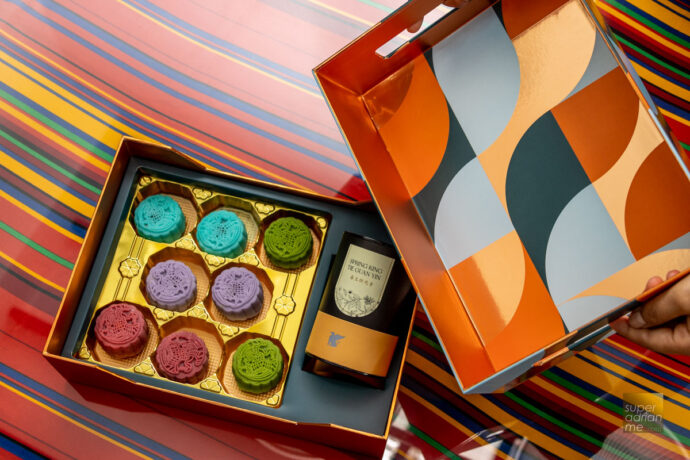 JW Marriot South Beach Singapore offers a range of traditional baked mooncakes and an all-truffle line up of flourescent mini snowskin mooncakes. They are encased in premium gift sets with mooncake boxes that transforms into a designer tea stand and a functional mooncake tray. The sets are available in two designs – Coral Blue and Ocean Blush. Each premium gift box comes with a canister of Tie Guan Yin tea.
A new traditional baked mooncake is the Nyonya Gula Melaka with Pandan Paste. Citrusy Lemon Truffle with Green Tea Lotus and the Black Tea Truffle with Pu-Er Lotus are two new snowskin flavours. For a more boozy snowskin mooncake, there are the Royal Salute Caramel Sea Salt Truffle with Honey Purple Potato and Martell VSOP Chamomile Truffle with Red Dates Lotus.
Order online.
Royal Durian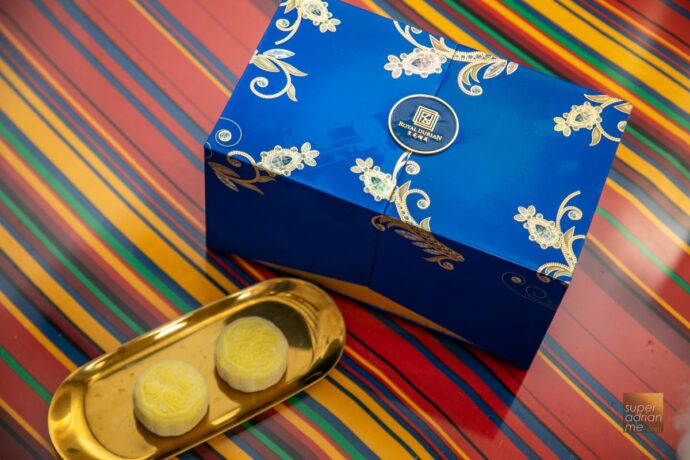 Royal Durian brings back their limited edition 100% Pure Mao Shan Wang Durian Snowskin mooncake in a new reusabe keepsake box in striking Royal Blue with jewellery motif. The packaging transforms into a beautiful tissue box which you can also use on your dressing table.
Only the top 10 to 15% quality Mao Shan Wang flesh from Pahang in Malyasia is used to make these mooncakes. Each box of eight pieces is priced at S$118 and a flat delivery fee of S$10 per location. If you require delivery with a specific date and timing, the fee is S$20.
Order online.
Carlton Hotel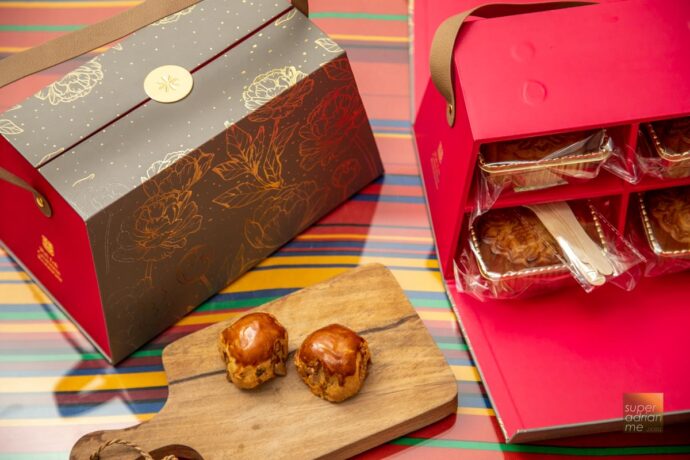 Carlton Hotel Singapore introduces new flavours this year including the Mini Sakura Milk Tea Snowskin while bringing back perennial favourites like the Mini "Mao Shan Wang" Durian Snowskin, White Lotus Paste Double Yolk Mooncakes and the Mini Walnut Moontarts with Egg Yolk which is such a delightful aberration from the usual traditional baked mooncakes. No wonder it is the bestseller for Carlton Hotel Singapore.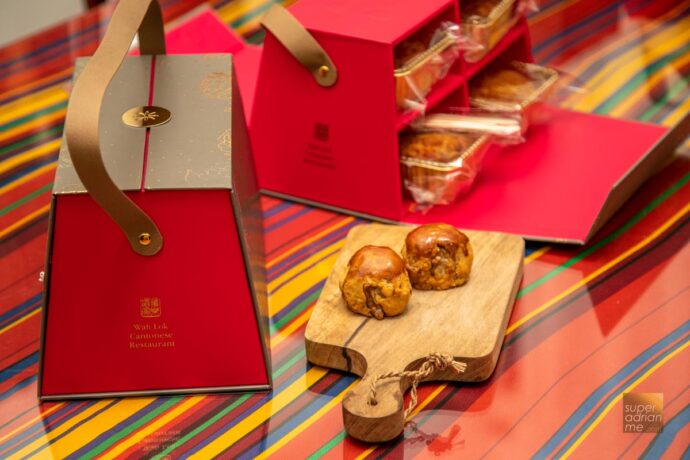 The new stylishly designed trapezium box adorned with hologram floral motifs on the exterior is made with sustainable material. It opens up two-way and showcases a vibrant pink interior, and shelving inspired by the antique oriental cabinet display.
Order online.
Shisen Hanten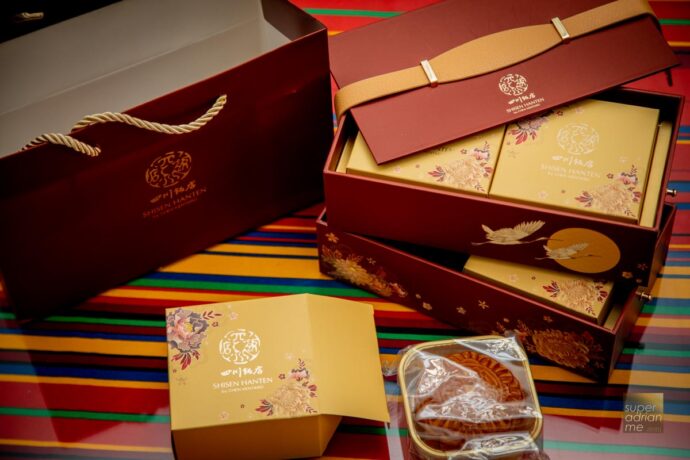 Executive Chef Chen Kentaro at Shisen Hanten presents thoughtful creations this mid-autumn festival with classic baked mooncakes or mini snowskin mooncakes. Baked mooncake flavours include Macadamia Nuts and White Lotus Paste in Low Sugar, Single Yolk and White Lotus Paste, Mixed Nuts and Jamón Ibérico, Azuki Red Bean Paste and Pine Nuts, and Double Yolk and White Lotus Paste.
The "Japanese Bento" boxed packaging is beautiful and elegant. Some may even use it as a tissue box holder.
Order online
Cat & The Fiddle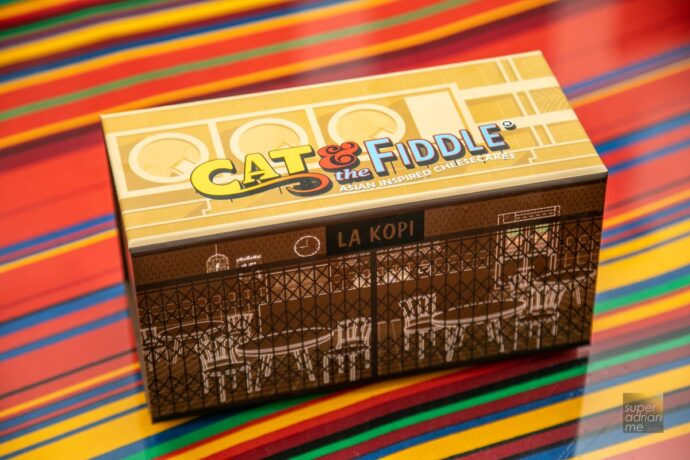 Cat & the Fiddle unveils a locally-inspired snowskin mooncake collection with the Meowsketeer Trio (S$68.90) and Meowsketeer Towkay (S$78.90). Snowskin mooncakes feature a proprietary cream cheese filling piped into a white chocolate truffle in the centre of fillings in familiar flavours of Kopi Gao, Teh Peng and Bandung and an intensely-rich Mao Shan Wang rendition. The Kopi Gao snowskin mooncake is filled with dark chocolate while the Teh Peng and Bandung is filled with white chocolate.
The Meowsketeer Trio comes with two pieces of Kopi Gao, Teh Peng and Bandung snowskin mooncakes. The Meowsketeer Towkay is for durian lovers with six pieces of MSW Durian snowskin mooncakes. The mooncakes box features a functional two-tier drawer with illustrations of an 80s' style HDB block and local Kopitiam.
Order online.
Bread Garden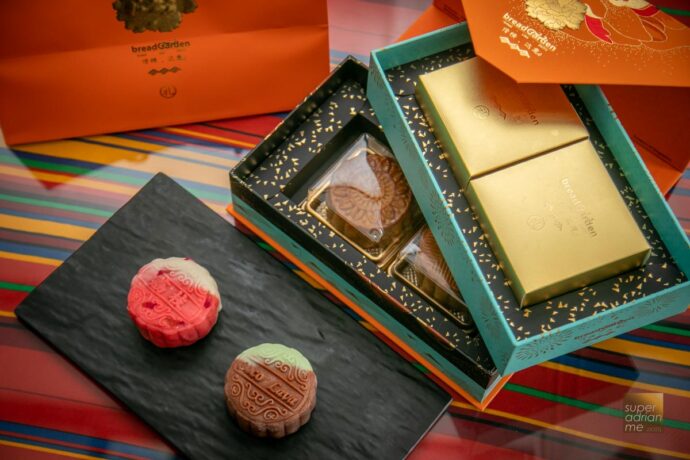 Bread Garden presents Halal certified mooncakes for the health-conscious with no preservatives and low sugar as well as decadent treats such as the signature Triple Layer Triple Yolk mooncakes or snowskin flavours of Coco Lava, Coco Divine, Lychee Roselia and Yuzu Mango. And of course, the top-selling Mao Shan Wang Durian snowksin mooncake makes a return this year. Bread Garden gives you the option to choose what four flavours go into each box.
Order online.
Starbucks Mid Autumn Mooncakes and Merchandise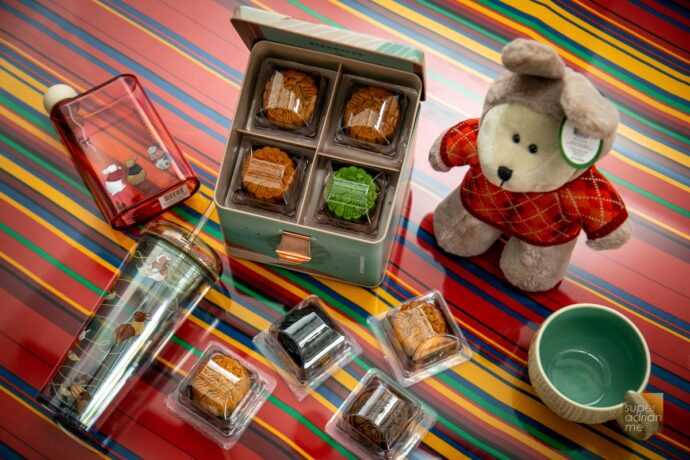 Share the joy of mid-autumn with Starbucks Mooncakes with flavours such as Lotus Paste with Egg Yolk, Starbucks Coffee with Caramel & Hazelnut, Black Sesame Mochi and Pandan Salted Egg Mochi.
There are two gift boxes priced at S$62.90 to choose from. Starbucks Rewards members who purchase two gift boxes or more at Starbucks outlets with your Starbucks Card and earn 120 bonus Stars. Mooncakes are available for purchase at all Starbucks stores and online at Starbucks Online Store, Lazmall and ShopeeMall. Single mooncakes are also available via GrabFood, Foodpanda and Deliveroo.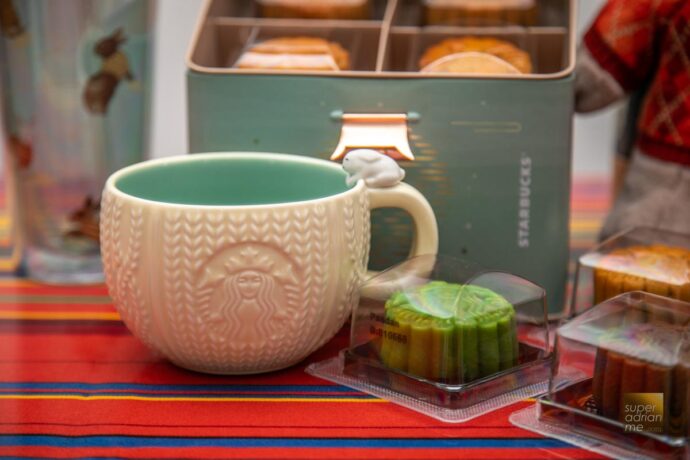 Also check out the Mid-Autumn Festival Fuzzy Bunny Collection when they are available from 24 August 2022. Inspired by vintage storybooks, this collection comes in a comforting autumnal palette that is featured in the mooncake packaging too.
Order online.
---
Round Packaging Conceals Delicious Mooncakes
Four Seasons Singapore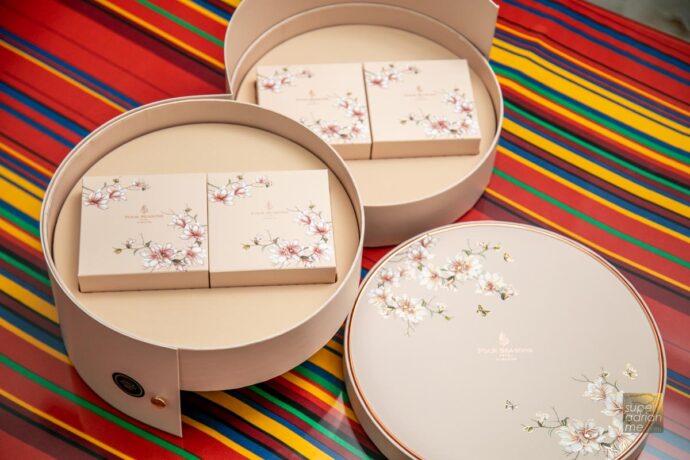 Jiang-Nan Chun at Four Seasons Hotel Singapore has brought back the Smoked Duck with Assorted Nuts and Lime, inspired by its signature Peking duck, prepared in a mesquite wood-fired oven. Other perennial favourites include the Silver Lotus Paste with Macadamia, Silver Lotus Paste with Single Yolk and Silver Lotus Paste with Double Yolk. The Four Seasons Medley offers one of each flavour. These mooncakes are packaged in a beautiful peony pink round box.
This year's snowskin collection features a new flavour – Cherry and Sicilian Pistachio. Other flavours include the Bird's Nest with Custard, Hazelnut Royaltine Chocolate, and the Mao Shan Wang Durian.
Order online
Roku Gin x Janice Wong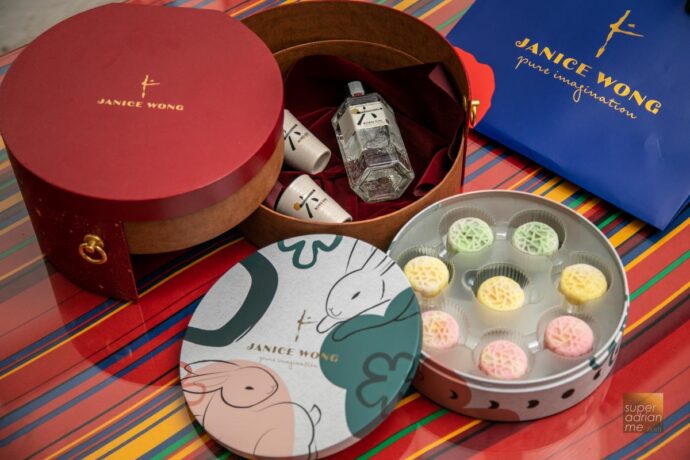 The Roku Gin x Janice Wong snowskin mooncake collection is a treat if you enjoy gin. The collaboration showcases eight specially curated mooncakes in three distinct flavours of Matcha Lemon Thyme Gin, Sakura Strawberry Gin, and Bergamot Yuzu Gin encased in a rabbit-themed tin box. This special bundle includes a 200ml bottle of Roku Gin and two ornate creamic cups. Priced at S$138 for a set of eight inclusive of GST.
Order online.
Godiva Chocolate Mooncakes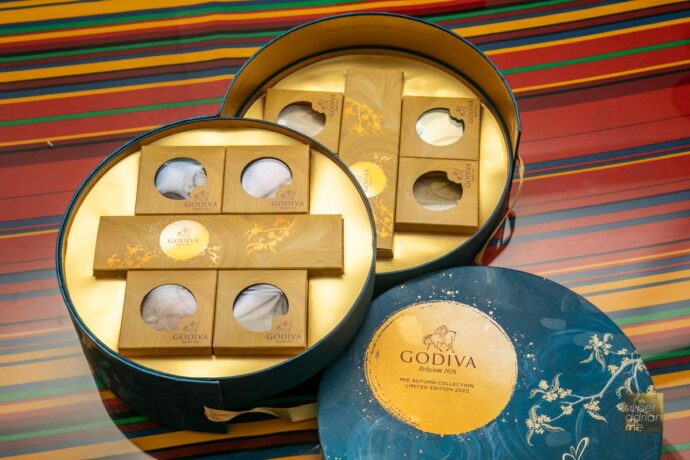 GODIVA's Mid-Autumn Festival Mooncake Collection 2022 is decked out in new celestial blue packaging for 16 pieces and 36 pieces with illustrations of flowers and a rabbit. There are a variety of gifting options for the non-conformist, where traditional baked and snowskin mooncakes are too common. You can also purchase them in different sizes of 4, 8, 10, 14 or 16 pieces. With a minimum S$300 nett purchase, you get an exclusive porcelain plate gift.
This year's mooncake flavours include the Black Truffle Apricot Dark Chocolate, Lychee Oolong Tea White Chocolate, Matcha Citrus White Chocolate, Raspberry & Rose White Chocolate, Ginger Mango Dark Chocolate and Passion Fruit Hazelnut Milk Chocolate.
This year's collection features six signature mooncake flavours developed by GODIVA's innovative Chef Chocolatier Sébastien Bauer. Each artisan mooncake has been crafted using the finest ingredients, such as genuine Italian truffle and yuzu from Kochi, Japan
Order online.
---
Towering Mooncakes

These towering mooncake packaging transform into drawers to store your stuff or also work as lanterns where you can add battery-operated fairy lights in them and transform them into a gorgeous table centrepiece.
Peach Blossoms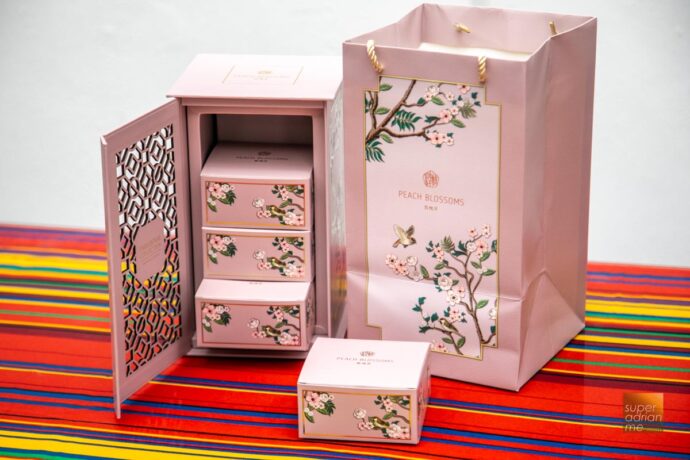 Peach Blossoms traditional baked mooncakes feature the signature Charcoal Black Sesame Paste with Melon Seeds and Gold Dust mooncakes that are suitable for vegetarians. Another all time crowd favourite is the Lychee with Wolfberries mooncakes. While the traditional Single and Double Yolk mooncakes are filled with reduced-sugar lotus paste.
The four-tier lantern tower mooncake box is crafted with paper board and medium-density fibreboard (MDF), which are predominantly made using wood fibre and unutilised wood shavings. The pretty-in-pink keepsake box is beautifully adorned in elements of Chinoiseries peach tree flowers, along with majestic birds with soaring wings.
For orders and enquiries, contact Peach Blossoms on +65 6845 1118 or email [email protected].
Conrad Centennial Singapore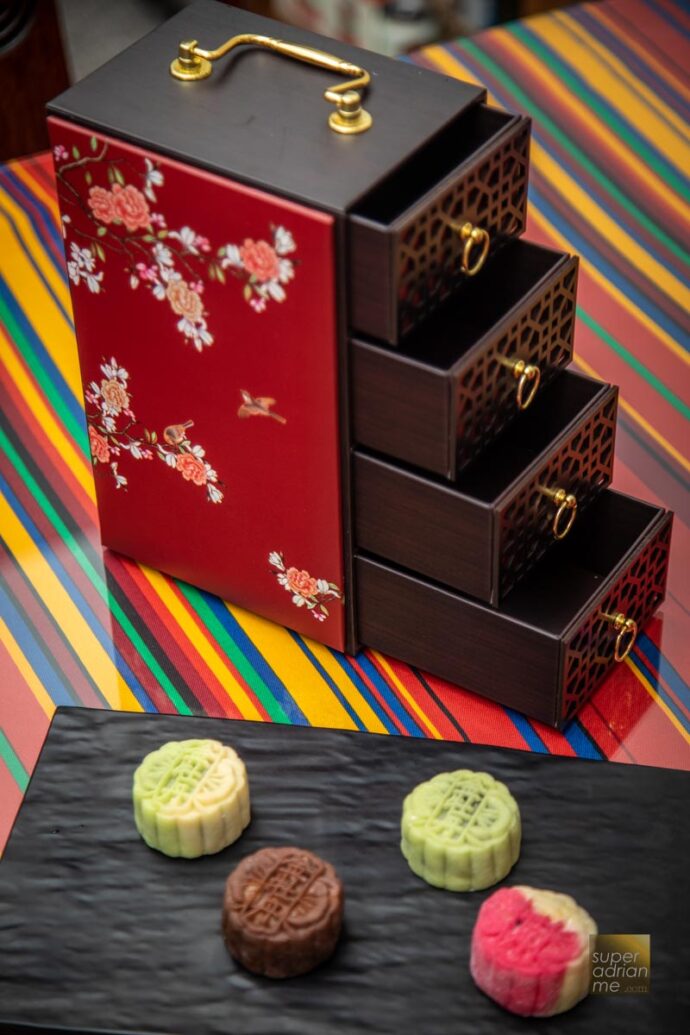 This four-drawer wooden tower packaging and fashioned from satin fabric from Conrad Centennial Singapore is absolutely gorgeous and a keeper too. Enjoy timeless baked mooncakes with classic flavours such as premium white lotus paste with single and double salted egg yolk or new snowskin flavours of Ondeh Ondeh and Cranberry Cheese. Royal Chocolate Hazelnut Crunch and Green Tea snowskin mooncakes make a return this year.
Order online.
Regent Singapore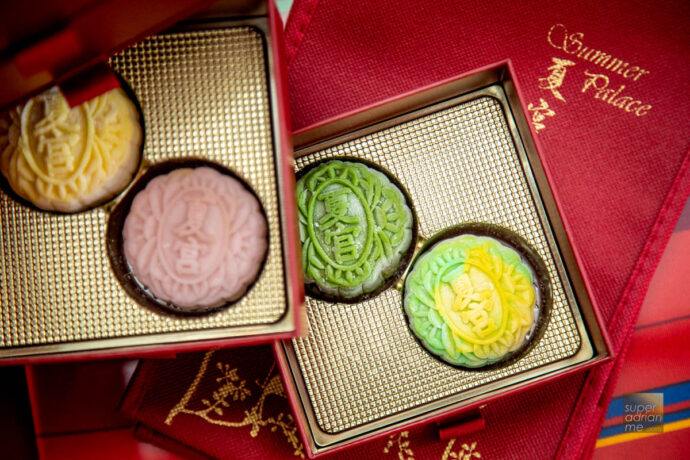 Regent Singapore introduces four new snowskin flavours. There is the Ricotta Seirass & Amalfi Lemon by Basilico, Roselle & Goji Berries by Summer Palace, Altamura Almond & Guanaja Dark Chocolate by Tea Lounge and Stellar, inspired by a cocktail specially concocted by Manhattan for the festival. These new flavours join the other perennial favourites including the Mao Shan Wang Durian, Black Sesame Paste, White Lotus Paste, and Gryphon Green Tea.
Order online.
Shangri-La Singapore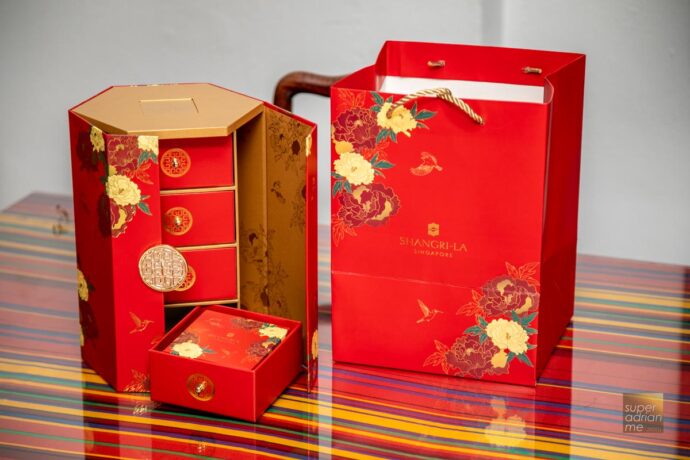 Towering packaging is in for Shangri-La Singapore this mid-autumn. There are four different packaging and they are all Asian chic. This year's collection features the bespoke Origin Bar Cocktail Snowskin Mooncakes, an exceptional Shangri-La mooncake Selection Gift Box with 50-year aged mandarin peel, and the elegant Signature Mini Baked Custard with Bird's Nest. There's also an exclusive kid's gift set with mini Oreo milk mooncakes housed in an adorable rabbit-shaped box.
Order online.
Crowne Plaza Changi Airport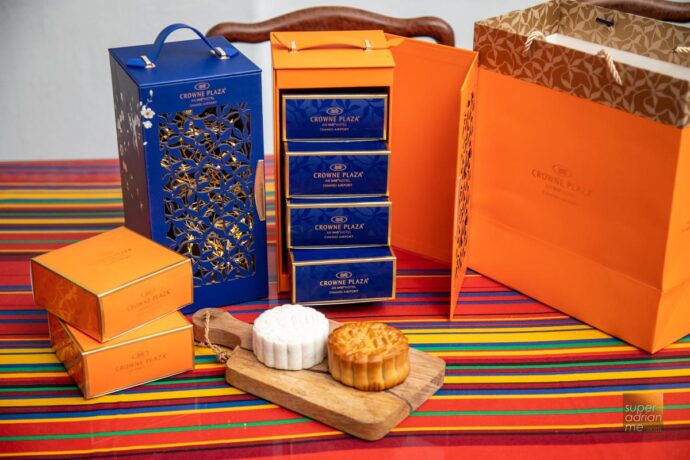 Crowne Plaza Changi Airport presents two hotel-exclusive mooncake gift boxes. Each is intricately-designed to hold your choice of four baked or snow skin mooncakes which transforms into a dining table accessory that makes a fun lantern for the little ones too.
There are five classic flavours for the tradtional baked mooncakes – Low-sugar white lotus paste with Macadamia Nut, Mixed Nuts, and Orange Paste with Orange Strip Melon Seed as well as the White Lotus Paste with Double Egg Yolk or Single Yolk. Snowskin mooncake flavours include Yuzu Mango Hokkaido Milk, Tiramisu, Oreo Cheese and Lotus Biscoff Hokkaido Milk.
Order online.