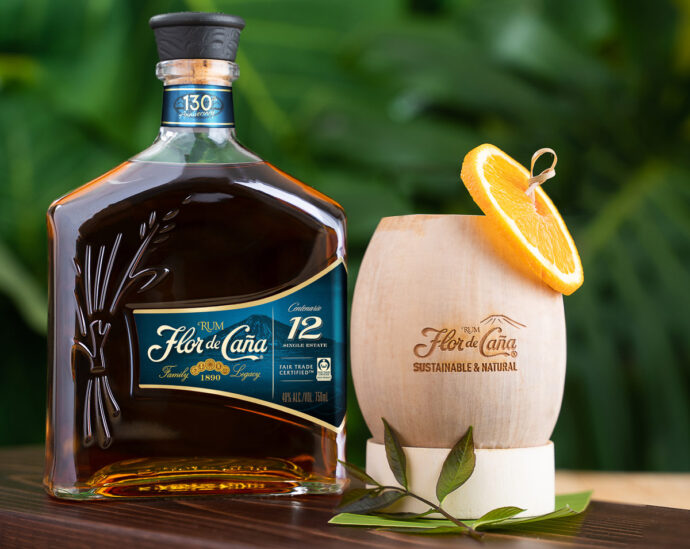 Flor De Caña has partnered with bars in Singapore in September 2021 to celebrate its global Zero Waste Month initiative. The Carbon Neutral and sustainably produced premium rum brand invites eco-conscious bars, restaurants and consumers around the world to join forces to reduce food waste.
The brand is working with the bartending community in over 30 countries to create zero waste cocktails during the month. These sustainable cocktails are made from Flor De Caña rum, and ingredients derived from re-purposed food scraps or leftovers from the local community.
Global personalities such as Jesse Vida (Singapore), Lorenzo Antinori (Hong Kong), Ashish Sharma (Kuala Lumpur), Seven Yi (Taiwan), Bastien Ciocca (China), Remy Savage (UK), and Mario Farulla (Italy), have joined the Zero Waste Month initiative as Sustainability Ambassadors. They are working alongside Flor de Caña to raise awareness through social media on the issue of food waste and inspire bars, restaurants, and consumers to become agents of change and help reduce food waste in their own communities. 
Bar / Cocktail
Inspiration
Ingredients
Food waste saved
Atlas Bar

RC Old Fashioned
A simple and elegant cocktail that features the flavours in Flor de Cana 12 rum and embraces using sustainable practices from start to finish.
Wasted citrus peels, wasted and dehydrated citrus flesh, sugar, Flor de Cana 12, salt, and aromatic bitters.
60g
1880

Salvage Garden
Leftover rinds and skins of juices used in the bar (Grapefruit, Orange, Lemon, Lime) are added to sugar and freshly squeezed juice. The remaining rinds and skins are dehydrated and used as a garnish.
Flor de Cana 12, Raspberry and Mint Shrub, Fruit Punch Syrup, Capi Tonic
80g
Limehouse Caribbean

MASAYA
The name and cocktail is inspired by the same-named Goddess of fire, volcanoes and earthquakes from Nicaragua. This drink is the best fire extinguisher, putting out the fires inside of you.
Flor de Cana 12YO, Bamboo infused Vermouth Bianco, Cocoa, Apple, Lemon, Cane Sugar. Garnish – Apple in chocolate and bamboo leaf.
80g
ANTI:DOTE

Toffee Apple Daiquiri
Orange zest is used daily for most of the top-selling classic cocktails (Negroni, Old Fashioned, etc.), but juice from the fruit is not used that often which can cause wastage. This problem can be half-solved in most of the hotels by serving fresh juice at breakfasts. There is always a good amount of juice that is thrown away after breakfast. ANTI:DOTE uses this fresh orange juice by making an in-house cordial that will become the key ingredient of the drink. The rest of the ingredients will highlight the key note of Flor de Cana 12 rum – toffee apple.
Flor de Cana 12, Apple Brandy, Acidified Orange, Salted Caramel, Apple Cider Vinegar
100g
One-Ninety Bar, Four Seasons Singapore

Peels Fizz
Small effort and collaboration by the bar and the culinary team to reduce our food waste by utilising vegetable peels that are destined to be disposed of in the bin.
Flor De Caña 12 Years, Bianco Vermouth, Lemon Juice, Peels Syrup ( Citrus Oleo Saccharum with Carrots and Beetroot Peels),  Soda, Peels Leather
80g
The Bar at 15 Stamford

Royllo Island
Royllo island is one of the phantom islands that was said to be found by the bishops that escaped Spain from the British conquerors. It is said to be an island that is square-shaped. The bishops discovered it to be inhabited so they decided to burn all their ships and have made the island their new home. Royllo cocktail is a twist of the bishop cocktail and the el presidente.  
Flor De Cana 12yr, amontillado sherry, red wine syrup, orange bitters, garnished with burnt dehydrate lime wheel.
12g
Smoke & Mirrors

Peel & Sip
Banana is used to batch another cocktail on Smoke and Mirrors' menu, the Bananas in a Glass, where the entire fruit is used. The banana peels are saved and re-purposed to create the Peel & Sip cocktail. Utilising the entire fruit from flesh to skin, and giving the solid strained pulp a second life in the form of edible garnishes, the Peel and Sip is Smoke & Mirrors' sustainable cocktail for a greener future. Through an overnight process of maceration, these peels in a sugar and salt mixture come together to form a banana skin syrup known as oleo-saccharum. The strained pulp is dehydrated to create an edible candied-banana garnish with an extended shelf-life.
Flor de Caña 12,  Banana Oleo-Saccharum, Manzanilla Sherry, Bitters
75g
MO Bar

Tea in the Afternoon
Afternoon tea is one of the important aspects of MOBAR. It is served every day and a few things go to waste every after service. They include tea leaves, scones, milk and wine. In addition, MOBAR being a cocktail focused bar, fresh citrus is used for juices and garnishes which adds to wastage. A fat-washed Flor de Cana vanilla scone is added to home-made sparkling wine that is made of a combination of White and Red soaked with discarded fresh citrus (such as oranges, limes, lemons, grapefruit and cucumbers.) To round the flavours up, the bar team made their own tea leaves bitter from tea leaves infused in the pot.
Flor de Cana fat-washed vanilla scones, discarded citrus Sparkling wine, MO Blend Tea Bitters
120g
The Old Man

No Perda
Following true to the ethos of Flor De. Cana being a sustainable and zero carbon footprint producer of Rum. No Pierda is in Spanish meaning 'Waste Not' fulfilling our goal in The Old Man SG towards producing less waste and giving back to our Mother Earth for the future of the next generations
Flor De Cana 12, Banana Essence, Cacao Bitters, Gomme
20g
Sago House

Our Grandmother's Story
Following true to the ethos of Flor De. Cana being a sustainable and zero carbon footprint producer of Rum. No Pierda is in Spanish meaning 'Waste Not' fulfilling our goal in The Old Man SG towards producing less waste and giving back to our Mother Earth for the future of the next generations
Flor de Caña 12, Orgeat cinnamon and nutmeg syrup, white port, lime juice, green apple peel and flesh sous vide rum and apple juice foam
40g
Low Tide

Hopped Shrub Time Machine
This cocktail was both inspired by Flor De Cana and the iconic hospitality symbol the pineapple. Pineapple production is notorious for use of pesticides and changing the way and environment grow. The team at Low Tide uses the pineapple to the fullest. The skin and pulp are used and fermented into a vinegar. Instead of tossing juice daily, it is combined with acid heavy vinegar and sugar to stabilise it creating a shrub and decreasing the demand for fresh pineapple juice. The skins are also dehydrated for garnish.
Flor De Cana 12, House Coffee liqueur, Pineapple Shrub, Lemon Juice, Hopped Grapefruit Bitters
250g
Heart of Darkness

Caña Sour pale Ale
As a craft beer venue, wastage of beers is inevitable. Rather than chucking them away, they are used to make a spiced beer syrup which is then added to the classic daiquiri, making it simple yet unique as you get flavours from the beer and the spice.
Flor De Cańa, Spiced beer syrup, Citrus
80g
The initiative is supported by Food Made Good, a global non-profit that promotes sustainability within the foodservice industry, which has helped participating venues design their zero waste cocktails and adopt meaningful sustainable practices in their everyday operations.