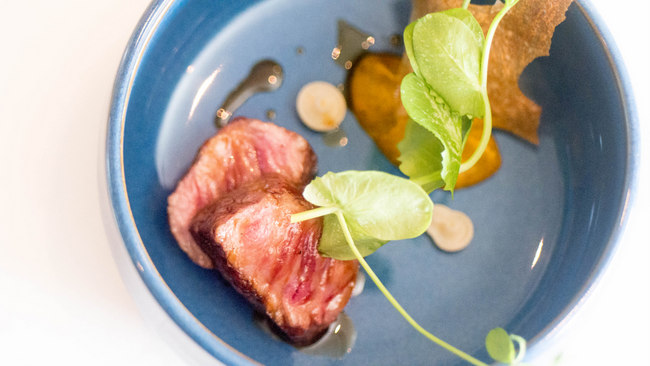 Stellar at 1-Altitude has a new feast to write home about. The wide, green plains of Tiana Park in New South Wales is now home to the restaurant's own Tajima Wagyu cattle. More than just your usual sirloins, Executive Chef Christopher Millar brings to the table unsung hero cuts hidden within. Robust, versatile and stunningly presented against the panoramic view of Singapore's skyline, this is The Road To Tajima.
The Road To Savouring Tajima Wagyu
First up, the Tri-Tip. Also known as the Santa Maria, Newport or, in Germany, Bürgermeisterstück. It has grown in popularity over the years in the West, with California leading the pack with its barbequed version, usually served with a side of pinquito beans, salsa and garlic bread.
This lean yet tender cut is delicious on its own, but spectacular when it has the slight marbling of a Tajima Wagyu. Here, it is presented, simply, wood-fired to a glorious medium-rare. A cut such as this would dry out, the longer it lingers over the flames. Chef Millar has done this fantastic hunk of beef justice, pairing the rich, beefy flavours with a sweet carrot puree.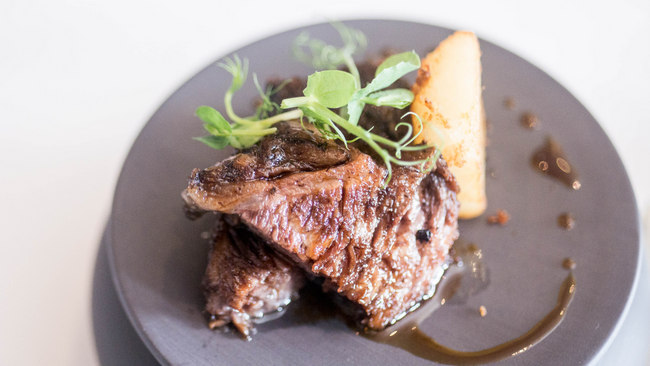 As you sip on a glass of red, you'll find it hard to say no to the Braised Tajima Chuck Rib. Moist and tender, Chef Millar ups the ante with a red wine and coffee sauce. The unique point of this cut is how rich it is in connective tissue. When braised, the collagen gradually breaks down into s succulent gelatinous beauty. It soaks up the best of the braising liquid, sending me over the moon with each bite.
The last of the three is the Sous Vide Tajima Oyster Blade (MS 7 – 8). Another versatile cut, it is found connected to the shoulder blade. It has been used in roasts, as a steak or as a popular staple in Korean barbeque. While it is not a rare commodity, they are offered at lower prices than more popular cuts (say, the rib-eye) of the same grade. To that, I can only say that they couldn't be more wrong.
The Oyster Blade is an intensely flavorful cut that will leave you wanting more. From a Tajima Wagyu cattle of high grade, it is even better. A tougher cut in general, it is softened by the gentle marbling. Chef Millar presents this delicious cut with shavings of truffle, introducing an earthy, nutty flavour – works like a dream.
Make It Shine With The Constellations menu
The best way to savour those cuts is to have a "break" between the courses. Chef Millar's seasonal constellation menu is back with new dishes that goes surprisingly well with the wagyu.
First on my list is the Seared Hokkaido Scallop. Served with a Belon oyster (from Belon Rive, France), it is paired with morcilla (Spanish blood sausage) and a pancetta puree. Have them on its own to savour quality in every bite, or, combine them into one exceptional mouthful.
The sweetness and succulence of the scallop are evident, with a burst of savoury from the Belon oyster and pancetta puree. The Morcilla brings hint a hint of paprika to round it all off. There is something addictive about this dance of flavours, and a great way to ready your taste buds for another course of Tajima Wagyu.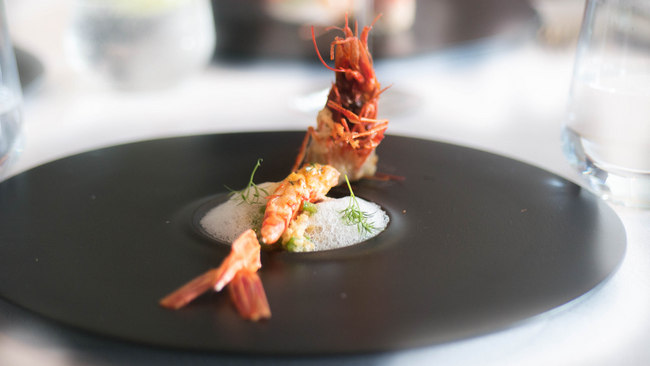 By the second course, a lighter dish is ideal. A sure fire way to ease off the rich flavours of the braised chunk rib is the Carabineros Prawn. As one of the most coveted prawn species in the world, this large deep-sea crustacean is known for its sweet flesh as much as the creamy, orange roe hiding inside its head. Best for making soups and sauces, Chef Millar, instead, presents it lightly fried. Genius, for each bite, is a burst of that velvety, buttery roe.
A Sweet, Grand Ending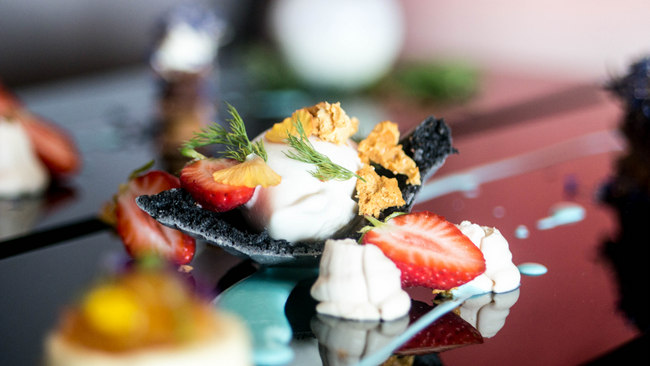 While Chef Millar is winning praises for his sensational presentation of Tajima Wagyu and seafood, Stellar's Pastry Chef Jasmin Chew is no pushover. She presents a stunning (an understatement, really) Dessert Art, of five beautifully crafted desserts, all assembled a la minute. Like the name suggests, it was truly a masterpiece. To be honest, my heart broke upon the first shatter of the intricate sugar casing holding a pannacotta.
Each amazing on their own, there are standouts. First, the Roasted Nagasaki Corn Ice Cream. It is served with the same roasted corn, salty fingers and a saltier buttercream. Slight smoke with lovely sweet and savoury notes, this dessert takes my usual love for sweet corn ice cream to another level.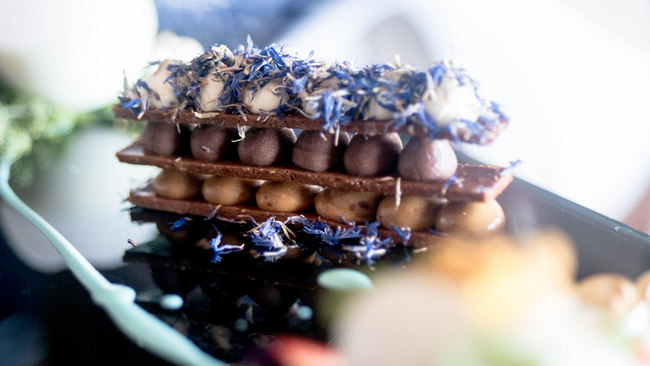 The Pavlova and a three-tiered Chocolate treat are first to disappear. I adore the crisp yet soft meringue which melts into the velvety vanilla ice cream. A darling with the strawberries, flown all the way from France. On the other end, the blend of hazelnut, chocolate and cream are joined by crisp chocolate wafers, reminiscent of a childhood treat.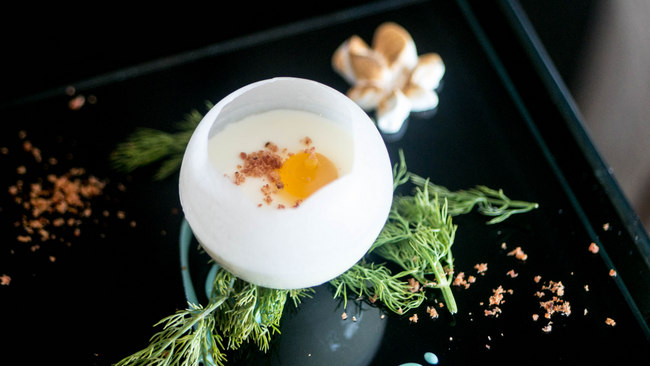 Chef Millar, once again, mesmerised me with his never-ending quest for the best. Now, with their very own Tajima Wagyu cattle, he aims to bring less popularised cuts, which are just as remarkable, to our dining tables. With Stellar at 1-Altitude's love for quality in produce and in the kitchen, there is no doubt that no matter what unique cut he presents, the experience will be memorable.