We check out some of the places you can take away or have food delivered to your home so you can enjoy a meal with the family in the comfort of home. This is a work-in-progress post, so we will be updating this post regularly.
Take Away from Food Capital at Grand Copthorne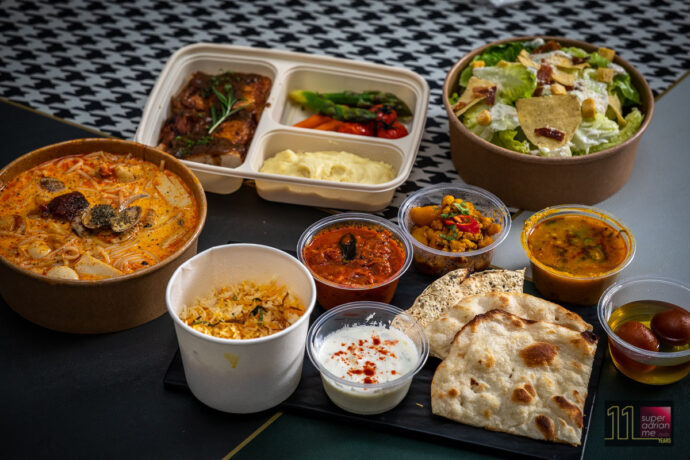 Food Capital at Grand Copthorne Waterfront is offering a new takeaway menu. Self-collection is available from Tuesdays to Sundays from 11 am to 9 pm.
Enjoy local delights such as Bak Kut Teh or the very thick and lemak Laksa broth which is very good. The Laksa comes with a generous serving of ingredients such as quail's eggs, clams, fish cake, prawns and scallops. The selection of Indian dishes are also very appetising. Choose from Madras fish curry, butter chicken, mutton curry or a vegetarian option of palak Paneer. Or if you prefer something Western, there are garden sandwiches, an assortment of salads and also Fish & Chips.
Order online at https://bit.ly/gcw-takeaway2021. Order at least one hour prior to collection time.
Middle Eastern from Safiya by Shangri-La Singapore
Shangri-La Singapore has launched Safiya, an exlcusive Middle Eastern takeaway and delivery concept helmed by Ara Sayegh, Head Chef of Eastern Cuisine. Safiya means purity in Arabic. A curated menu comprising dishes from Chef Ara's homeland are prepared using quality wholesome ingredients.
The menu includes a selection of mezzes, mains and desserts. Get the Duo Dips (S$14+) for a pair of Baba Ghanouj (roasted and smoky eggplant dip) and Hummus (Queen of Arabic appetisers) served with toasted pita bread.
Shish Tawook (S$20+) is a tempting skewer of corn-fed chicken breast marinated in spiced tomato sauce paired with pickled onions while Lamb Kebab (S$22+) features New Zealand lamb mince with onions, parlsey and a heady spice blend. Shekaf Lahme (S$28+) showcases buterry-fleshed Australian veal cubes marinated with onions, spices, tomaotes and dried herbs, before charcoal-grilling. A Seafood option is the Roubyen Meshwi (S$28+). Barbecued tiger prawns is seasoned with lemon, coriander and garlic.
All mezze and main dishes are served with a side of pita bread and house-made pickles. Meghli and Baklava are available dessert options. A customisable feast for two at S$48+ or for four at S$90+ comes with a choice of main course with one each of cold and hot mezze, pita bread, dessert, pickles and Arabic rice.
Order online at https://bit.ly/SLSSafiya. Island-wide delivery and self pick-up from Shangri-la Singapore's Tower Wing, Lobby Level is available on Wednesday to Sunday, 12pm – 2:30pm (Last order 2pm), and 6pm -9pm (Last order 8:30pm).