STAYING FIT & HEALTHY
Exercise with the Family With Nintendo Switch
If you have a Nintendo Switch, then you need to get the Ring Fit Adventure game. It is one way to get you to work out and have fun at the same time. The game gives you some challenges to complete. Doing this every day has helped us get fit and also lose some of those fats. And challenge family members to it too. Available from Shopee as well.
Don't take our word for it. Watch the video and you get a better understanding of how this game works.
Singapore Sports Hub Launches Virtual Workout
The Singapore Sports Hub has launched a new online series of daily fitness programmes on 17 April. These curated complimentary workout sessions in 7-minute intervals will be posted 7 days a week. Over 40 workout sessions will be released every month. You can try them in the comfort of your homes on www.sportshub.com.sg/7x7workouts
They will be a permanent addition to the Singapore Sports Hub's experience sports programme calendar to cater to the increasing demand for virtual exercise programmes. By partaking in the programmes, participants will be entitled to earn rewards as well as redeem sporting paraphernalia and vouchers.
Keep up-to-date with the virtual workouts as well as share your workout photos and videos using the #7x7workouts hashtag and follow the Singapore Sports Hub's Instagram page.
The first 800 participants can look forward to being rewarded with a Sports Essential Kit (worth S$25) or supermarket vouchers by signing up to join the sessions. Participants also stand a chance to take home a Garmin ForeRunner245 smartwatch worth S$459 by tagging friends in the #7x7workouts and @SGSportsHub. The most motivational post stands to win.
Online Fitness Classes at Thanyapura Health & Sports Resort Phuket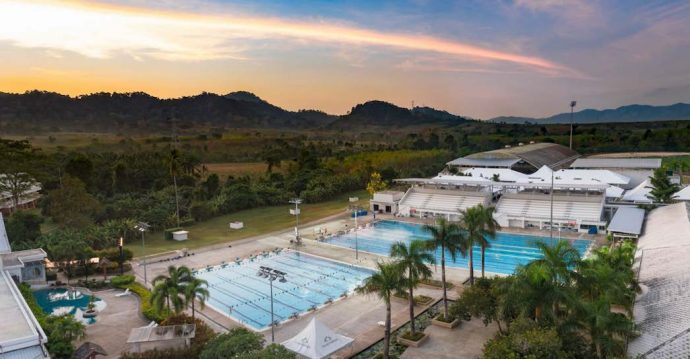 Thanyapura Health and Sports Resort in Phuket has launched a series of twice-daily online fitness classes for people to enjoy for free at home since 27 March 2020. Led by Thanyapura coaches, these online fitness classes include high energy HIIT sessions, Muay Thai, Yoga Classes and more.
Available via live stream on Thanyapura's Facebook page, the classes do not require any equipment. Each class includes a warm-up and main exercise, before ending with a cool-down and stretches.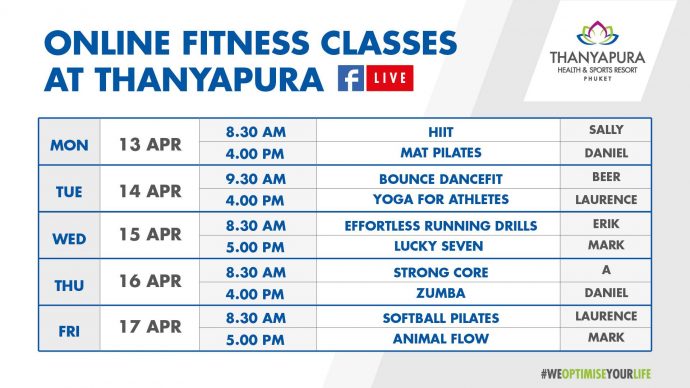 The live videos range from 30 to 60 minutes, and weekly class schedules can be viewed via Thanyapura's website.
Thanyapura has also launched online personal training sessions for members and non-members to enjoy. Private sessions can be booked with most Thanyapura trainers directly via the Thanyapura's 360 portal via the website.
Walk at Home with the Family
My parents have been walking at home with Leslie Sansone's Walk at Home Youtube Channel. And they swear by it if they can't walk around the neighbourhood. It is an activity that you can choose by the level of intensity when exercising on your own or you could do it together with the whole family. And the best part is it is free.
Virtual Online Pilates Classes with VIVA Group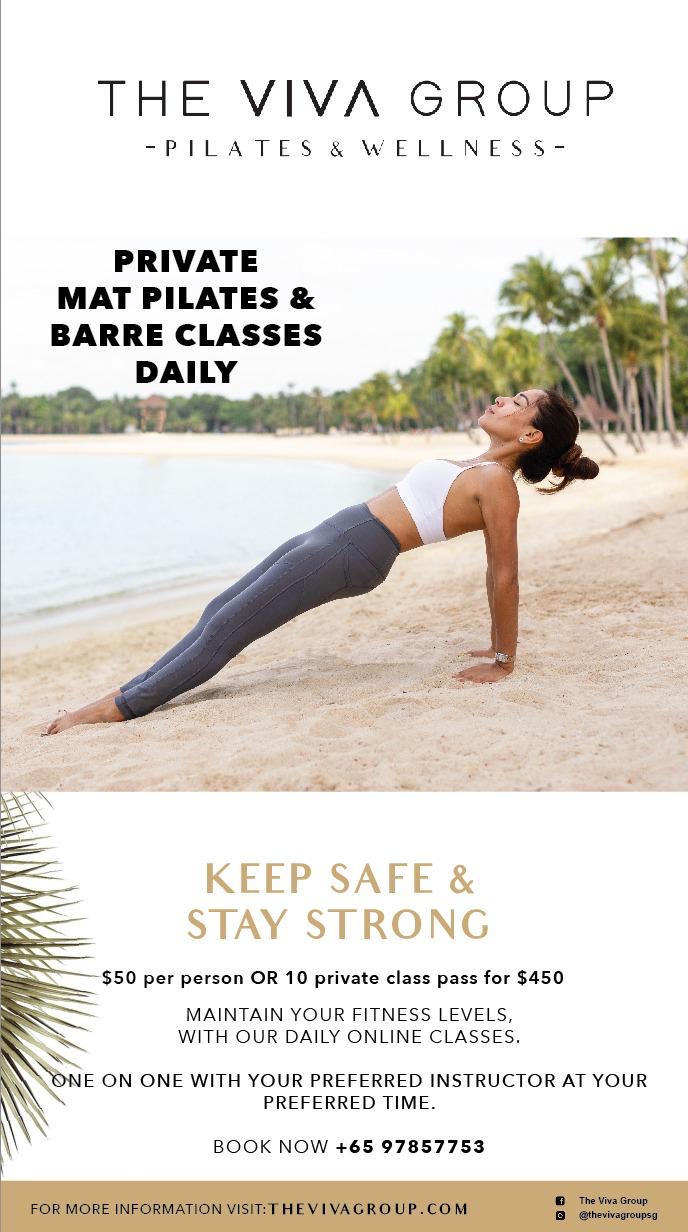 Viva Group Singapore just launched a range of virtual online Pilates & wellness classes ranging from a choice of live daily online Pilates classes in both small groups of up to four participants and a private class options for Pilates Mat or Barre classes.
Viva Virtual Pilates is offered daily at various times throughout the day. You can request preferred time and instructor for private one0on0one class sessions.
For Pilates Mat class, students can use a yoga/Pilates Mat or towel, and for Barre class a hip height table or chair will suffice.
To mark the launch of VIVA VIRTUAL PILATES, the group is offering special promotional prices of $20 per group class and S$50 per private session, with special 10 class pass packages also available offering great savings. VIVA VIRTUAL PILATES classes will be delivered via Zoom, and can be easily booked via phone or WhatsApp.
Join Heberson Oliveira as he teaches you Vibhava Yoga (Evolution Yoga) while you learn to relax and meditate as well as breathing techniques. This is part of Club Med at Home — a digital and social media campaign that encourages positivity through engaging activities while playing our civic duty in maintaining social distancing.
Me-time is more important than ever and there are easy ways to keep fit with at-home exercises. Check out some of these Youtube videos and have some fun exercising at home.
Make your Own Surgical Mask Holder
Make your own surgical mask holder with plastic document folders. Watch our video tutorial. It is easy and you can also family members in this fun activity. Remember that you can wash the holder and you should just to keep it clean.
Essential TCM Items For The Home
Eu Yan Sang has curated a list of essential TCM items you need to keep you and your family healthy.
You can purchase these items from home on its e-shop. Enjoy same-day delivery if you have paid for your purchases before 3 pm from Monday to Friday. Enjoy free delivery for orders S$120 and above.
Concentrated Bird's Nest Range
Bird's nest is a superior health food that are rich in proteins that are easily digestible. They are great for patients recovering from serious illness and widely consumed during pre and postnatal periods.

For beauty care, it has been used to reduce or eliminate liver spots in the elderly, improve complexion and manage skin irritations in babies and adults.

Eu Yan Sang's 100% natural bottled bird's nest are from cave nests which more difficult to obtain. Each bottle contains complete bird's nest strands without any stabiliser. They are Halal certified and some carry the Healthier Choice logo because they are 25% lower in sugar level.

Bird's nest is suitable for all ages. Eu Yan Sang also sells Raw Bird's Nest.
Raw Cordyceps
Cordyceps is a hybrid of plant and animal. They boost energy, improves vitality and lessens fatigue while improving stamina and respiratory system as well as supporting the immune system. Cordyceps restore normal body function, fights colds and coughs.

Eu Yan Sang also offers Pure Cordyceps as a natural health supplement and Pure Cordyceps V Essence in liquid form for faster absorption.
Raw Ginseng
Ginseng helps to restore and enhance well-being. The majority of ginseng is cultivated while wild ginseng is naturally grown without human intervention and has stronger medicinal properties due to natural unpolluted environment & longer time given to develop medicinal properties.

Eu Yan Sang offers rare wild Chinese ginseng from China's Jilin Province, wild American ginseng from North Carolina and cultivated American ginseng from Wisconsin.
Black-Boned Chicken Tonic
Black-boned chicken is a proven TCM tonic and a superfood for people with hectic lifestyles. It has no trans fat, cholesterol or fats.

It contains high-quality herbs and 100% pure chicken goodness. The chicken essence is extracted from fresh premium-grade chicken produced from Good Animal Husbandry Practice – certified farms accredited by the Department of Veterinary Services, Malaysia.
There is no caramel colouring or any other artificial colourings, preservatives, food flavourings and salt.

Eu Yan Sang offers five variants of this product.
– Traditional Black Boned Chicken Tonic
– Black Boned Chicken Tonic with American Ginseng, Cordyceps, Goji Berries and Huai Shan
– Black Boned Chicken Tonic Black Garlic and Collagen
– Black Boned Essence of Chicken DuZhong Baji
– Black Boned Chicken Tonic BaZhen and Collagen
Lingzhi Cracked Spores Powder Capsules
The pollen extracted from the Lingzhi mushroom is a powdery substance released only for 10 days when the Lingzhi ripens. This precious powder has therapeutic effects many times more than the Lingzhi. The active ingredients in "cracked" Lingzhi spores powder are readily and easily absorbed by the human body.

It is 100% natural with no synthetic ingredients and additives with high efficacy and high potency rate with the addition of Lingzhi concentrate.

Eu Yan Sang's Lingzhi Cracked Spores powder capsules support the immune system, relieves fatigue and improves the quality of sleep. They improve metabolism and blood circulation, strengthens the respiratory system, aids digestion and protects the liver.
Black Garlic
Japan's Amori Garlic is used for Eu Yan Sang's Black Garlic Capsules and Essence. The garlic is carefully fermented via an advanced patented process that forms a premium Black Garlic that contains more than 13 times more polyphenol and 8 times more natural S-allyl Cysteine (SAC) content than native garlic. The Black Garlic is extracted to achieve a concentration of superoxide dismutase (SOD) at 1518 units / g and to allow each capsule to pack the equivalent of 25 cloves of Black Garlic.

Polyphenols and SOC have strong antioxidant properties that provide support to cardiovascular health and reduce the effects of ageing. It has also been found that black garlic can help to maintain healthy blood sugar levels.

Eu Yan Sang offers two products – Black Garlic Capsules 30s and Black Garlic Essence 6s
Organic High Protein Drip Chicken Essence
Only organic-certified chicken is freshly prepared within 30 minutes before being stewed for 8 hours at high pressure and heat. It contains the highest protein level among all chicken essences, complete with 18 easily absorbed amino acids, and yet has zero fat and zero cholesterol. No additional water, colouring, flavouring, salt or preservatives are added.

This is excellent nourishment for new mothers before, during and after pregnancy. It is also suitable for anyone who needs a big boost during stressful and busy periods.

Eu Yan Sang also has regular essence of chicken.
BTB MG30+ Manuka Honey 500G
Derived from the Manuka tree in New Zealand, Manuka honey' has antibacterial property because of its high osmolarity, acidity, hydrogen peroxide and non-peroxide antibacterial agent such as Methyglyoxal (MG) which is a compound naturally found in the nectar of the Manuka honey flower.

Eu Yan Sang Manuka Honey comes in different strengths, ranging from MG100+ to MG550+ (i.e. 100mg of Methylglyoxal to 500mg of Methylglyoxal). All Eu Yan Sang Manuka Honey is tested and certified for its MG levels.

Benefits of Manuka Honey include antiviral, anti-inflammatory and antioxidant benefits, remedy for cuts, insect bite, sore throat, mouth ulcers, cough and dry skin conditions.
Holistic and Natural Cough and Cold Remedies Heritage Formulation
There are four series of granules series made from Heritage Formulation and natural herbs. Dissolve these individually packed granules in water and it is ready to drink.

Flu Relief clears away heat and removes toxic substances. It relieves symptoms of common colds and cough and contains a TCM herb known for its antiviral properties.

Cough Relief offers temporary relief of common cold with coughs and phlegm and throat irritations.

Fever Relief offers temporary relief of common cold with fever and sore throat.

Heat Expulsion offers temporary relief of bad breath and sore throat, reduces minor symptoms of mouth ulcer and is best used at the onset of flu-like symptoms.

Get Fresh, Chilled Juices Delivered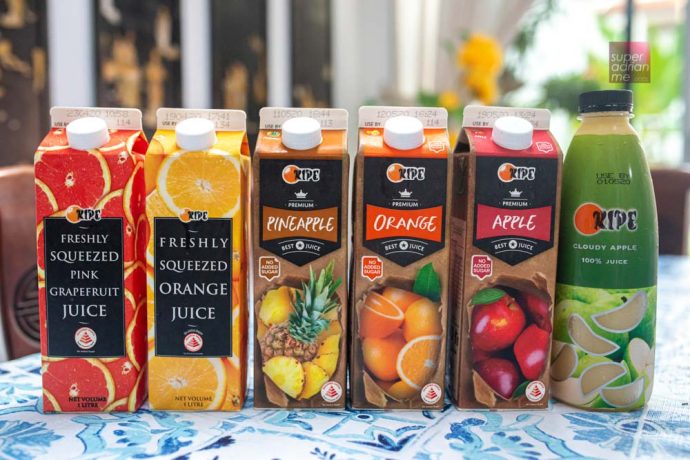 In light of the Circuit Breaker measures Singapore brand RIPE has launched Home Delivery so that people can stay home and still get their daily dose of fruit juices.
Ripe Freshly Squeezed Juices are available in Orange and Pink Grapefruit. A wide variety of bottled 250ml Cold Press Juices, 1L Chilled Tetrapak Fruit Juices as well as Nacho chips and 1L Guacamole/Salsa Dip are also available.
You can order by dropping a message via SMS or WhatsApp at +65 9643 4258 or call +65 6262 0220. Orders made before 6 pm will be delivered within the next 2 days. Free deliveries with a minimum spend of S$50 or more. Self collection is also available until 3 pm from Mondays to Fridays.
Kordel's Supplements To Help You Stay Healthy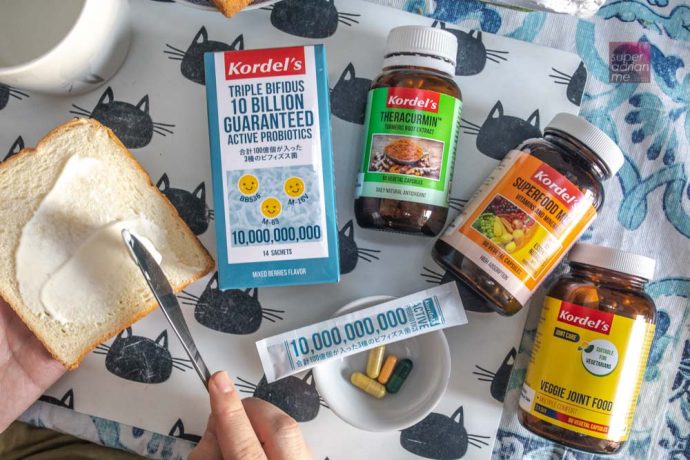 We got in touch with the folks from Kordel's to recommend supplements that working adults like us should be taking during this period to stay healthy. Naturally, a balanced diet, getting enough rest and sufficient exercise are equally important.
Kordel's SUPERFOOD MULTI provide vitamins, minerals and superfood blends to support the body's energy levels, immune functions and bone health. Each capsule contains over 55 bioavailable forms of essential nutrients such as K2 and chelated minerals in a non-GMO-whole-food base.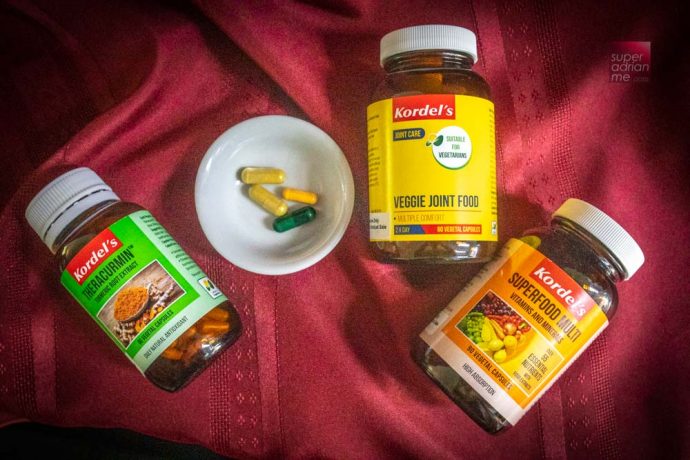 VEGGIE JOINT FOOD is a Vegetarian supplement for Joint Care that is derived from a plant-based and shellfish-free formula. This helps to develop healthy joints with five active ingredients and a seven-fruit extract that works synergistically to provide good antioxidant support.
The THERACURMIN Turmeric Root Extract contains curcumin, an active component from the spice turmeric. It has an antioxidant property and has been known to be good for the health of your liver, muscle and joints, respiratory and cardiovascular. Taking this daily will give you an antioxidant boost so your body can cope with the fight against inflammation.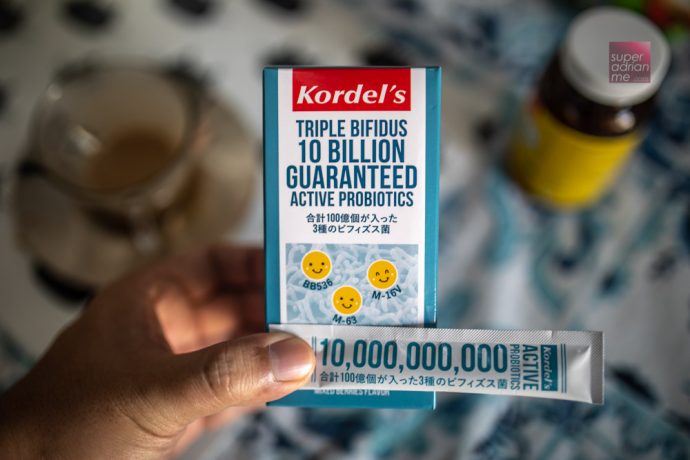 We always hear that gut health is important to stay healthy. While Kordel's has a range of probiotic supplements, the TRIPLE BIFIDUS 10 billion guaranteed active probiotics balances intestinal microflora, benefits the immune system, skin and intestines and supports respiratory and Nasal Health.
You can order these supplements online at www.nuvanta.com.sg. Be sure to enter the code N25AJLDKK to enjoy 25% off non-promotional retail price items. Valid till 31 December 2020.
Click on the next page for more.
HOME ENTERTAINMENT | ONLINE LEARNING | FOR THE KIDS | HOME SHOPPING | KEEPING THE FAMILY TOGETHER | STAYING FIT & HEALTHY | TRAVEL ONLINE AT HOME