Taiwan's Jiaoxi township(礁溪) in Northern Yilan is renowned for its abundant and pristine hot springs that are clear and devoid of odours. This location draws domestic and international visitors who seek relaxation and the opportunity to luxuriate in these immaculate and scentless hot springs.
The natural spring water discovered at this location is categorized as a balanced sodium bicarbonate variety, boasting an alkaline pH level of 7.5. It contains valuable components such as sodium, magnesium, calcium, and potassium carbonate ions, in addition to vibrant microorganisms that improve the quality of skin, resulting in a silky, improved, and non-tacky texture.
Apart from Italy, the Jiaoxi Hot Spring stands out as one of only two such springs worldwide that contain phenol titanium, delivering benefits for both cosmetic enhancements and anti-aging attributes.
Getting to Jiaoxi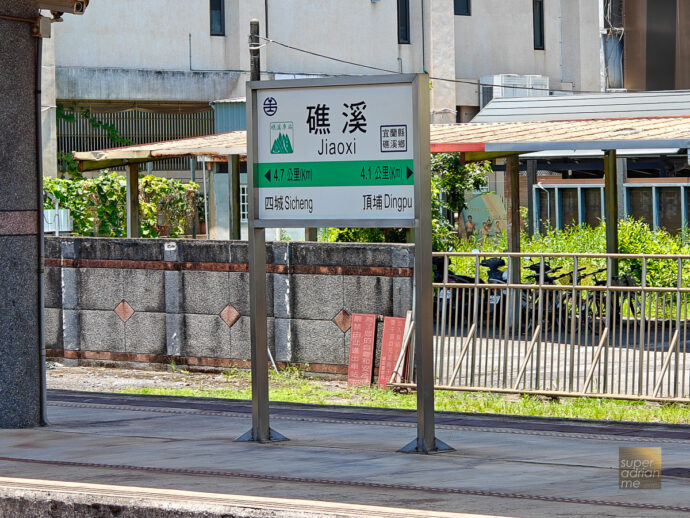 The train on the North Link line from Taipei Railway Station gets you to Jiaoxi in around one and a half hours. And it takes about an hour from Hualien Train Station to Jiaoxi on the North Link Line. It is also a 45 minute drive from Taipei.
When planning a trip to Jiaoxi, we suggest staying at Wellspring by Silks where you can enjoy private hot spring baths in your room, eliminating the need to head out to a public bath to partake in the hot spring experience. And the Jiaoxi train station is just a 3-minute walk to Wellspring by Silks.
Accommodation at Wellspring by Silks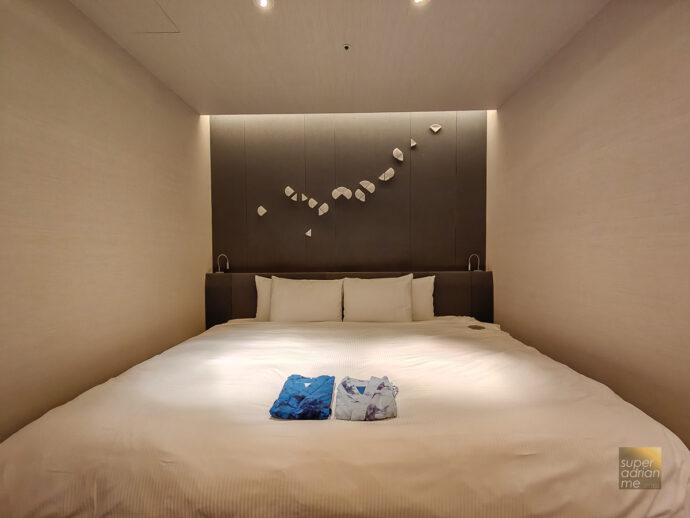 At Wellspring by Silks, we recommend you stay in one of the cosy Hollywood Suites if you travel as a couple. The 40 sqm suite offers a comfortable space with thoughtful in-room amenities and a personal outdoor tub. When you soak in the semi-covered tub, blinds and branches keep prying eyes out.
The rooms sport minimalist, uncarpeted wood tones. Yilan's butterfly orchids are showcased in the rooms through ceramic wall pieces.
Comfortable yukata robes and slippers are provided, similar to what you would get in an onsen. Moisturising face masks are also thoughtfully chilled in the minibar so you can soak in the onsen bath and pamper your face.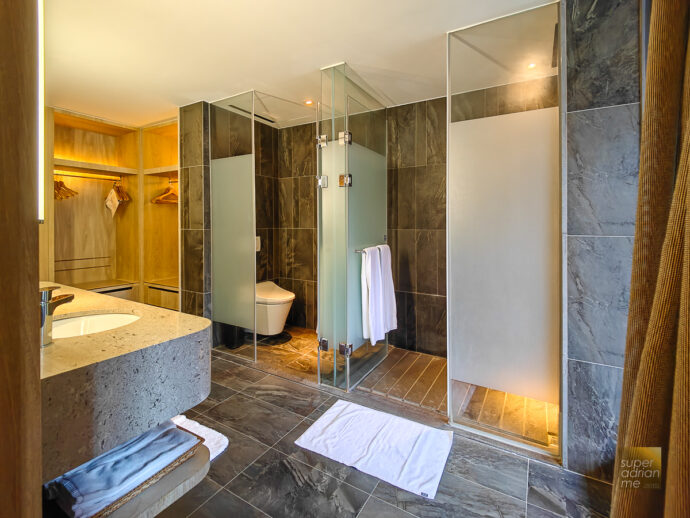 There are 120 rooms in six categories. The other rooms start from 33 sqm for a Superior room to a 65 sqm corner suite that fits two king-size beds for up to four guests. Guests who prefer tatami can stay in a 20 to 23 sqm Japanese Room where tatami and two Japanese mattresses are offered. Families can opt for the 40 sqm Family Twin room or Hollwyood Family Suite with two Queen beds.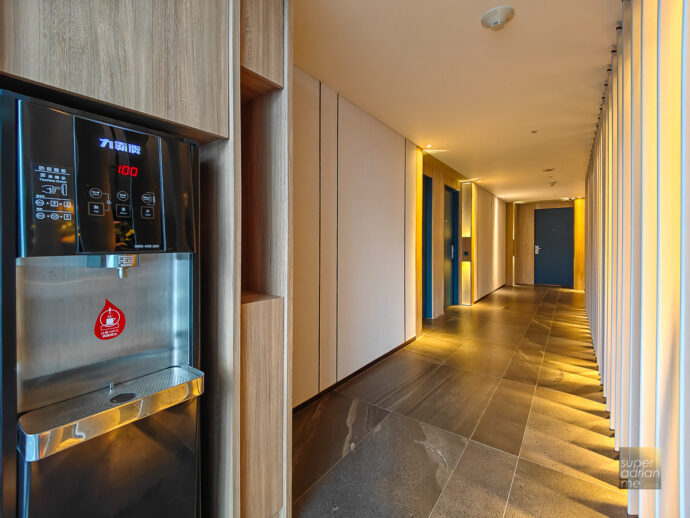 Water dispensers are strategically placed in the lift lobby on every floor. Fill up water flasks in the rooms with cold, warm or hot water at these dispensers. These replace single-use bottled water reducing unnecessary waste. And the electric kettle in your room lets you make coffee or tea anytime you wish.
Dining at Wellspring by Silks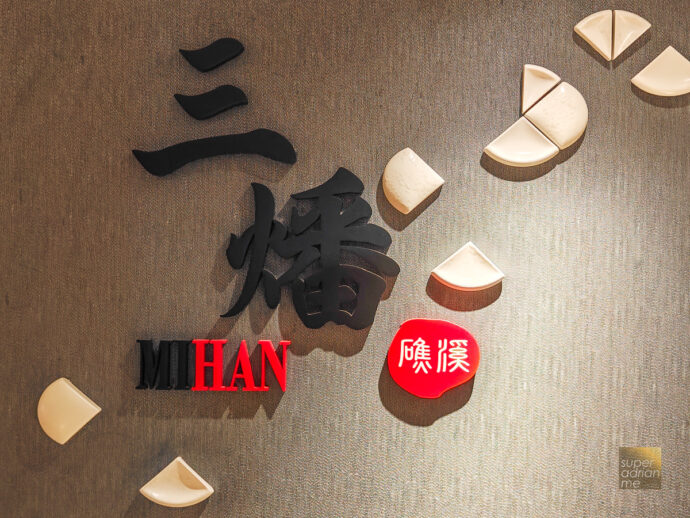 Mihan, an extension of Mihan Honki from Regent Taipei, offers Japanese delicacies inspired by Michelin-starred chefs. Located on level 11, Mihan's signature Japanese hot pot dining experience is a must when staying here. The surf and turf hotpot has two seatings daily from 5.30 pm to 7 pm and 7.30 pm to 9 pm.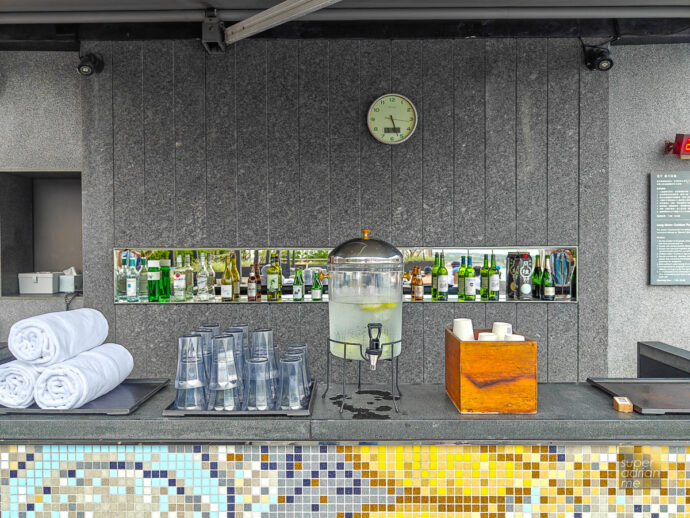 The Roof Bar is where you can enjoy cocktails or just a beer as you relax by the pool. Hot meals are served here as well.
Surf & Turf Hotpot Dinner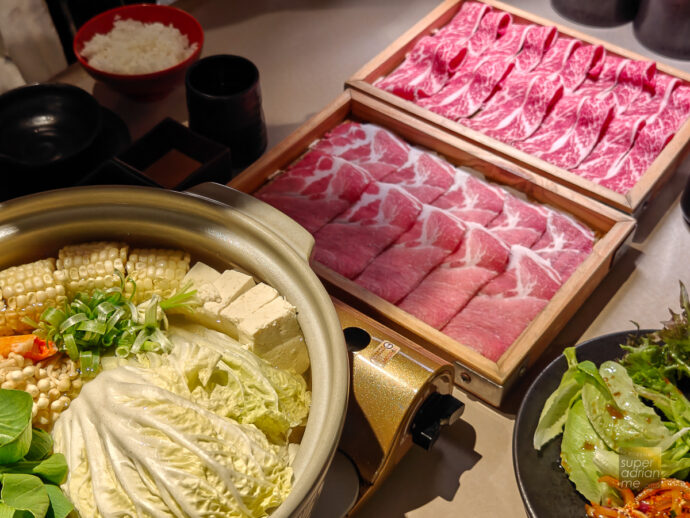 The Surf and Turf Hotpot is a must-try specialty at this place. Don't pass up the opportunity to savour it. The comforting broth is full of sweet flavours from locally sourced ingredients. Enjoy fresh lobsters, fish, prawn paste, clams and scallops.
Priced at NT$1,480 per person with at least two to dine, the feast includes an all-you-can-eat salad spread and a choice of U.S. Prime Boneless Short Ribs or Taiwan Duroc pork. Towards the end, you can add rice to the soup to create a delicious porridge. To conclude your meal, enjoy a variety of Haagen-Dazs Ice Cream options.
Breakfast – It's quite a spread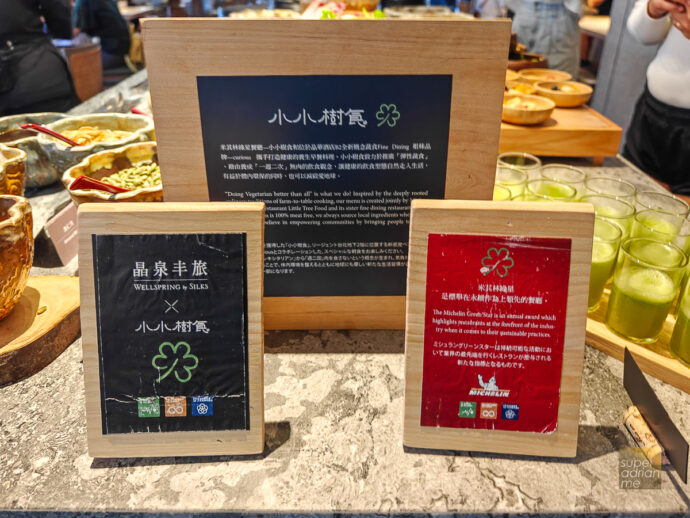 An extensive buffet spread is available for breakfast. Part of the breakfast is from a collaboration with Michelin Green Star restaurant Little Tree Food "小小树林". Indulge in The Great Detox Juice that is made with fresh basil, or the 'superfood' acai bowls and a salad glow bowl of konjac and tofu billed with beetroot juice complemented by a Japanese-style sauce made with low-sodium soy sauce, wasabi and sriracha. This collaboration to eat healthily has been rolled out after its introduction at Regent Taipei in March this year.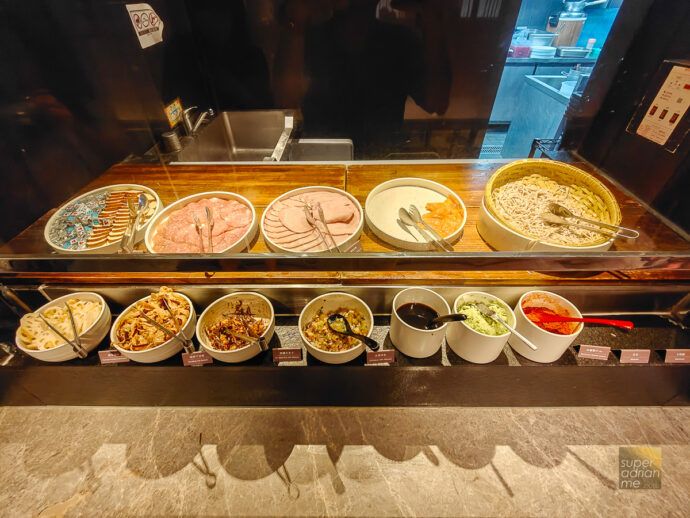 Hot food, cereals, juices, bread, pastries, fruits, and salad are also on the breakfast spread. It's quite a substantial spread to fill you up.
Enjoy Social Hour and visit the Gallery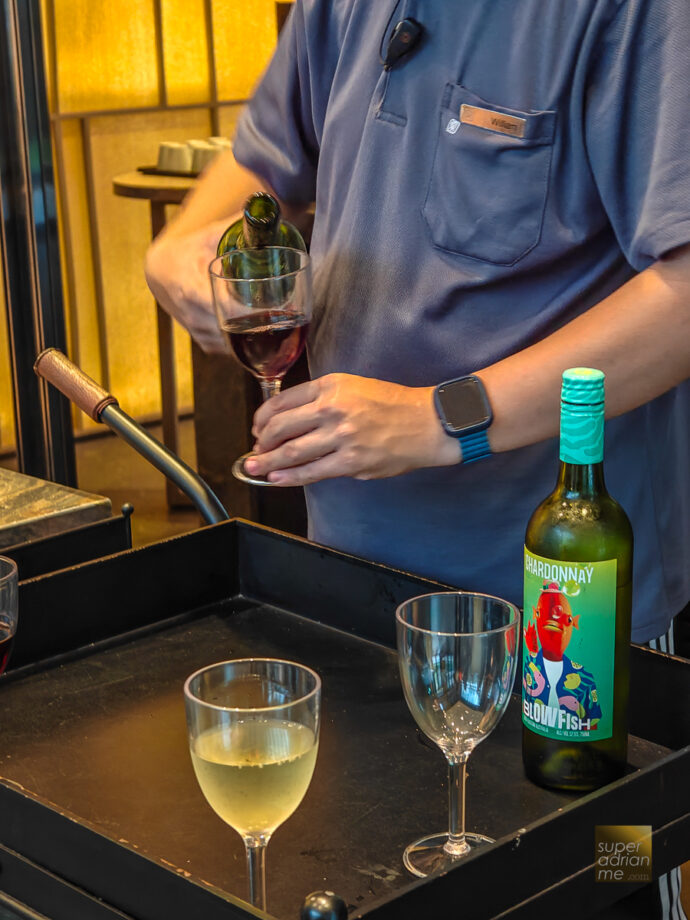 Partake in the Social Hour, held every day from 5 pm to 6 pm in the lobby, where hotel patrons have the opportunity to enjoy wine, hot tea, coffee, and a selection of light refreshments. Engage in conversations with fellow guests, exchanging travel anecdotes during your stay. The lofty ceiling adds to the feeling of spaciousness in the area.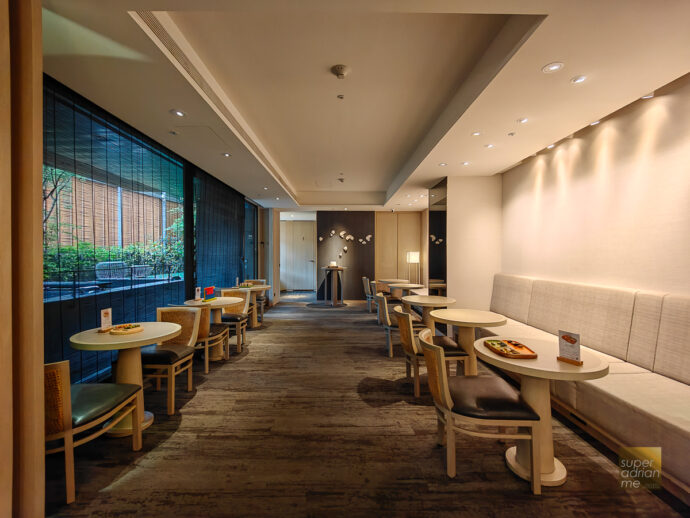 Proceed to the Gallery located on the second floor for a moment of solitude. Take pleasure in exploring the exhibited local artwork and paintings. Experiment with a few traditional Taiwanese games for a unique experience. It's a shame we couldn't allocate time to explore these games. Take a moment to relax your weary feet in the outdoor hot spring.
Swim with a view and enjoy late-night open-air cinema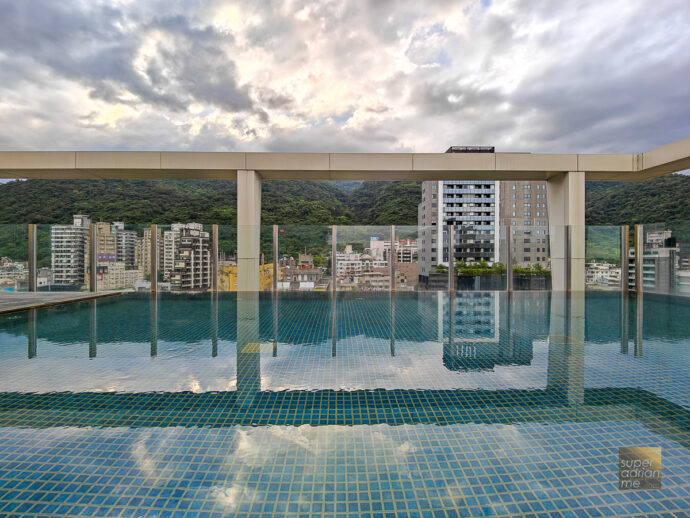 The rooftop pool and spa pool offer panoramic views of Lanyang Plains, the Pacific Ocean and Guishan (Turtle) Island. At 8 pm, the rooftop space transforms into an outdoor cinema, where American movies are screened for hotel guests. That's if it's not raining. Gaze at the twinkling stars and milky way and feel the gentle breeze caress your skin.
Food and Shopping around the Neighbourhood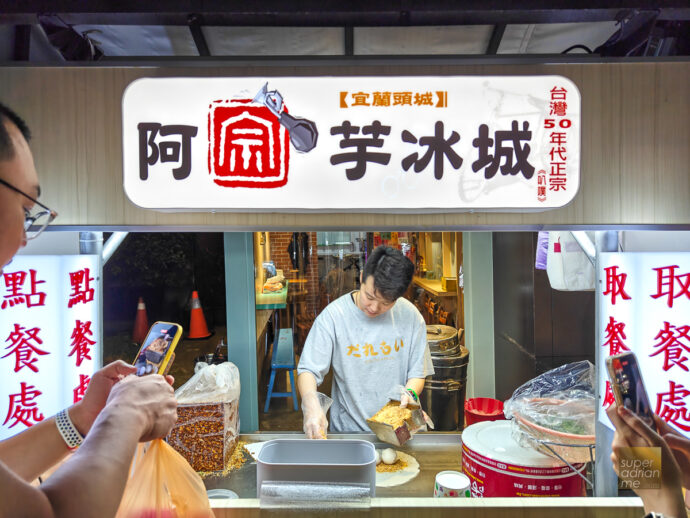 Explore the vibrant neighbourhood and night market on foot where you can enjoy a plethora of street food. Shop for foodstuff and souvenirs to bring home. We were glad to get our hands on the very sweet red skin Irwin (愛文) mangoes which were in season. They were only NT$100 for a basket. We also stumbled upon a candied peanut with coriander and ice cream spring roll store.
You'll definitely to take a stroll to walk off the Surf & Turf hotpot dinner at Mihan.
Hike the Linmei Shihpan Trail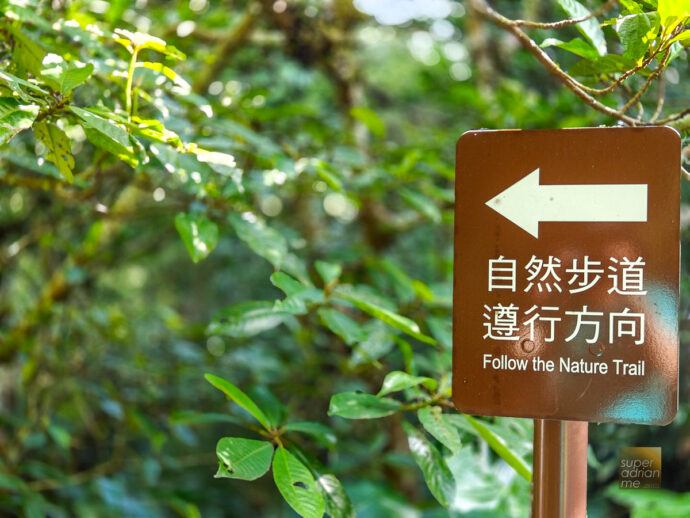 Go on a hike at the Linmei Shihpan trail and check out the Shihpan Waterfall on the upper reaches of the Dezikou River at an elevation. The trail is a 1.7km low-elevation subtropical river-valley trail through gentle mountain terrain at elevations of 250 to 300 metres.
See if you can spot the native birds, fish and frogs in the old irrigation canal and the Dezikou River below. This trail is nicknamed "Little Taroko of Yilan". Set aside at least one hour to complete the hike leisurely.
This "Eco-friendly Forest Tour" is available to guests who book through the hotel's official website. The tour is free of charge and guests also receive a complimentary Wellspring branded sustainable eco-bottle. The tour with a knowledgeable guide emphasises the preservation of the natural environment without leaving any traces behind.
As part of the hotel's sustainable practices, it has stopped providing single-use disposable amenities such as dental set, razors, combs and shower cabs unless requested by guests.
Location – Wellspring by Silks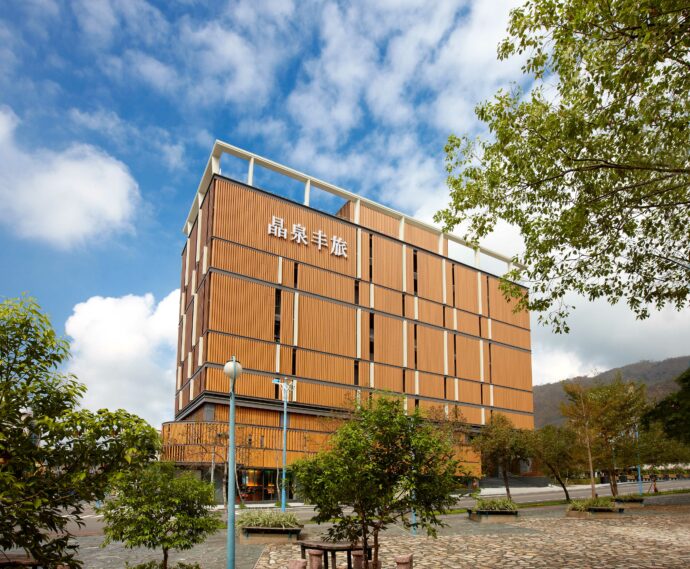 Wellspring by Silks
67 Wenquan Road, Jiaxi Township
Yilan County, Taiwan 262
Wellspring by Silks has been awarded the prestigious Red Dot Award in 2017 for Interior Design. Local culture, nature and landscape of Yilan have been seamlessly integrated into the lobby, guest rooms and restaurant by JAHAA Design.
Stay at the Wellsprings by Silks on the best available rate with breakfast and enjoy Mihan Japanese-style breakfast, happy hour every day from 5 pm to 6 pm, free access to Boundless Hot Spring Swiming Pool and jacuzzi, the Stars theatre from 8 pm to 10 pm as well as free access to the indoor hot spring, outdoor pool and children's station at Justsleep Jiaoxi. Click here to book.
Disclaimer: This stay was hosted by Silks Hotel Group, but the views expressed are our own. Our journey commenced at Regent Taipei, leading us through Wellspring by Silks in Jiaoxi, Silks Place Taroko, Silks Club Kaohsiung, and culminating at Silks Place Tainan.