Kaohsiung, situated at the southernmost point of Taiwan, stands as a bustling metropolis adorned with towering skyscrapers, among which the renowned Tuntex Sky Tower, soaring 248 meters in height, takes centre stage. The city also boasts numerous parks, contributing to its vibrant atmosphere.
This urban landscape served as one of the destinations on our five-day immersive hospitality experience with Silks Hotel Group. Our journey commenced at Regent Taipei, leading us through Wellspring by Silks in Jiaoxi, Silks Place Taroko, Silks Club Kaohsiung, and culminating at Silks Place Tainan.
Owned by the YUI-MOM Group and managed by Silks Hotel Group, Silks Club Kaohsiung is strategically located at the city centre, near the urban harbour, railway station, and international airport. The hotel guests have the convenience of strolling to the nearby light rail station and two MRT stations along Zhongshan Road. Additionally, it is closely situated to trendy department stores, the Kaohsiung Exhibition Centre, and the Maritime Cultural Popular Music Centre.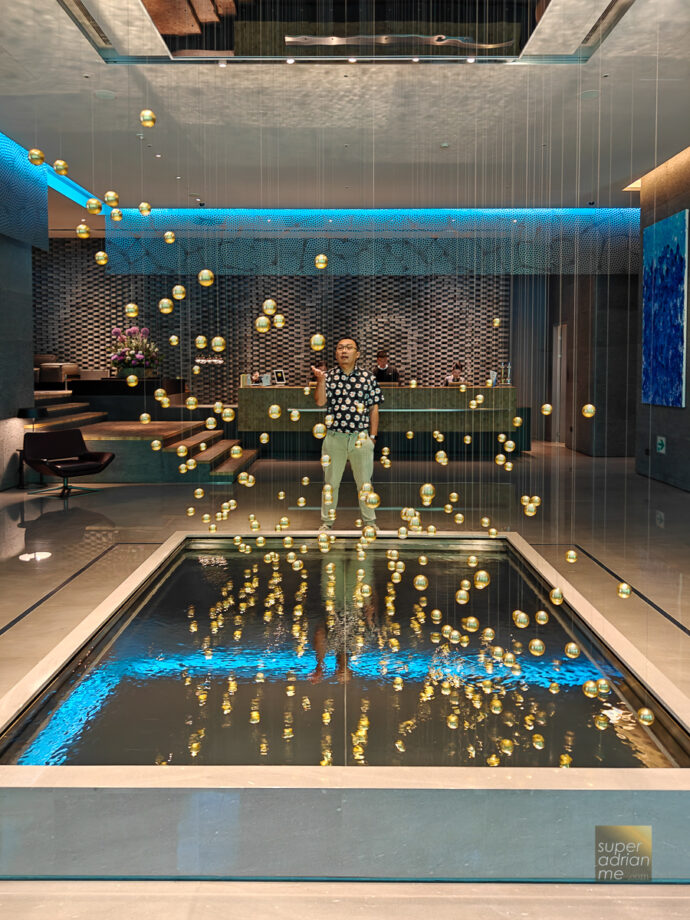 The hotel showcases artistic and stylish elements throughout its premises. The global kinetic design team of ART+COM, installation artist Olafur Eliasson, and nearly 200 modern artists from around the globe have individually crafted exclusive artworks for Silks Club.
The lobby displays a 4D Kinetic Sculpture titled "Dancing Particles," crafted by ART+COM Studio. 168 metallic orbs ascend and descend in order to create various forms. The Kinetic Rain in Changi Airport Terminal 1 and 2017 Pentaclouds at Singapore Changi Airport Terminal 4 were also created by ART+COM Studio.
Artworks displayed in each guest room are available for purchase.
Staying in a Premier King Room at Silks Club Kaohsiung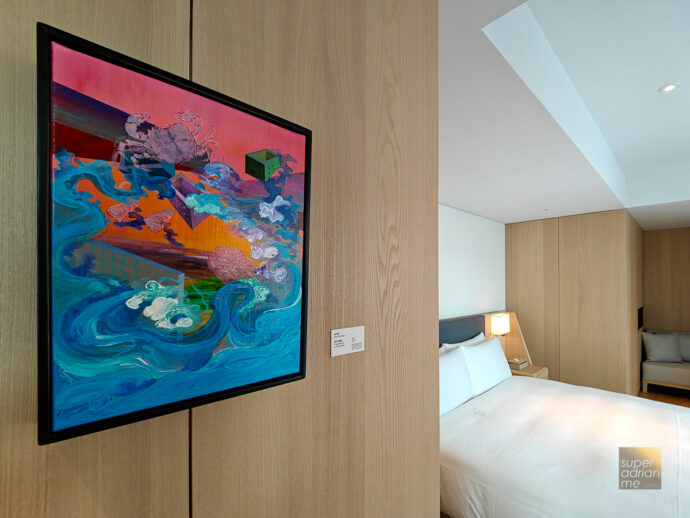 The Premier King room at Silks Club Kaohsiung spans a generous 60 square meters and features expansive glass windows that offer vistas of the harbour and captivating sunsets. The room category is located on levels 17 to 27 and is illuminated by abundant natural light, accentuating its light wooden hues. What particularly captivated me about this hotel is its highly contemporary aesthetics and the vibrant illumination that pervades the surroundings.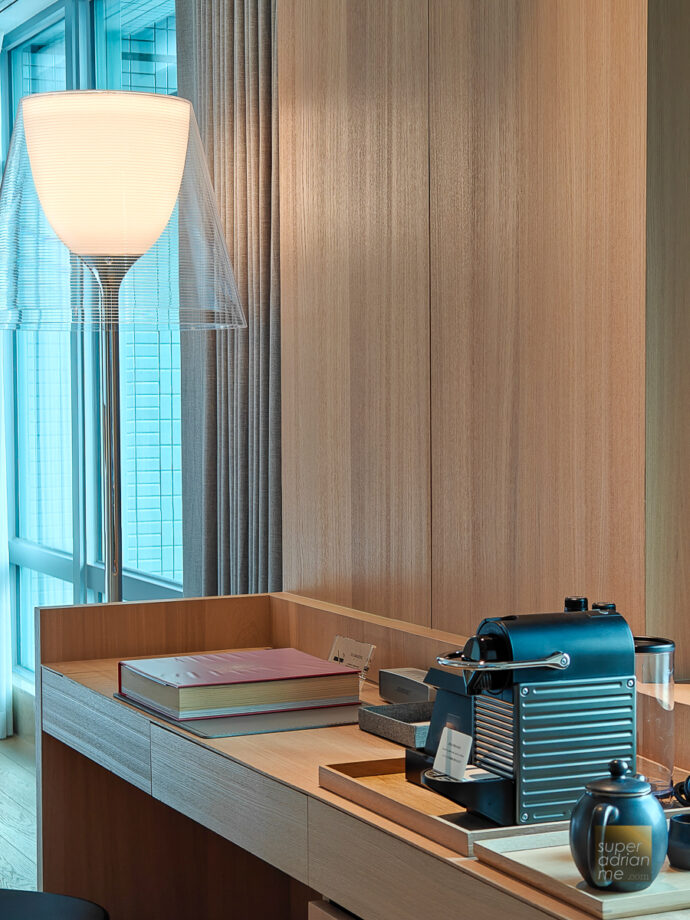 Nespresso coffee, thoughtful amenities within the room ensure guests enjoy a comfortable stay. There's a Bluetooth Bose speaker you can connect your Spotify playlist.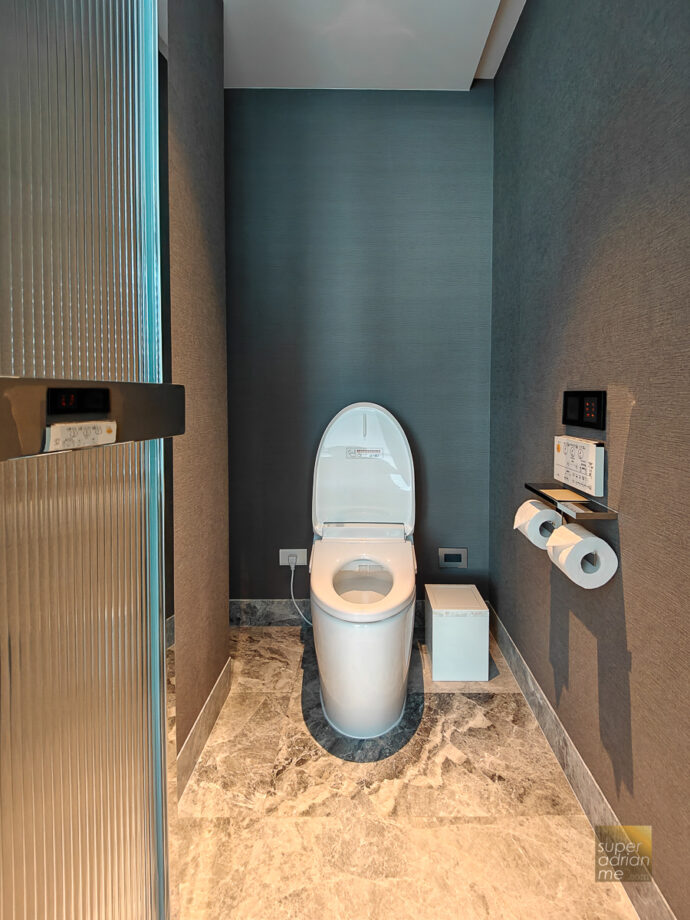 The bluish-gray marble bathroom also allows natural light to flow in with the option to draw the blinds for privacy. All at the touch of a button. The bathtub by the window is inviting, offering a panoramic view outside
Swim, Work Out and Steam and Sauna in the High Leap Floor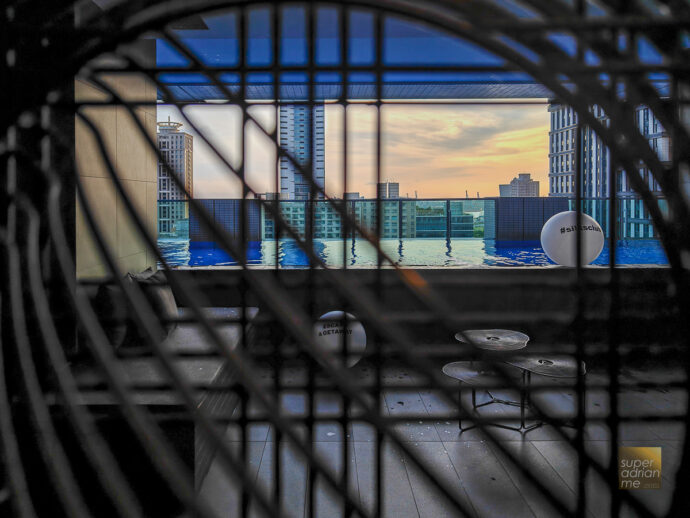 The contemporary urban hotel provides optimal amenities for unwinding, releasing stress, and engaging in exercise, all within the confines of the High Leap Floor situated on the 16th level. This is the designated space where you can relish mesmerising sunset panoramas of the New Bay Area and the captivating city landscape as you indulge in a refreshing swim.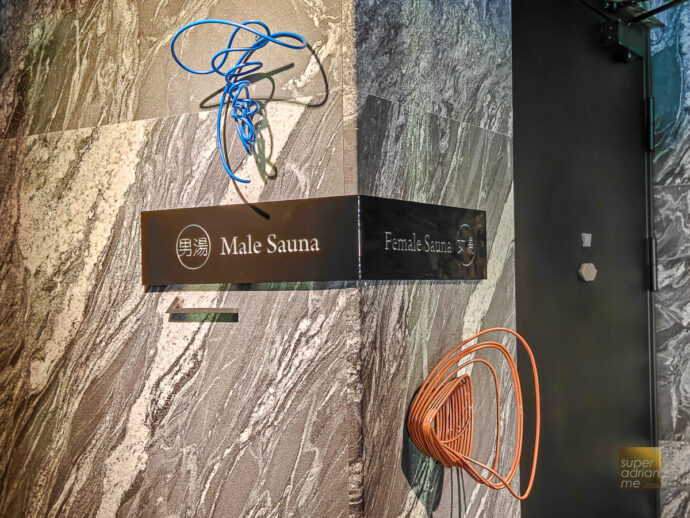 There are separate saunas for men and women and a well-equipped fitness centre.
Dassai Bar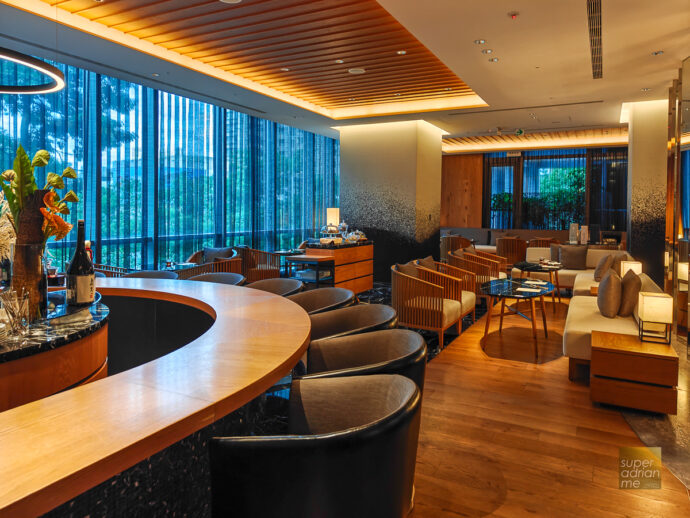 Dassai is famed for its '23% ground alcohol', which is produced by polishing the finest Yamada Nishiki brewing rice until only 23% of the grain remains. This results in a delicate texture and an array of aromas and flavors that gracefully unfold on the palate.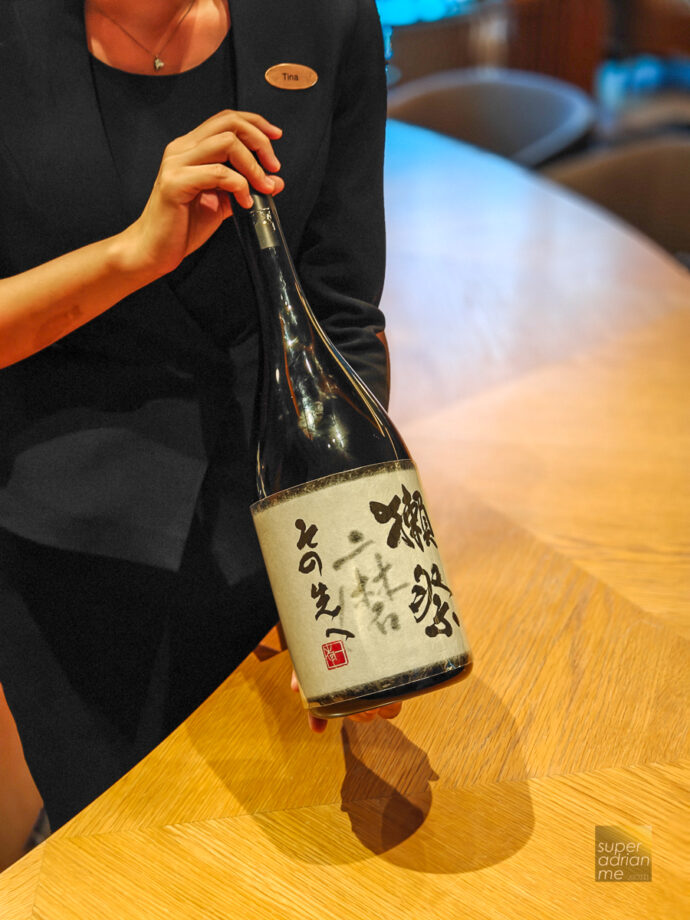 Delight in a taste of this exceptional sake at the Dassai Bar situated on the third floor of Silks Club, where a variety of Dassai sake options await. Kaohsiung is one of the two Dassai Bars outside Japan. The other is in Shanghai. Get to know the great sake of Japan here.
Dine at Ukai-tei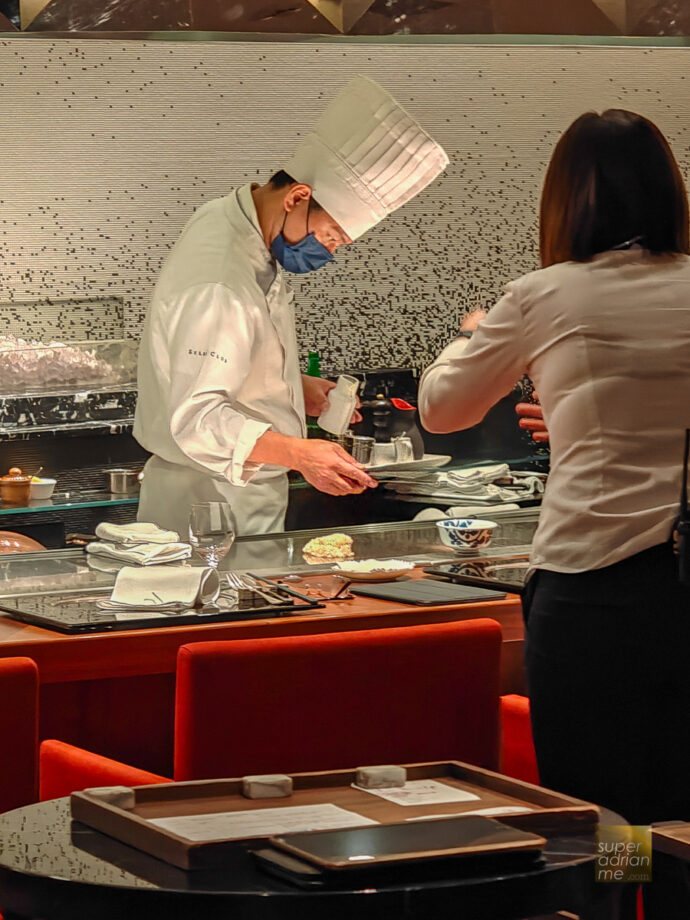 Ukai-tei Kaohsiung is the first overseas branch of world-famous UKAI restaurant group with a Michelin Star at its Omotesando outlet. Ukai-tei seamlessly fuses top-quality ingredients sourced globally with a profound cultural reverence, complementing each course with an individual, artisanal plate.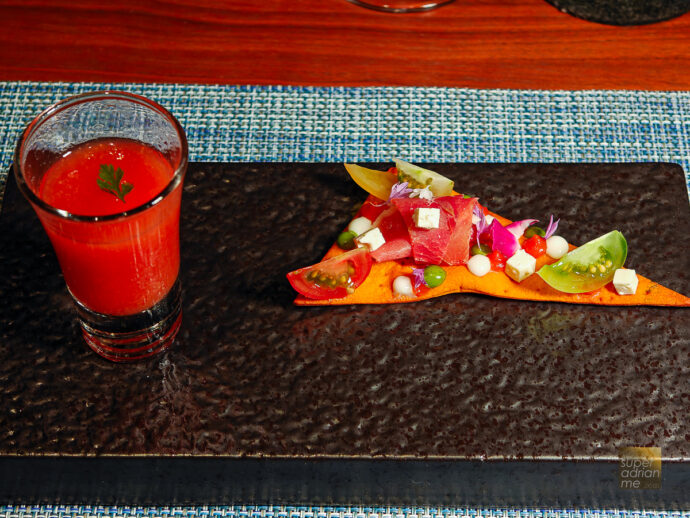 We had the pleasure of dining at Ukai-tei Grill, where Chef Watanabe Atsushi, drawing upon his Michelin-starred expertise, creatively revitalizes their iconic dishes. He employs top-tier ingredients procured nationwide, including premium Wagyu beef and recently caught seafood air-freighted from Japan.
Sets and ala carte menus are available. Sets start from NT$1,500 for lunch and NT$2,000 for dinner.
Breakfast at In Jade Lounge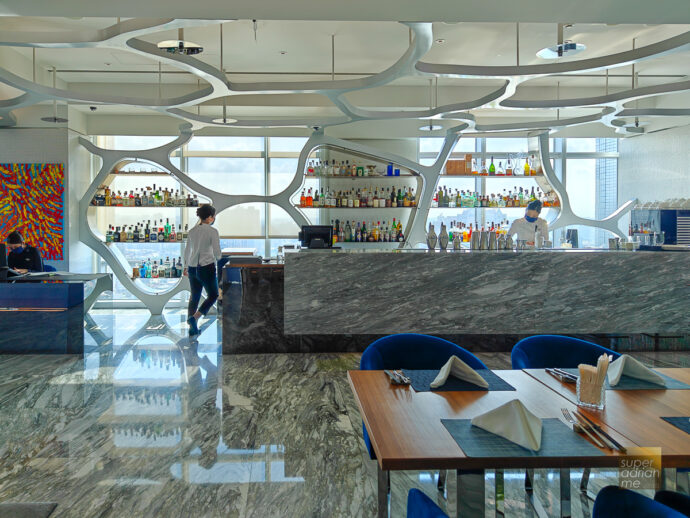 The In Jade Lounge on level 28 offers a healthy breakfast. UKAI's chefs prepare a spread and a choice from the Japanese, Western, Western Vegetarian and Taiwanese breakfast set from the breakfast menu. Breakfast is priced at NT$1,000++.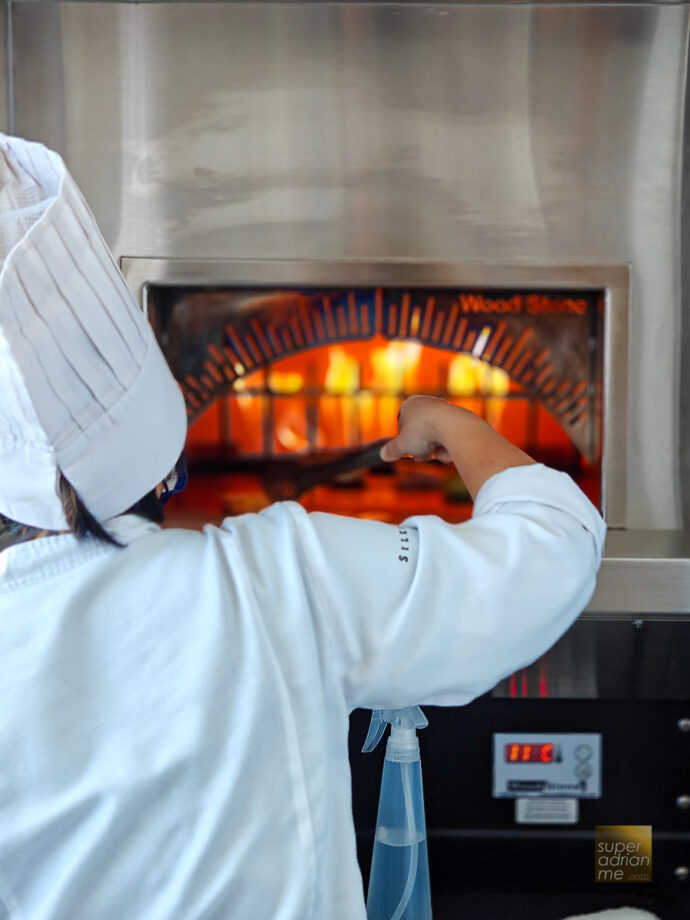 A chef heats up an impressive selection of breads and pastries for you. I am impressed. And there is also a good assortment of cheeses, fruits and salads.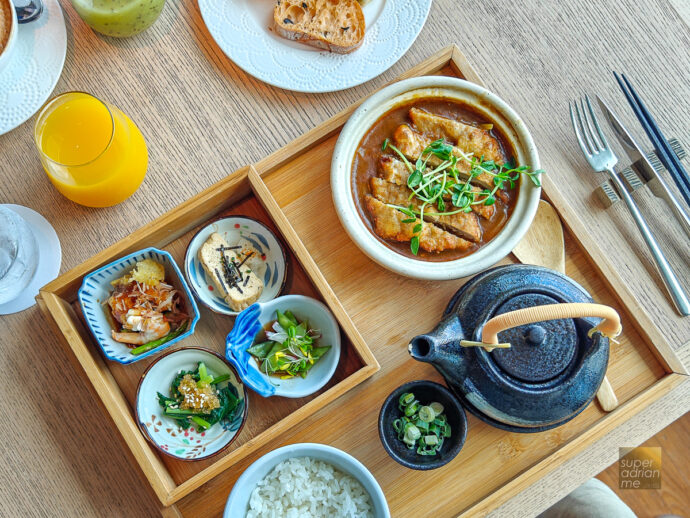 The Breakfast Sets were satisfyingly hearty. I opted for the Steamed Clams Taiwanese set, presented in a bento set with whitebait porridge, pork cartilage soup, assorted seasonal accompaniments, and a clay oven roll. Dennis chose the mildly spicy Curry Tonkatsu Japanese set, showcasing clams dobin soup, Koshihikari rice, and a variety of seasonal side dishes.
SS Bar at Yuimom Residence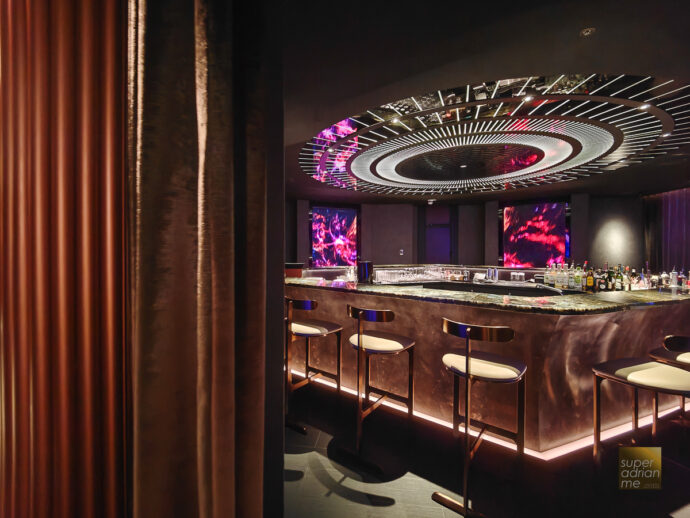 Situated within Yuimom Residence, the SS Bar is a lively cocktail establishment that presents an array of enjoyable cocktails, wines, and whiskies suitable for any event. Delight in a range of warm and satisfying dishes available in different settings, catering to groups of various sizes.
The enigmatic bar provides a futuristic atmosphere reminiscent of the Milky Way, creating a gateway to the dawn of existence. Revel in cocktails while journeying amidst the stars aboard a spacecraft.
Visit the Alien Art Centre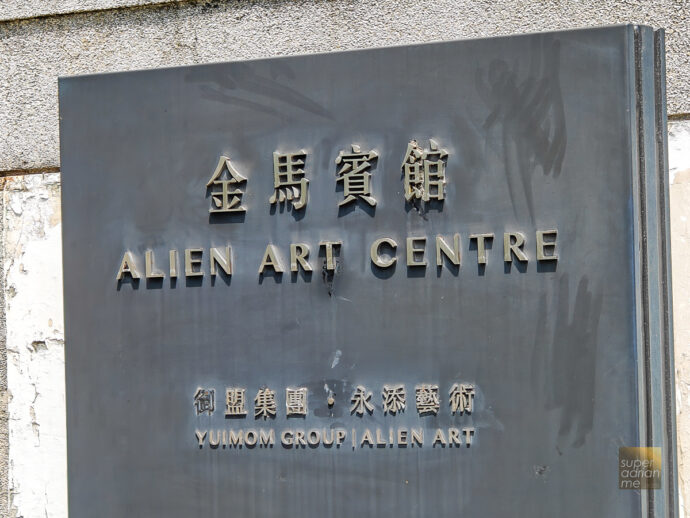 The Alien Arts Centre, affiliated with the YUI-MOM Group, was founded in 2016. It transformed the former Kin Ma Military Hostel into an art gallery in November 2018, aiming to bring contemporary art within reach of everyone. Despite its name, there are no alien or outer space exhibits here. The name was derived from the magical moment "E.T. phone home" finger touch, similar to an intersection where all the imaginary realms meet.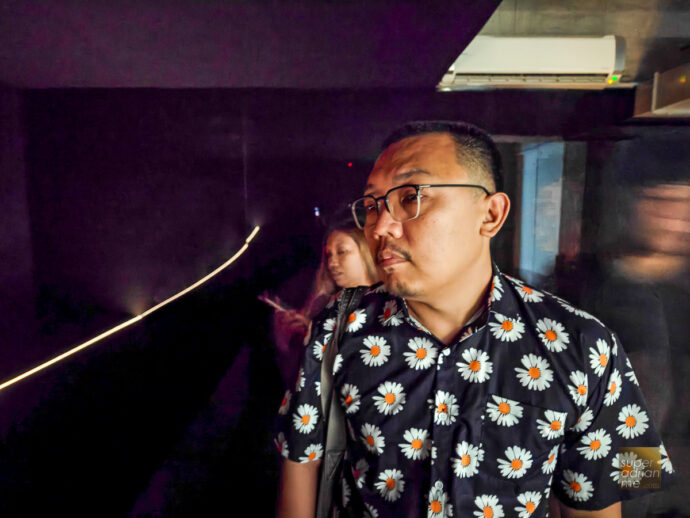 Besides checking out the different exhibitions on the different levels, there are also many spaces for you to capture great memories. Perfect for that Instagram photo shoot. Appropriate that this building is a cultural and artistic centre.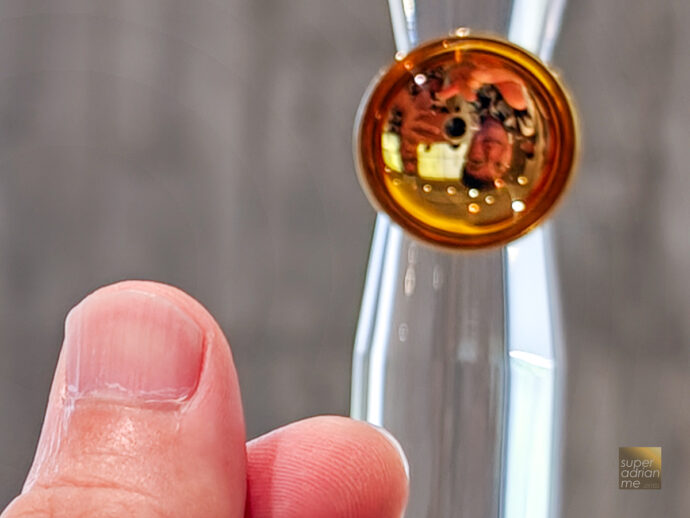 The Alien Art Centre is located at No. 111, Gushan 1st Rd., Gushan Dist., Kaohsiung City 804, Taiwan, a 14 minute car ride from Silks Club.
ALIEN All-Day Lounge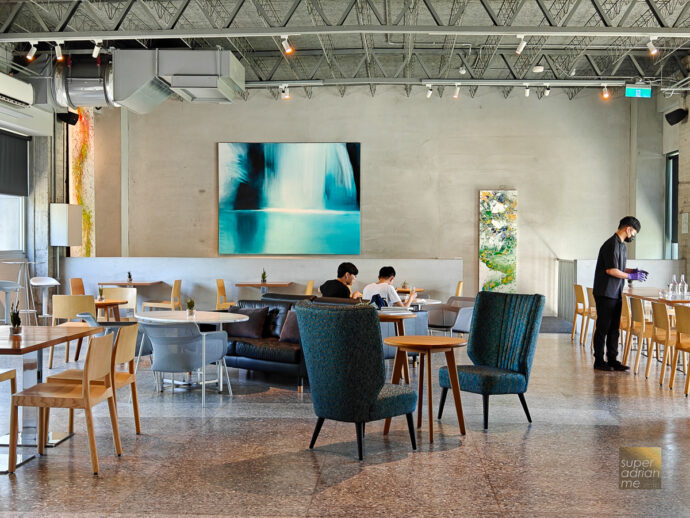 After viewing the exhibits, head to the ALIEN All Day Lounge on level two for some food and refreshments. The Museum Cafee offers merchandise for purchase. Bring home books about art, some art pieces and more.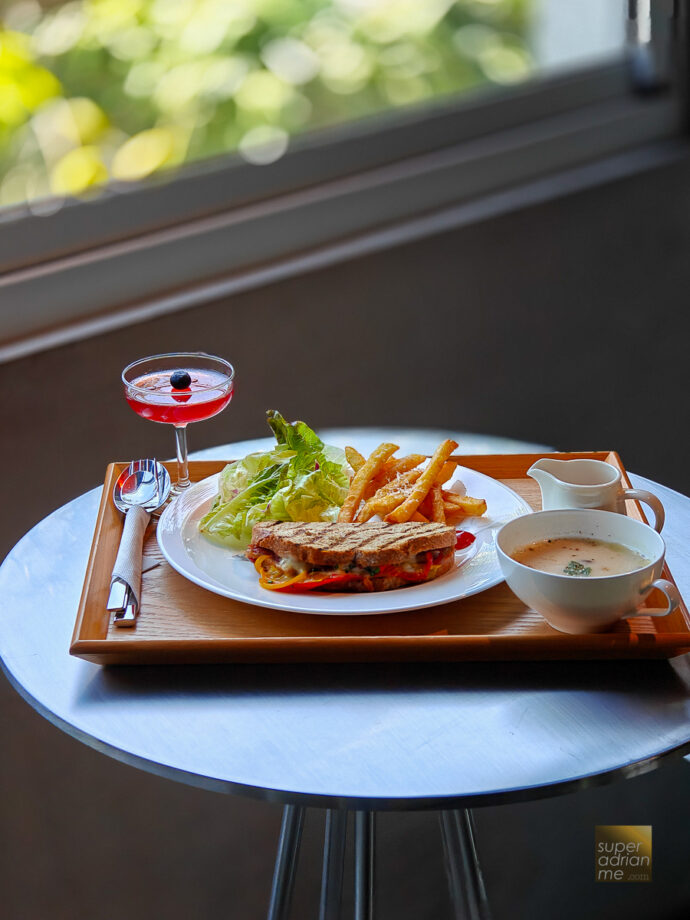 The All Day Menu and Afternoon Tea menu provide options starting from NT$420, allowing you to select a main course along with one of four beverage choices. Additionally, there is a selection of coffee and teas to choose from. The skilled barista is ready to suggest options for Pour Over coffee. Furthermore, Mocktails, Juices, and Cocktails are part of the offerings as well.
Location – Silks Place Tainan
Silks Club Kaohsiung
No. 199, Zhongshan 2nd Rd
Qianzhen District,
Kaohsiung City, 806 Taiwan
Disclaimer: This stay was hosted by Silks Hotel Group, but the views expressed are our own. Check out our other story about Wellspring by Silks Jiaoxi and Silks Place Tainan.