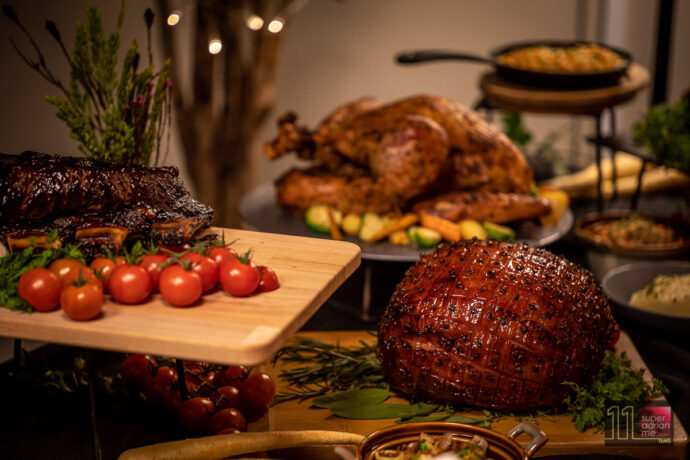 2021 has been yet another trying year for many of us. Why not visit one of these dining outlets, or order home to celebrate the end of the year and the Christmas festivities with your family and friends. Looking for a gift for a friend, we've some suggestions in here as well. You may also check out our piece on frozen meal packs that could be another alternative for those festive celebrations.
Well, let's hope 2022 would be a much better year for everyone.
BreadTalk – A Christmas Tale with The Nutcracker
BreadTalk offers a plethora of Christmas delights to end of the year. From Deck the Tree, to Black Forest Log or the Snowy Christmas Log to the online exclusive Premium Christmas Log Cake priced from S$39 and above, there are lots of choices.
Fun DIY Gingerbread Cookie Sets are available from S$10 and the Christmas Donuts are decorated in the spirit of Christmas. Don't have a Christmas Tree at home? Why not get an edible one? The Snowy Christmas tree is made with brioche buns, filled with wild blueberry jam and coated with white chocolate and festive sprinkles. The O Christmas Tree is filled with strawberry jam coated with dark chocolate and festive sprinkles for only S$5.80 each.
Check these out in-store or online.
Burger & Lobster Raffles Hotel Festive
Burger & Lobster Raffles Hotel is ready to welcome you to kick-start a Christmas feast for two. The Christmas Sharing menu features a flute of Veuve Cliquot Brut Yellow label with the Lobster and Smoked Salmon Duo, Beetroot Tartare with Carrot 'Egg', Cranberry Lobster Roll, The Venison Burger or The Wholesome meat-free burger. Desserts inclue a Blood Orange Semifreddo or the Bodegas Muga Rosado.
While you are there, don't forget to try Burger & Lobster's tenth-anniversary milestone celebratory craft beer Lobster Saison. The beer was created in partnership with Off Day Beer Company. Fresh, Britney and crisp, this unique lobster-infused brew is available at both Burger & Lobster restaurants.
The Capitol Kempinski Singapore Festive Takeaways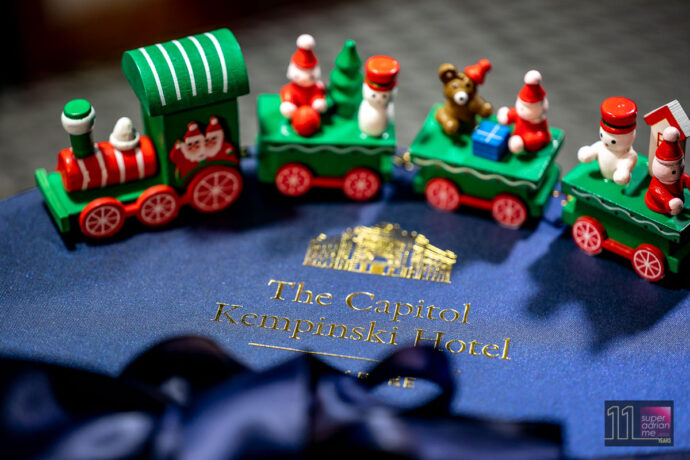 The Capitol Kempinski Hotel Singapore invites young and old revellers to board an Enchanted Express of festive and year-end merriment. Takeaway Christmas roasts and log cakes or enjoy festive set meals, epic brunch buffets and an advent calendar of daily specials at Arcade @ The Capitol Kempinski.
New on the takeaway menu is the 6kg Baked Gammon Ham Bone-In, Plantation 1840 Rum Honey Glaze, Apple and Pork Raising Sauce (S$220+). Or the 2kg Baked Ham in Plantation 1840 Rum Honey Glaze, Apple Sauce, Pork Raisin Sauce (S$98+). The 1kg Baked Norwegian Salmon Fillet with Yellow Lemon Confit and Dill Butter (S$98+). Bring back the 1kg Classic Chocolate Hazelnut Yule Log Cake at S$82+.
The Capitol Kempinski's Festive Takeaways of Signature Roast Items and Christmas Goodies and cakes are available by pre-orders at the hotel's online shop – https://shop-capitolkempinski.com/.
Cat & The Fiddle Yule Hee Hoo! Pistachio Raspberry Praline Logcake
Cat & The Fiddle's 650g Yule Hee Hoo! Pistachio Raspberry Praline Logcake is so cute. The new logcake is nutty, sweet and tangy and is halal-certified. Priced at S$58.90, the hazelnut chocolate praline base with a velvety pistachio cream cheese mousse, envelopes a luscious chocolate cream cheese and fruity raspberry ruby centre. It is coated in aromatic and bittersweet matcha green tea sponge crumbles. The miniature reindeer topper is too cute.
Place your orders at www.catandthefiddle.com
Champagne Vilmart & Cie to Celebrate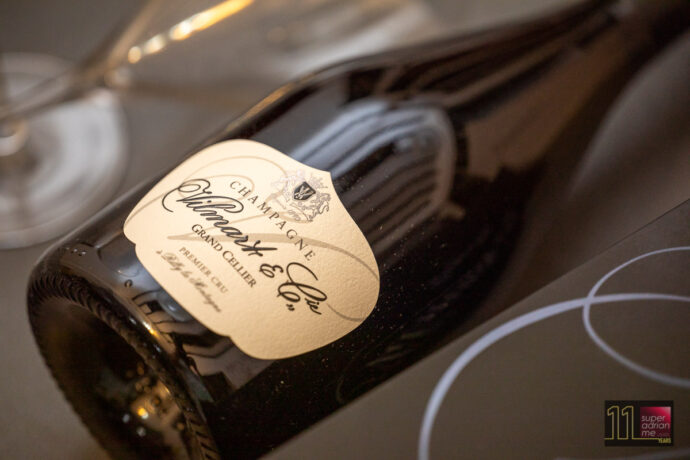 Champagne Vilmart & Cie is a highly lauded artisanal Champagne house that is reputed as masters who vilify their cuvées in wood. This gives the wines their particular character, providing body, fruit and roundness and subtlety. Another characteristic of Vilmart champagnes is the absence of malolactic fermentation, which lends a unique blend of freshness, tautness and subtlety, as well as the pronounced identity of the aromas.
Over eleven hectares of vineyards are planted exclusively in Premier Cru and mainly located on the terroir of Rilly la Montaigne. Champagne Vilmart & Cie has a majority of Chardonnay (60%), with the remaining 40% planted with Pinot Noir.
Celebrate Christmas with Champagne Vilmart & Cie. Get yours from Malt & Wine Asia. Promotion prices start from S$70.20. You can also enjoy this champagne at Bedrock Origin, La Terre Wine Bar or Wooloomooloo Steakhouse.
Conrad Centennial Singapore – Festive Delights at Oscar's
Head over to Oscar's at Conrad Centennial Singapore and enjoy festive delights including Parma Ham, Snapper Ceviche, Dry Rubbed Roasted Rib Eye and Truffled Turkey Pincho. The seafood on ice features unlimited servings of oysters, salmon sashimi, crabs, lobster and prawns amongst others.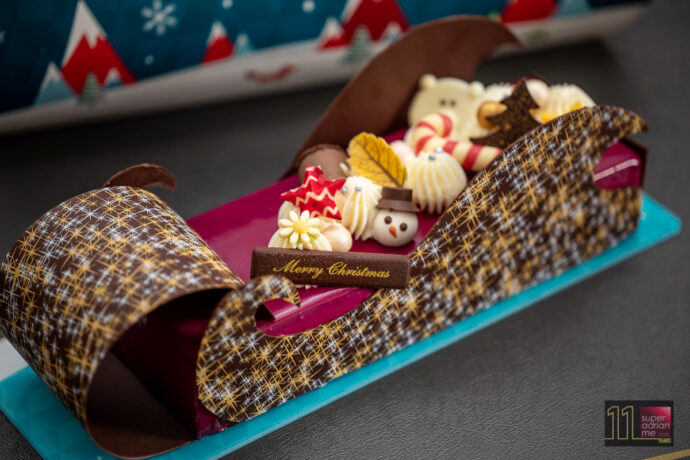 Priced at S$58++ per person for lunch and S$78++ per person for dinner until 31 December 2021. On 24, 25 and 31 December Dinner is priced at S$178++ per person. The 25 December 2021 Brunch is priced at S$178++.
Visit www.connoisseur.sg/joy-at-oscars/, contact Oscar's team at +65 6432 7481 or email [email protected]
Fairprice Finest Essentials for the Festive Season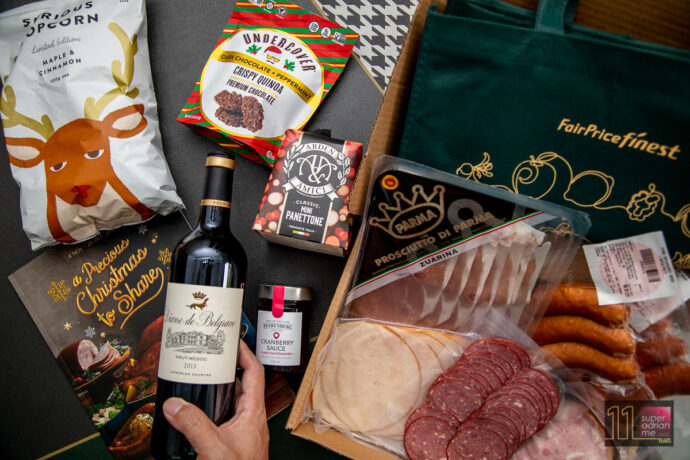 Get your festive treats and snacks from FairPrice Finest. A range of festive offerings are available including roast turkey and honey baked ham as well as over 10 halal options as well as over 5 plant-based meat offerings.
The Butcher's Board Christmas Ham and Sausage Platter, Zuarina Sliced Parma Ham and Beerenberg Cranberry Sauce are perfect for entertaining guests. And for something sweet, there are treats such as the Arden & Amici Classic Panettone, Undercover Crispy Quinoa Dark Chocolate & Peppermint and Serious Popcorn Maple & Cinnamon.
Visit your nearest NTUC FairPrice Finest store or visit https://www.fairprice.com.sg/christmas/catalogue/.
There is even an Instagram effect for you to play around. Try it here.
Fat Belly Social
Fat Belly Social specialises in big, bold cuts of meats and fun sharing plates. Chef Victor Loy has create a hearty and filling Christmas menu. The Starter Lab's Lemon & Rosemary Artisanal Sourdough as well as the turkey, Foie Gras & Chestnut Roulade with Cranberry Sauce and Truffle Gravy are excellent. I also thought the Carrot, Ginger & Walnut Loaf with homemade Brandy Butter was absolutely divine.
The Christmas Take Home package is priced at S$208 and it comes with
Lemon & Rosemary Artisanal Sourdough by Starter Lab with Truffle Kombu Butter
Cheese and Charcuterie Box: Jamon Serrano, Fromage de Téte, Wagyu Bresaola, 30-days aged Comté, Castle Coombe Blue Stilton & Téte de Moine AOP
Choice of:

Turkey, Foie Gras & Chestnut Roulade or
Long Bone US Pork Prime Rib or
30 Days Dry Aged Vintage Galician Prime Rib

Roasted Parsnip, Carrots & Truffle Mac & Cheese
Carrot, Ginger & Walnut Loaf with Brandy Butter
For takeaways visit online to order. You can also order here for deliveries.
Glenmorangie A Tale of Winter – in Time for Year End Festivities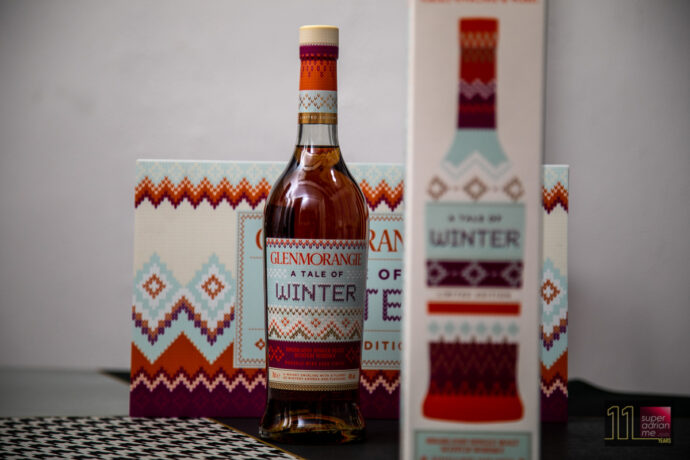 Glenmorangie A Tale of Winter is the latest limited edition 13-year-old single malt Scotch whisky that is perfect for the year-end festivities. Created in the home of Glenmorangie's Director of Whisky Creation on a night when he was snowed in at home. Glenmorangie A Tale of Winter captures the cosiness of wrapping up in a winter jumper while finishing in a bright, vivid flavour.
Finished in Marsala wine casks from Sicily, this richly radiant 13-year-old single malt Scotch whisky bursts with fruit and honey, cocoa dust and spice
Inspired by the whisky's warm, rich flavours, Glenmorangie has created a series of easy to make at home hot and cold wintry drinks. They include a Winter Old Fashioned, a bold and velvety Quinta Ruban Hot Chocolate, as well as a Pumpkin Scotch Latte showcasing the Highland Distillery's smooth, rounded signature single malt Glenmorangie Original.
Glenmorangie A Tale of Winter (S$135) is now exclusively available at Le Vigne Wines & Spirits or Asher BWS.
Godiva Gifts for the Season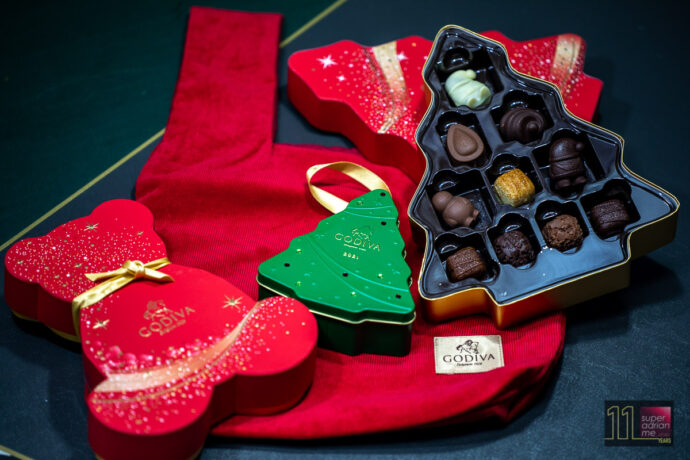 This festive season, GODIVA presents its Holiday Collection featuring a wide and ever popular range of gift boxes, holiday tins and hampers that will fit a range of different budgets.
A new addition is the Holiday Tree Tin Keepsake Carre that doubles as a pretty Christmas tree ornament. The tin encases two irresistible flavours. Bittersweet 70% Dark Chocolate and luscious Milk Chocolate with Almonds. We like the Holiday Chocolate Bear Gift Box or the Holiday Tree Box with Chocolate too because the packaging is just too cute.
The collection is available at all five boutiques in Singapore at Bugis Junction, ION Orchard, Raffles City, Suntec City and Takashimaya Shopping Centre as well as online at Godiva.com.sg.
JINRO Chamisul Soju Tonic for your Guests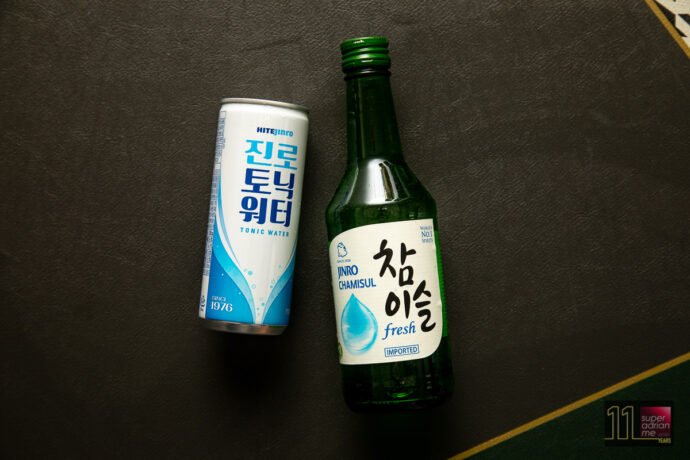 JINRO has debut its first-ever JINRO Tonic Water, the perfect mixer to create refreshing JINRO Chamisul Cocktails. It is the perfect touch of fizz to any of JINRO's versatile Chamisul soju. It elevates the alcohol with its distinctive, sweet and almost ginger ale-Sequeena taste. It is exclusively crafted and produced by HiteJINRO, South Korea's leading manufacturer of soju and best known for its fresh and fruity soju line-up.
JINRO's Chamisul Fresh + JINRO Tonic Water are available via Amber Nectar's E-store as well as the Brand's official store on Shopee and Lazada. The bundles start at S$16.40 and consists of a 360ml JINRO's Chamisul Fresh Soju and two 250ml cans of JINRO Tonic Water. And for S$32.60 you get two 360ml bottles of JINRO's Chamisul Fresh Soju and four 250ml cans of JINRO Tonic Water.
To make a Classic JINRO & Tonic Cocktail, add ice cubes into a cocktail glass, and pour equal parts of JINRO's Chamisul Fresh and JINRO Tonic Water. Stir well, and garnish with sliced lime and mint leaves. A great tip is to freeze JINRO Tonic Water in an ice tray and use in place of ice cubes for a cocktail with more kick.
JW Marriott Singapore
Enjoy signature roasts by Beach Road Kitchen Chefs-on-show. Complimentary deliveries for orders above S$98. You can consider the twelve hours slow-roasted marinated Traditional Roasted Turkey for S$158 or the seven hours sous-vide honey glazed gammon ham for S$158.
Otherwise dine in and discover Beach Road Kitchen's signature buffet showcasing unlimited servings of fresh seafood, charcoal grilled meats, Italian gourmet pizza and pasta as well as festive specials of Traditional Roasted Turkey, Honey Glazed Ham, logcakes and more.
Lunch is available on Saturday from 12 pm to 2.30 pm at S$78++ for adults and S$39++ for child. Or Sunday brunch from 12pm to 3pm at S$118++ per adult and S$59++ per child. Add S$60++ for free flow champagne.
Maker's Mark Bottle Personalisation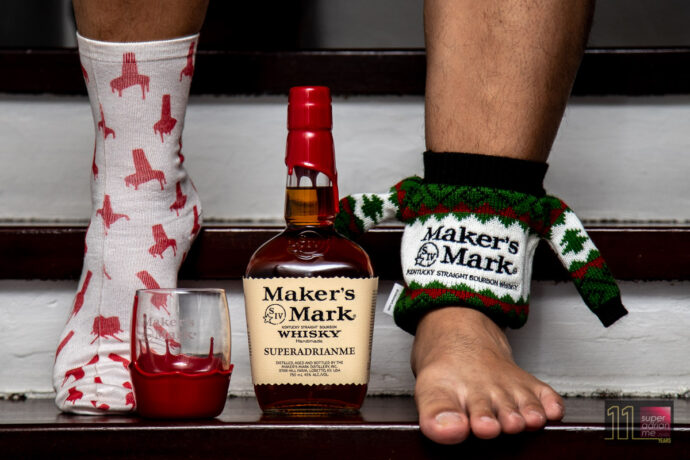 For a limited time till 26 December, you can purchase a bottle of Maker's Mark in Cold Storage outlets at Great World City and Jelita Shopping Centre at S$65 and get a personalised label printed on the spot within 20 minutes with your desired name or message of up to 15 characters. This service is also available online until 22 December with an option of doorstep delivery from Wine & Spirits and Lazada.
Marriott Tang Plaza
Enjoy a sweet note and dress up your Christmas tables with sweet festive delights from Marriott Tang Plaza such as the playful Strawberry Vanilla Yoghurt Igloo (1 kg, S$69 nett) that is perfect for children or the young at heart; the light Champagne Rose Cheesecake Log Cake (1 kg, $69nett) that incorporates the loves of ladies; the delightful Pear Belle Helene Yule Log Cake (1 kg, $69nett) that is inspired by the classic French dessert but elevated with a festive twist; as well as home-made cookies, pies, puddings; and more.
Order at http://www.celebratorydelights.com/christmas
Mr Bucket – Bonbons or Hot Chocolate
Mr Bucket has launched six new flavours in its Jolly Bundle for the festive season. These house-made bonbons feature 3 non-alcoholic and 3 alcoholic bonbons with their own unique flavours.
The non-alcoholic bonbons include Peppermint Cookie, Spiced Pear ganache and Rosemary Honey. Alcoholic ones include the Coffee Caramel Whisky, Cassis Chestnut Rum and Fig & Jam. The Drinking Chocolate Kit makes a return this year with four different single-origin chocolates sourced from Asia, a mini whisk and mini marshmallows to garnish.
Perfect gifts for the season.
Nespresso Christmas Flavours
Have you tried the three new festive flavours from Nespresso's collaboration with Colombian fashion designer Johanna Ortiz "Gifts of the Forest" collection? The collection features a range of limited-edition coffees for both the Original and Vertuo systems along with Festive infused accessories.
The Forest Black arabicas from Colombia and beyond grow in the sheltering shade of a canopy of trees and protect the flavours hidden in each bean. Experience this coffee's alluring spice and cereal notes amidst exotic woody aromas.
The Forest Fruit Flavour is an explosion of juicy berry aromas in a smooth cereal-noted base blend of Latin American and African Arabicas.
Forest Almond Flavour celebrates the harvest bestowed by the forest and the delicious and complex nutty aromas found in many high-quality coffees around the coffee belt.
Nespresso has also launched a Vertuo Next in a limited-edition Teal colour.
PARKROYAL on Kitchener
Enjoy a sumptuous festive buffet feast with local flavours at Spice Brasserie at PARKROYAL on Kitchener. Indulge in unlimited servings of succulent roasts, from 12-hour Whole Lamb Leg with Chimichurri Sauce and Sweet Potato slow-roasted to perfection, to rich and tender Prime Ribs with Cranberry Red Wine Sauce dressed in roasted bread crumbs and a mix of fresh herbs like rosemary, parsley and thyme. On Christmas Eve, Chef Patrick upped the ante especially for all seafood lovers with the restaurant's latest premium selections such as Salted Egg Yolk Pumpkin Crab, Kam Heong Slipper Lobsters and Baked Barramundi with Chef's Special Sambal Sauce.
No holiday feast is complete without seasonal staples like the Honey Glazed Ham with Pineapple Puree, Traditional Turkey as well as Spice Brasserie's signature dishes like the Singapore Chilli Crab with Mantou and Teppanyaki ice-cream.
Spice Brasserie's Festive Feast is available for dine-in from 23 December 2021 to 2 January 2022, from S$68 per adult and S$34 per child.
Or enjoy festive goodies in the comfort of home. The S$198 Festive Family Set is recommended for up to five people with dishes such as Thai Green Basil Turkey Roll with Green Curry Gravy and Eggplant, Cranberry Saffron Butter Rice and not forgetting the restaurant's popular Crispy Pork Roll. This set comes complete with Honey Glazed Ham with Pineapply Puree, Maple Glazed Cinnamon Sweet Potato, Grilled US Asparagus and Brocolini and the Homemade White Chocolate Yule Log cake.
Spice Brasserie's festive goodies are available for takeaways and island-wide delivery at https://shop-parkroyalkitchener.panpacific.com.
PAUL – Takeaways for a no fuss feast
PAUL's fuss-free festive feasts sets are available for takeaway priced from S$158 to S$428. The Baked Turkey Ham Set (S$158) or Turkey Set (S$208) serves four to six people. The Turkey Set features a choice of one Classic or Asia Christmas turkey, a medium Chocolate praline log cake and a box of 12 mini macarons.
Or you can mix and match 3 boxes of savoury or sweet pastry boxes for S$108. Each box contains eight pieces. Choose from the wild mushroom, quail egg and truffle salsa; the smoked duck breast with cucumber and spicy hoisin sauce, Maine lobster roll salad with sweet mayo and caviar for savouring. Or the Mini Mont Blanc tartlet, mini berries tartlet or the 25 cm Gallette Des Rois.
Enjoy sweet festive treats such as the S$38 Christmas Chocolate Chalet, or the cute S$3.90 Reindeer Lollipop, Brioche Man or other delights. The new Yuzu Meringue Log is available in two sizes – Small S$36 or Medium S$60. The Chocolate Pear Bavaroise Log and Chocolate Praline Log make a come back at S$38 for the small log and S$62 for the medium log.
Raffles Hotel Christmas Gifting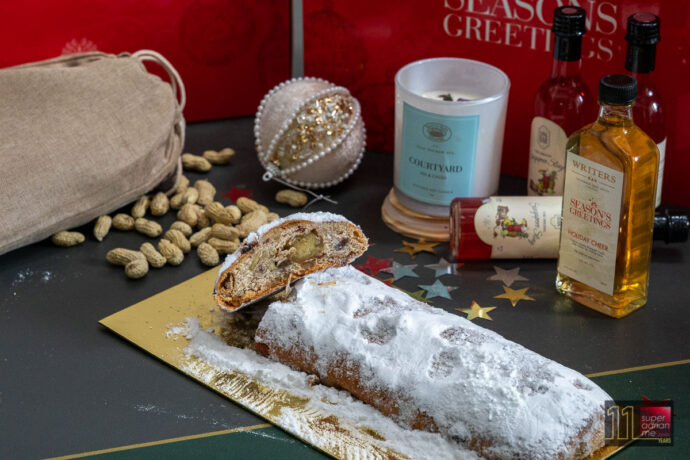 Discover the perfect Christmas gift from a variety of festive treats, ornaments, and gifts specially curated from our magnificent collection by Raffles Boutique. Surprise loved ones with indulgent gift hampers, pick up gourmet delights or whimsical decorative ornaments to adorn your very own Christmas Tree at home. The Raffles Boutique festive pop-up has been designed for a safe and comfortable shopping experience as you soak in the seasonal cheer within the grandeur of Raffles.
Christmas gift sets are available from S$128 nett while Festive Hampers are available from S$238 nett. Visit www.rafflescelebrations.com.sg or the Raffles Boutique daily from 10 am to 7.30 pm.
Until 20 December, spend a minimum of S$200 in a single receipt at the Raffles Boutique and stand a chance to win an indulgent Raffles Christmas Experience in your own home – the chance to revel in the magic of festivities specially curated by Raffles, complete with a charming mini Christmas Tree, gorgeous floral table centrepiece and delectable Raffles Ultimate Christmas Indulgence takeaway set for up to 10 guests, worth more than S$2,000.
Ryan's Grocery Seasonal Offerings
Ryan's Grocery offers a range of seasonal offerings that are available until 20 December 2021 while stocks last. Order online at www.ryansgrocery.com. Enjoy a repertoire of festive classics including a line-up of gourmet meats, hams and roasts prepared with Borrowdale Free-range Carbon Neutral Pork, Ryan's 100 Days Grain Fed Beef and WX Wagyu.
Whip up a festive meal from scratch from "Our Butcher's Pride". Choose from options such as the sustainable carbon-neutral Borrowdale Free Range Pork Tomahawk (S$55/kg), traditional Turducken (S$228, 6 kg) made with Norbest Turkey, coveted Beef Wellington (S$248, 2 kg) and WX Wagyu Bone-in Ribeye ($108/kg), as well as luxurious NEW additions this year, the Toriyama A4 Wagyu Mini Steak (S$152/kg), and Warilba Organic Lamb Rack Crown (S$91.20/kg). Organic Diestel Turkey (from S$149.90, 3.5 kg) and Premium Norbest Turkey (S$12.90/kg) from U.S. are also available raw and frozen. To jazz up the gourmet meats, complimentary Christmas marinates are also available over the butcher counter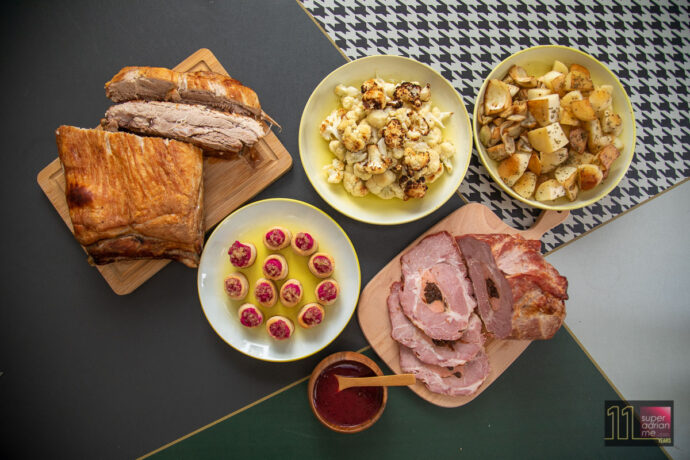 New on the menu is Smoked Pork Collar with Prunes (S$68 for 1.2kg) and the Honey-Smoked St Louis Ribs (S$168 for 2kg).
Visit www.ryansgrocery.com for the full range.
SE7ENTH Yultide Feast
Executive Chef Gary Lim at SE7ENTH has curated an impressive bundle for 3 to 4 people. The Yuletide Feast is priced at S$155+. It features a beautifully handcrafted Oven-baked Pancetta-wrapped Turkey Leg with Mushroom Duxelles and Crouton Stuffing with Port Reduction Sauce and an equally enticing Pineapple-glazed Honey Ham with Cranberry Sauce, basted every five minutes during a two-hour bake time to achieve the perfect amount of moist and sweetness.
The Sweet Potato and Marshmallow Gratin was surprisingly good. It is a thanksgiving classic and we enjoyed this. Then there wer also the Butter-glazed Brussels Sprouts with Raspberries and winter vegetables of Herb-roasted Carrot and Celeriac. Liven up the sumptuous collection with a petite and vegan Bûche de Noël, comprising airy layers of banana mousse and sponge cake atop a bed of hazelnut feuilletine, sheathed beneath Valrhona Equatoriale Noire 55% chocolate-infused crémeux.
Every order of Yuletide Feast includes a complimentary 750ml bottle of house wine. Available for takeaway and delivery till 31 December 2021. Three days advance order required.
To order, shop online at bit.ly/SE7ENTH, call +65-6812 6050 or email [email protected].
Shangri-La Singapore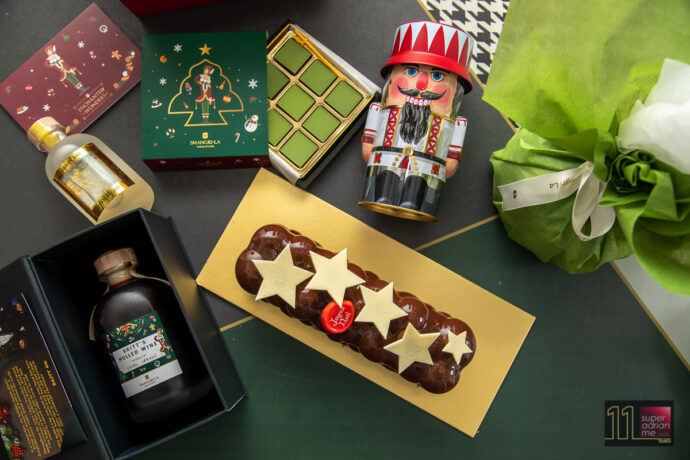 There is no reason to fret over gifting ideas when a delightful selection of Christmas artisanal treats and gifts is up for the taking at the Shophouse. Pick festive dinner-table must-haves like the Honey Roasted US Turkey served with roasted La Ratte potatoes with fresh herbs, butter mixed garden vegetables, roasted pumpkin, cranberry sauce, giblet sauce, and chestnut stuffing. Another is the Maple Glazed Bone-in Ham, as well as log cakes like the All-time Favourite Grandma, Cajette de Fraises, Black Truffle Intense Noir, Cerise et Citron and the Christmas Gimlet. The irresistible Black Truffle Intense Noir is new this year and the Christmas Gimlet, made with Origin Bar's redistilled Christmas Gin, dry vermouth, and ascorbic acid, is a whimsical snow-globe-inspired collectable that tastes as good as it looks.
The pop-up Christmas booths at the hotel lobby will be open to 26 December 2021, giving guests the opportunity to browse the full range of charitable handicrafts, celebratory goodies, and Christmas beverages on offer.
To order online, visit https://bit.ly/sls-enchanted-wonders, call +65 6213 4511 or email [email protected].
SO/ Singapore – Xperience Restaurant
Celebrate Christmas the SO/ audacious way with titillating four-course sets priced at S$98++ throughout the month of December. Top up for three hours free flow of heady concoctions and a selection of premium wines and champagne.
If brunching is your way of celebrating this joyful season, indulge in the Christmas edition of the iconic Mother of All Brunches, with three-tier of overflowing scrumptious goodness. Bottomless is SO/ the way to go! Top up to get higher with Santa's bottomless sleigh making its rounds to every table.
Or celebrate the festive season and spoil your family & friends with a Christmas Takeaway brunch. From pâté to artisanal cold cuts and cheese, to beef con carne. Following that a roasted seabass fillet, whole roast spring chicken, Australian rib-eye and even garlic white wine mussels. A feast made for the opulent, right in the comforts of your home.
Sofitel Sentosa – Festive Sunday Brunch at Kwee Zeen
Enjoy a Festive Sunday Brunch at Kwee Zeen. Enjoy an even selection of Asian and Indian specials and traditional holiday classics with a twist. The dedicated La Patisserie counter offers holiday classics such as a Christmas stolen and a chocolate fondue station.
Enjoy a selection of 20 fresh seafood such as shucked oysters, Boston Lobsters, prawns and more. There are 15 live stations including the foie gras station, carving station, waffles station and a Le Petit Prince & Princess Corner with over 15 treats for children.
For a limited time pay only S$198++ for two instead of S$128++ per person. Top up S$48++ for free flow of wine and beer or S$68++ with Champagne.
Sofitel Singapore City Centre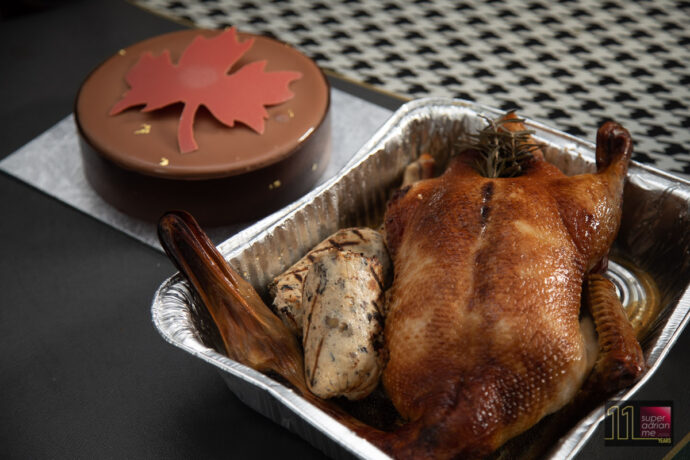 Sofitel Singapore City Centre celebrates Art de Noël with a glistening ensemble of festive culinary delights and magical dining experiences, inviting revellers to spread Christmas cheer with French "Joie de Vivre", an exuberant love of life and all its pleasures.
The new Roasted Whole Duck with Chestnut Stuffing (S$110+) has been lovingly concocted by Executive Chef Jean-Charles Dubois. He recreates his fond childhood memories of the season with a classic recipe that elegantly marries the rich flavours of chestnuts and duck, prepared by slow-roasting at low heat for approximately 1.5 hours. We got to try this and it was very good.
Other dishes include Roasted Turkey with Truffle (S$159+), the new Char-grilled Black Angus Tomahawk (S$148+). Side dishes include the Roasted Japanese Pumpkin (S$22+), Sautéed Brussel Sprouts (S$22+) and the Braised Black Angus Beef Cheek in Red Wine (S$113+).
Oh and the Chocolate Hazelnut Entremet with Crème Brûlée (S$83+) is also a winner for me this year. It is made with Hazelnut Mousse, Caraibe 66% Valrhona Chocolate, Chocolate Sponge and Milk Chocolate Glaze, a sheer delight for chocolate aficionados.
Visit Sofitel Singapore City Centre's Eshop at https://sofitelsingaporecitycentre.oddle.me/en_SG.
Starbucks Holiday Favourites at Home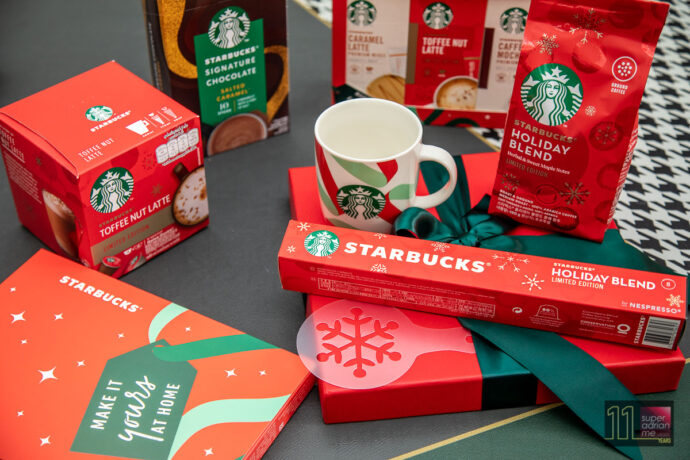 All the flavours of the Holidays can be enjoyed at home. Savour your favourite Starbucks holiday beverages and celebrate the joy of the season. These include the crowd-pleaser Starbucks Toffee Nut Latte, the all-time classic Starbucks Holiday Blend, the new Starbucks Signature Chocolate Salted Caramel and the specially curated Starbucks Premium Instant Gifting Bundle. They are available so you can enjoy them in different ways including for Dolce Gusto or Nespresso machines. Get yours from leading supermarkets on online.
St Regis Singapore
Indulge in festive French cuisine dining at Brasserie Les Saveurs this festive season. Or take home the celebrations with a Whole Roasted Turkey (S$212), Smoked Salmon infused with The St. Regis Tea Blend (S$60) or signatures such as the Honey-glazed Gammon Ham (S$212) or the Foie Gras Terrine (S$116).
Have dinner on Christmas Eve, brunch on Christmas Day or dinner on New Year's Eve at Brasserie Les Saveurs. The set dinner starts with S$228++ with free-flow juices, soft drinks, coffee & tea, S$298++ with free-flow wines, S$328++ with free-flow Champagne Brut, wines, beers and soft drinks. The traditional feast is elevated by festive roasts as well as a plateau Fruits de Mer of Alaskan King Crab Legs and Freshly Shucked Oysters; Roasted Turkey with Brussel Sprouts; Beef Wellington; Beef Prime Rib and Honey-glazed Gammon Ham complemented by chef pass around such as Beef Tartare, Marinated Salmon in Beetroot Juice and the signature Foie Gras Terrine. The dessert trolley features an assortment including Marronnier, Berries Violet, Milk Chocolate & Cherry Yule Logs, Forest Berries and Chocolate Tarts, Panettone, Brandy Fruit Cake and Assorted Premium Christmas Pralines.
Call +65 65066860, email [email protected] or visit brasserielessaveurs.com
Tanuki Raw Eggnog Pumpkin Pie
Tanuki Raw x Black Dot Sweet Provisions celebrate the festive season with a line-up of desserts. The S$98 Eggnog Pumpkin Pie is the most memorable food I have had from all the festive media tastings so far. The decadent pumpkin pie filling is made from slow-roasted fresh pumpkins that have been puréed. Topped with bourbon-spiked eggnog chiboust cream and torched with vanilla cinnamon meringue. The buttery hand-formed crust is superb. It is finally topped with roasted pecans and drizzled with unctuous sticky toffee.
The perfect accompaniment for any festive celebration. The whole pie is good for 10 to 12 people. 7 days pre-order is required. Visit tanukiraw.com to order.
The 1872 Clipper Tea Co Cold Brew Teas
The 1872 Clipper Tea Co. Is bringing its 'Traveler's Series' menu from its first takeaway concept store at Jewel Changi to all stores in January 2022 and the 2 newest outlets at Singapore Botanic Garden. Enjoy unique concoctions of blended teas such as the Chelsea, Kowloon, 101, Shibuya and Nuwara.
The 1872 Clipper Tea Co. is now on Deliveroo, Grab as well as Foodpanda for the flagship store at ION Orchard. The full menu (including the Traveller's Series) is available on these delivery platforms.
The Marmalade Pantry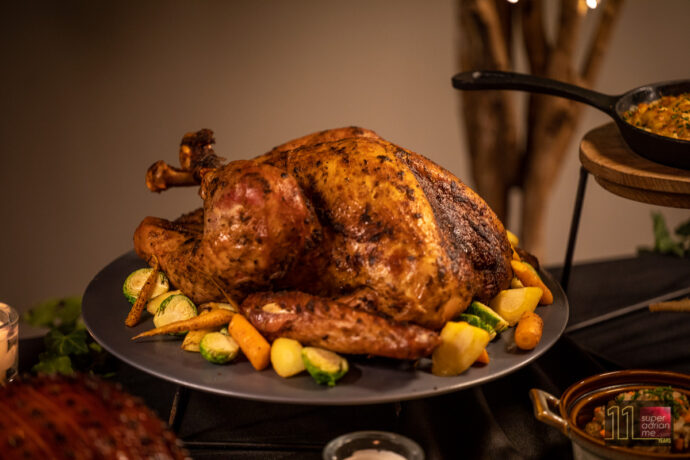 The Marmalade Pantry celebrates "Christmas in The Woods" featuring mouth-watering roasts, moreish sides, snacks, and luscious log cakes that are available for takeaway and delivery as well as dine-in.
Takeaway and delivery roasts are priced from S$88+ to S$158+. The Char Siew Beef Short Ribs and Moroccan Roasted Boneless Lamb are new items this year. While the all-time favourites include the Maple and Clove Glazed Gammon Ham and Traditional Whole Roasted Turkey with Fresh Herbs. Sides priced at S$24+ include the new Brussel Sprouts with Candied Walnuts & Bacon, as well as the signature The Marmalade Mac & Cheese, and Garlic Mash.
This year two new log cakes (S$68+ each) are available – the Chocolate Speculoos Log Cake and Christmas Aloha Log Cake. Three Festive bundles priced S$168+ to S$368+) have been packaged in a limited-edition jute tote bag for an intimate gathering of two to three people or party of up to six. These bundles offer roasts from the Carvery, a choice of side(s), a choice of one log cake, and a Commonwealth Concepts voucher.
Festive specials such as the S$38++ 3-course Festive Set Lunch feature a choice of main, a soup or starter and a slice of log cake.
The Yuletide Afternoon Tea & Prosecco Set from S$88++ can be taken away or delivered in a neatly boxed packaging that can be easily folded and transformed in to a two-tiered stand. Enjoy The Marmalade Pantry's refreshed signature offering but with the added option of Gancia Romina Lychee Sparkling Wine Prosecco. Good for two persons, enjoy new savouries such as the Char Siew Kurobuta Pork Tacos, Chilli Crab Vol Au Vent and Mini Spicy Sriracha Chicken Burgers – a petite version of a current highlight on the à la carte menu.
The Marmalade Pantry's 'Christmas In The Woods' festive gourmet highlights are available for orders until 22 December 2021 at all outlets – The Marmalade Pantry ION, Downtown and Novena, and via the online store. Collection through takeaway (self-collection) or delivery is available until 26 December 2021.
Toast Box Magical Christmas Holiday Creations
This year Toast Box presents an exclusive "Magical Christmas Holiday" with a line up of festive creations starring a Winter Cherry Butter cake, Jolly Kopi Brownie and an indulgent Snowy Milo Oreo.
The Winter Cherry Butter Cake is light, fluffy and filled with glazed cherries. A classic yellow butter cake with a coconut snowy 'mountain cap' of butter cream and desiccated coconut that resembles the powdery white tip of Mount Fuji.
The New Jolly Kopi Brownie is available at S$3.20 per slice or S$21.80 for seven pieces. Fudge, chocolatey and crunchy walnut-studded coffee-flavoured lollipop brownies come in four designs. There is Snowman, Rudolf, a Green Christmas tree with colourful sprinkles and a red Christmas tree with sugar snowflakes. While you are at it, check out the Snowy Milo Oreo – a tall and icy concoction of Milo Koong and evaporated milk topped with a generous sprinkling of crunchy Oreo crumbs.
Such value for money and absolutely delightful.
Winestone Immersive Christmas
This festive season, Winestone has collaborated with four local makers for a more immersive Christmas experience.
Enjoy festive cocktails from a Sengkang mixologist, sustainable floral wine hampers, freshly made cheese from locally harvested goat's milk and wine art from pallet to palette. Dannon Har who is co-founder and chief mixologist at Section D presents five festive cocktails exclusively at Winestone. Leon Hay is the owner of Singapore's only goat farm which produces freshly harvested goat's milk since 1988. He has overly eight hundred goats from Minnesota in USA. June Chen is co founder and lead designer at Floral Mikelle. She presents two fuss-free dinner party wine gifting sets with preserved florals perfect for dolling up dining sets, home and all spaces. Jas Rehan is founder of A Poet's Terroir, a wine writer, poet and artist. Jas presents an intriguing exploration of senses with wine and art – The Art of Taste, a master class, feast to cheese, wine, art and gourmet lunch.
Enjoy the traditional tastes of roast turkey, ribeye, gammon ham and Moroccan spiced chicken remains as well as new creations of barbecued Iberian pork rib, salmon and spinach coulibiac, beef Wellington, baked breads, pasta, pizza and more.
Enjoy a 4-course festive menu priced at S$88++ till 30 December 2021. Specials include pepper tuna salad, seafood bisque, MS2 ribeye, fresh sea perch, molten chocolate log cake and more.