The Macallan Harmony Collection Smooth Arabica makes its debut at Lotte Duty Free in Singapore Changi Airport Departure Hall Terminals, retailing at S$263. From January 2023, the Harmony Collection Smooth Arabica will take centre stage at a two-month-long pop-up at Singapore Changi Airport Terminal 3 Departure Hall as well as a week-long experiential pop-up event at Design Orchard.
The Macallan Harmony Collection Smooth Arabica is the second global travel retail edition of a limited annual release series of single malts. This edition celebrates the world of coffee and is inspired by the Ethiopian Arabica coffee bean.
Drawing inspiration from the Arabica coffee bean from Ethiopia, renowned as the birthplace of coffee,  The Macallan Whisky Maker, Steven Bremner selected a combination of American and European oak casks to achieve the distinctive notes offered by the single malt. Smooth Arabica conveys the flavours of a gently spiced and soft americano, which come through at an ABV of 40% and can be paired with coffee to provide a new way to savour The Macallan.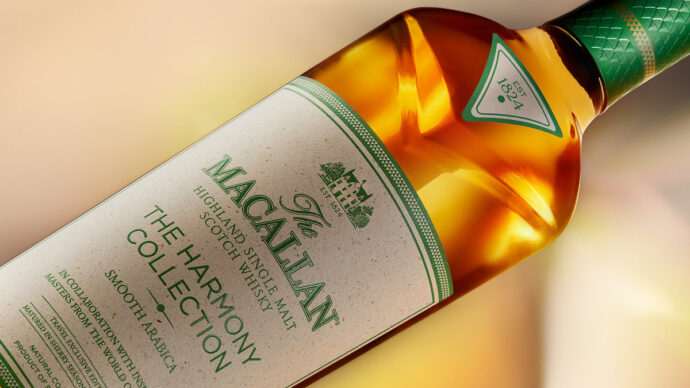 Enjoy aromas of ground coffee, hazelnuts, sweet raisin, dark cherry, toffee, vanilla and sweet oak. On the palate, there are americano, raisins, cherries, soft spices, walnut, vanilla and oak. Finish with lingering coffee bean turning sweet and creamy.
The expression is housed in a presentation box, which incorporates repurposed coffee bean husks, a by-product in the coffee-making process. Paper expert Michele Posocco from Italian paper mill Favini worked with The Macallan to create the innovative packaging. The vibrant green colour on the pack represents the unroasted coffee bean. 
The first edition in The Harmony Collection commenced with the release of Rich Cacao for domestic markets last year, followed by Fine Cacao for global travel retail earlier this year. Both incorporated discarded husks from cacao pods in their packaging and offered chocolate flavour profiles. As part of the second edition in the series, The Macallan also released The Harmony Collection Inspired by Intense Arabica, the domestic counterpart to Smooth Arabica. Read about the Intense Arabica collection at Spirited Singapore.