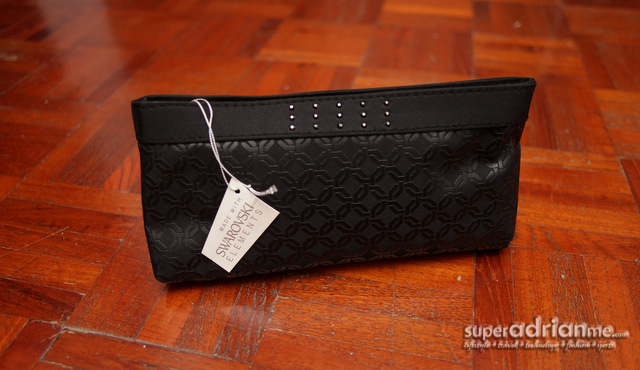 The national airline of the United Arab Emirates, Etihad Airways knows how to spoil their customers on Diamond First Class. Last year, the airline bagged accolades including the World's Best First Class, Best First Class Catering and Best First Class Seat by Skytrax Awards as well as the Middle East's Leading Airline and Middle East's Leading Airline First Class by World Travel Awards Middle East.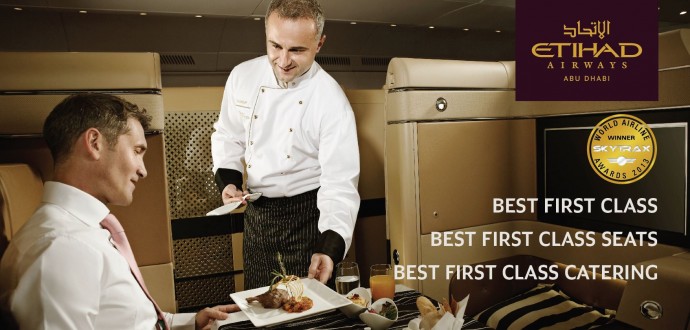 Etihad Airways Diamond First Class Features
The luxurious Etihad Airways Diamond First Class Suite in the airline's A340-600s and A330s offer personal chef offering Mezoon Grille, Taste of Arabia, a la carte and 'Kitchen Anytime', flat 6 ft 8 inch extra wide bed, 23-inch cinematic widescreen, changing room, upholstered in Poltrono Frau leather (found in Ferrari cars as well), personal mini-bar and wardrobe, in-built massage and cosy blankets, pure dupion silk and cotton duvet, fitted sheets, full-sized pillows and loungewear. Even the changing rooms on board are not spared, where a collection of Six Senses personal care products are available at your disposal.
When it comes to amenity kits, female guests will receive a Swarovski Elements embellished cosmetic purse while men receive an impressive-looking cufflink box. Both come complete with a set of La Prairie skin care products amongst other amenities.
<UPDATE> Etihad Airways just announced in February 2014 that it will be replacing all its amenity kits across all classes. Read about it at https://www.superadrianme.com/travel/etihad-airways-refreshes-amenity-kits/
Diamond First Class Amenity Kit for Women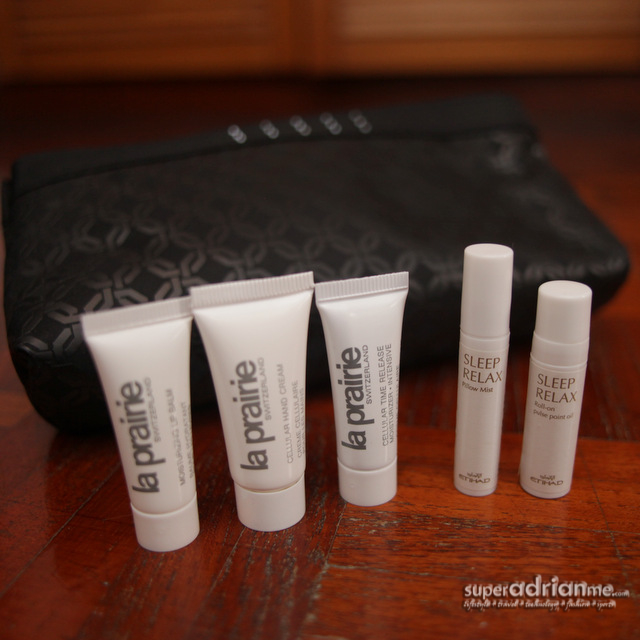 The Swarvoski Elements embellished cosmetic purse was first launched in 2011 and contains:
5ml La Prairie Cellular Time Release Moisturiser
7ml La Prairie Cellular Hand Cream
5ml La Prairie Moisturising Lip Balm
3ml Sleep Relax Roll-on Pulse Point Oil
3ml Sleep Relax Pillow Mist
Care Kit of cotton buds, pads and emery board
Toothbrush and 5g Colgate toothpaste
Socks and eyeshades
Ear Plugs in a hard case.
Hint Mint peppermints (www.hintmint.com)
The purse makes a great clutch bag for your passport and travel documents.
Diamond First Class Amenity Kit for Men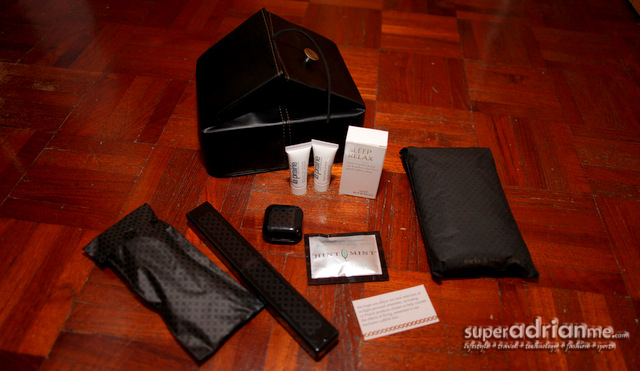 It is no surprise Etihad Airways' men's cufflink-inspired black leather box with jewel-toned lining designed by Harley Smith won this year's TravelPlus Airline Amenity Bag Award in the First Class Male category. The outer cufflink bag is unique comparing to that of other airlines. The men's amenity kit contains:
5ml La Prairie Cellular Time Release Moisturiser
5ml La Prairie Moisturising Lip Balm
Toothbrush and 5g Colgate toothpaste
Socks and eyeshades
Ear Plugs in a hard case.
Schick Xtreme 3 razor Shaver and shaving cream
Hint Mint peppermints (www.hintmint.com)
Check out our other airline amenity kit stories:
British Airways First | Delta Air Lines | Emirates | Lufthansa | Qantas