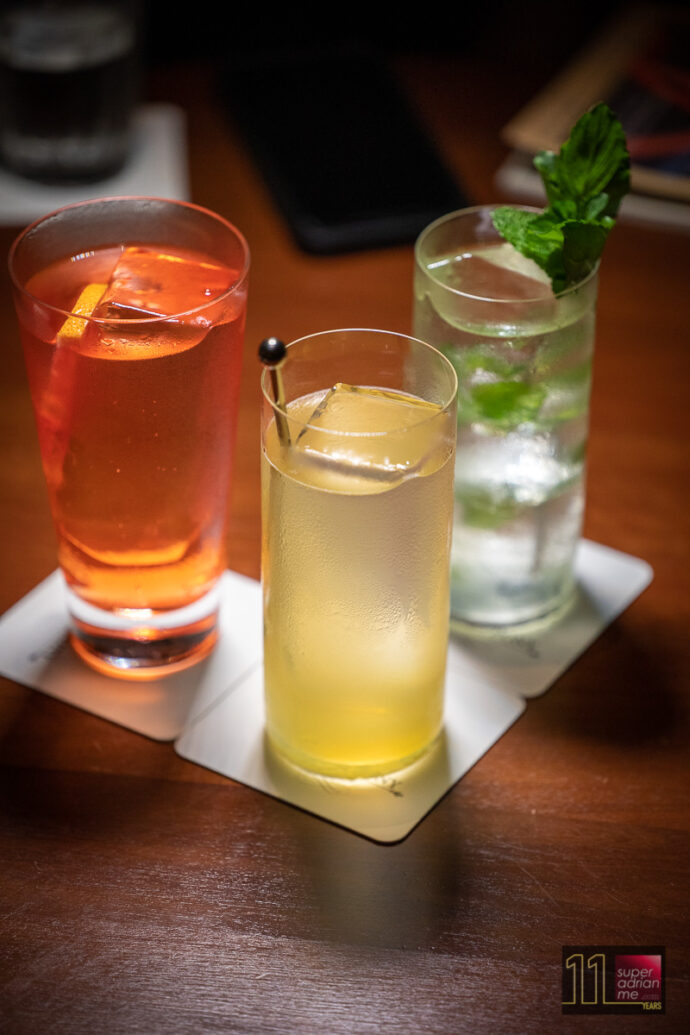 Jigger & Pony, ranked 2nd in Asia's 50 Best Bars in 2021, has launched A Decent Menu recently inviting everyone to reconnect in person. This is the fourth in a series of annual themed menus which look more like a magazine that you want to bring home to read through. The award-winning cocktail bar now has over 20 cocktails on the 62-page menu. Guests can order redefined classics, signature tipples, or punch bowls (15 to 20 servings per punch bowl from S$240) to share. Some favourites and signatures remain on the menu.
You don't have to exclude friends who do not drink alcohol from your catch up session at Jigger & Pony. Non-alcoholic creations are also available at S$18++ each. Sea Breeze, Shirley Temple or Grape Spritz. Take your pick. Or have non-alcoholic spirits with tonic. Gryphon teas, water and soft drinks are also available.
The Cocktails at Jigger & Pony
A Decent Menu is a celebration of cocktails and community. Decent may mean different things to different people. At its core, being decent is marked by humility, respect, warmth and conviviality. Giovanni Graziedei, Silvio Daniele and Uno Jang together with the Jigger and Pony bar team developed the menu over six months. Each new cocktail highlights the storyline of the bar, bartenders and community.
The Quick Menu is a great overview of what cocktail to order. The cocktails are arranged from lighter to stronger ABV and are priced at a standard S$25++ per cocktail. This reminds me of a periodic table that I had to refer during my Chemistry lessons in secondary school. It was definitely one that brought as much joy as with Jigger & Pony's quick menu.
Have a Supermojito. The refreshing rendition of a mojito originated in Havana, Cuba. Took the bar team over two years to perfect this crystal clear iteration. Lime juice is distilled from lime sherbet and added to full flavoured Veritas Rum. It is finished with sweet mint and eau de Cologne mint. Carbonating the cocktail lifts the aromatics for a longer, invigorating finish. It is served in a tall glass with a block of ice encasing a mint spring within instead of using crushed ice.
The next generation Espresso Martini is made with Grey Goose Vodka, coffee flower honey and a cacao tuile. An exclusive PPP x Jigger Pony Espresso Martini Blend of Rio Brilhante and Thippanahali Estate coffee in a Nespresso compatible capsule is added. Just the perfect shot to give the punchy cocktail the necessary flavour and kick. The previous iteration was a collaboration with Fossa Chocolate.
The Corn Colada is inspired by the Piña Colada with a base of Bacardi Reserva Ocho 8 Year Old Rum. The team adds Corn, Butter, lime and egg white to give a creamy and heady cocktail. Humble kitchen ingredients take centre stage in A Decent Menu. Fresh corn is boiled, juiced and turned into a syrup. Butter draws out its corn aroma and flavour. The caramel notes from the 8-year old rum enhance the corn's sweetness. A wheel of dried corn cob floats atop the cocktail before it is served.
Spumoni was first created in Tokyo in the late 1980s. It was a cult favourite amongst bartenders. Italy meets Japan in Singapore with this citrusy Nikka Coffey Gin and bittersweet Campari. The team gives it a touch of France by adding Perrier Grapefruit and tonic water.
The Korean Boilermaker is a highball that is inspired by the soju bomb. Lee Gang Ju Soju is infused with hops and passion fruit. Add this to Glenlivet 15-year-old Scotch Whisky and then carbonate and you have a fun cocktail to geonbae.
Spirited Singapore describes more about the other cocktails. So head over to read about it there.
"We went back to the basics, analysing the DNA of timeless cocktails with the goal of mastering them. And while we will innovate and put our own unique touch, we always focus on preserving the essence of these classic drinks and the humble ingredients that go into them. For us, the classics of yesterday are also the classics of tomorrow. Each new cocktail highlights the storyline of our bar, bartenders and community, capturing the diversity of ideas that we stand for. We created drinks to stir conversation and induce curiosity, whilst keeping them true to their classic forms. Ultimately, these cocktails were crated to be enjoyed, and as an invitation to sit at the bar to share happiness."

Giovanni Graziadei, Principal Bartender
Bar Bites
Get the Jamon Iberico Toast to munch. Thinly sliced Jamon Iberico is served on a buttery brioche toast with stracciatella. The nuttiness and savoury Iberico pair perfectly with the sweetness from the stracciatella. So you can line your stomach and then have more cocktails. Responsibly, of course.
PONY Bottled Cocktails
And if you can't get enough of the cocktails, takeaway PONY bottled cocktails from the classic or signature series. Jigger & Pony launched PONY in November 2020 with two core lines. They are available in 200ml or 500 ml bottles and can be stored at room temperature. Best refrigerated before serving.